Over the years, leather has been established as the standard upper material of skate shoes. There are only a few alternatives. Some shoes from etnies and Emerica are available with faux leather. Lucky for you, we have tested the synthetic suede!
READ IN ANOTHER LANGUAGE
DE | FR | NL
Synthetic leather / vegan suede in skate shoes?
Probably 80 to 90% of all skate shoes consist of one or more leather parts. The properties of suede have proven themselves over the years: durability, abrasion-resistance and dyeability.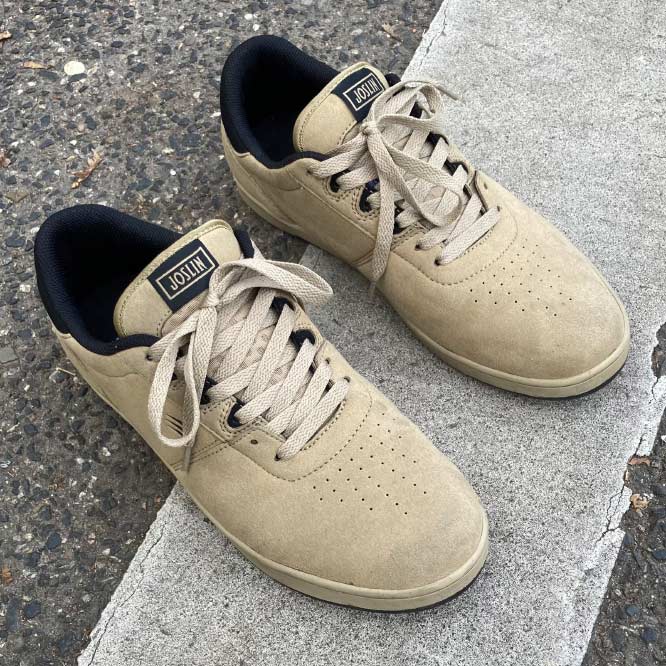 However, there are also a few arguments to stay away from the leather version, such as animal rights abuse, but that should not be the main motif. Skaters who want to do without leather rarely find useful and durable skate shoes. Does the vegan suede from Soletec (etnies, Emerica, éS) offer the desired solution?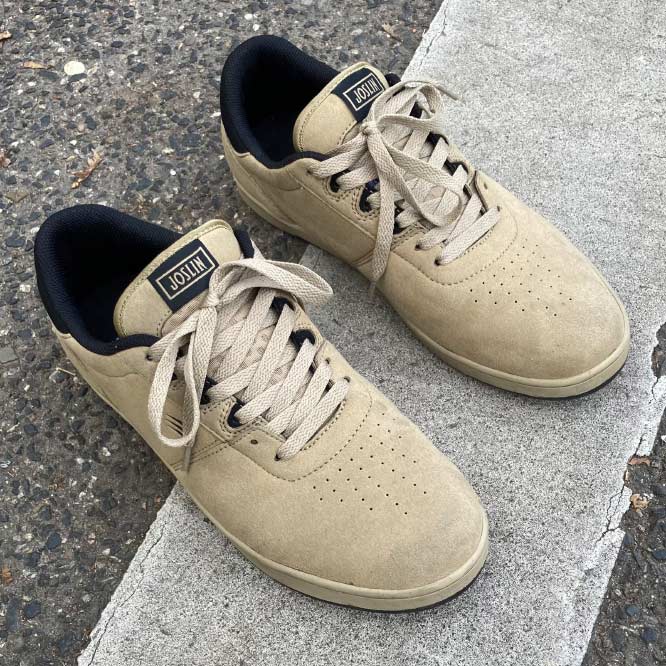 What is vegan / synthetic suede?
Synthetic leather or faux leather can be made from various raw materials. Most smooth faux leather is made of PVC (polyvinyl chloride). Suede imitation leather consists of a kind of microfiber fleece. The basic substances for it are usually polyester, nylon, or acryl. To put it in a nutshell, imitation leather is made of synthetic materials.
Synthetic / vegan leather skate shoes test
For my review, I skated a pair of vegan etnies Joslins. It is recommended to read the Joslin Wear Test on how the shoe generally performs. I skated my pair for a few weeks and assembled a new board with a fresh Jessup Ultra Grip for it – extreme conditions for the shoes.
Looks & feel of the vegan leather
Visually, the synthetic suede from etnies is hardly distinguishable from the original. Perhaps it seems a bit smoother at first. When you rub the material a bit, it gets the same slightly roughened surface as suede. If the shoe had not been labeled as vegan, I would not have noticed the difference between them and the leather colorways.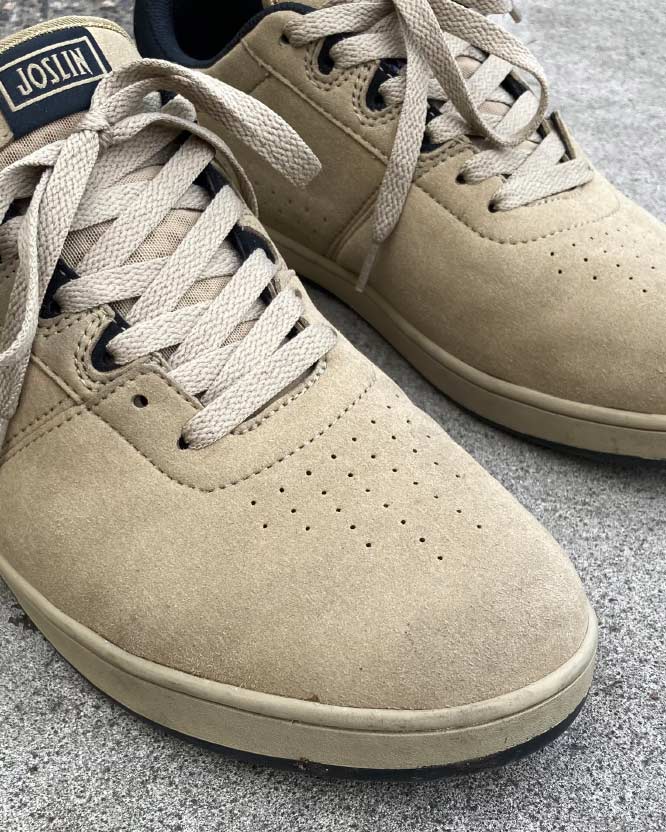 Flick of the vegan faux leather
Again, I couldn't tell any difference from leather skate shoes. Kickflips, Ollies & Co. felt as usual.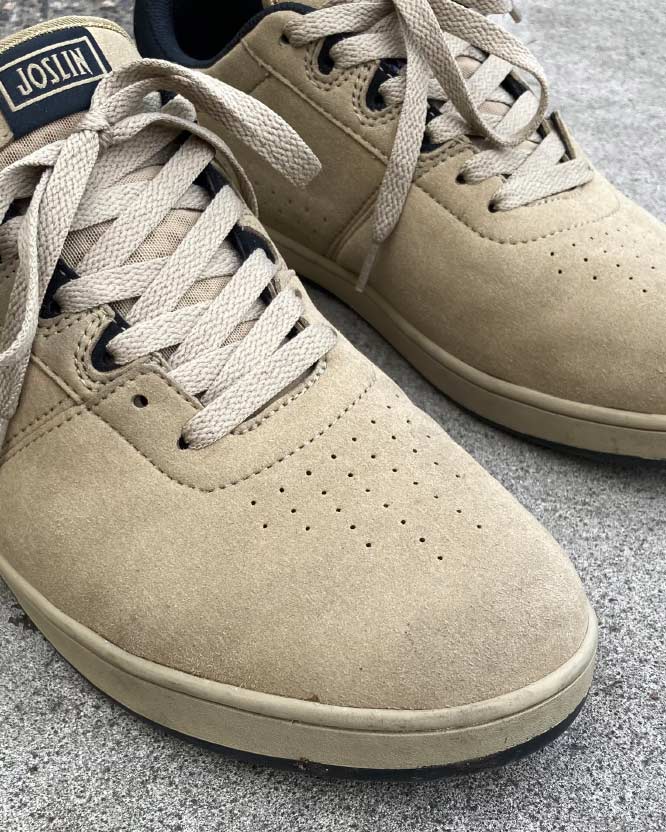 The durability of etnies skate shoes with synthetic leather
I could make out the first differences after the shoes made close contact with the griptape. In the ollie area, the vegan suede seemed only slightly roughened. At the toe, however, the material slowly began to "fluff off" after a good number of kickflips.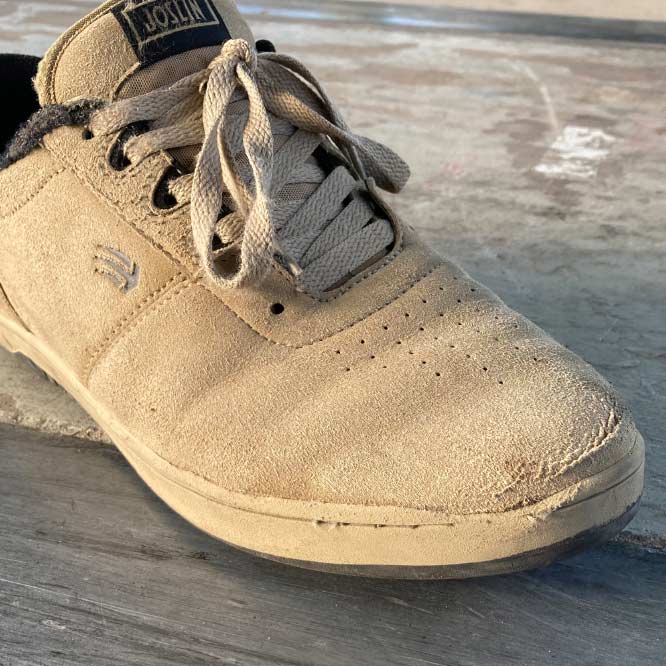 This is probably simply related to the basic substance of synthetic leather. Microfiber consists, as the name suggests, of very fine fibers. These are probably twisted into each other when in contact with griptape, causing the fibers to form small fluffs.
In comparison, suede has less wear or abrasion in my experience. I could also tell from the residue on my griptape. Here, the vegan leather left more traces than usual. However, these can be easily removed.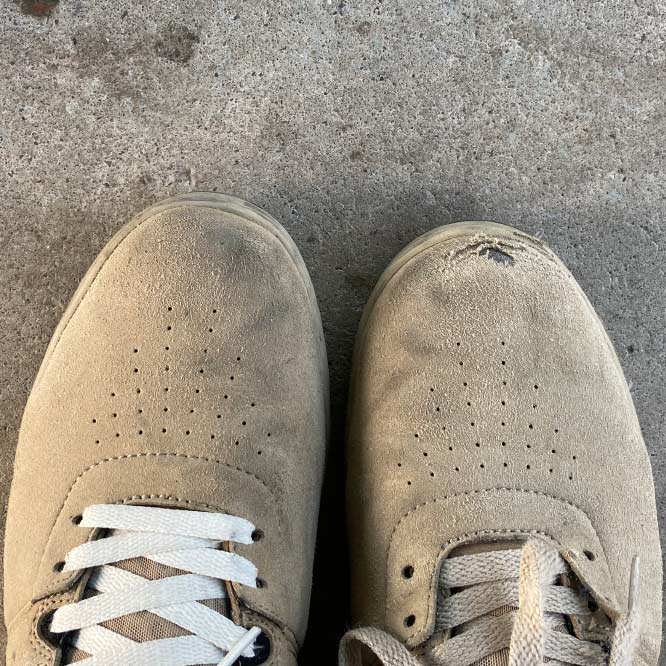 After intensive sessions, I had "cracked" the material. The abrasion continued as described until an underlying toe cap came to light. In itself, I would describe the durability of etnies synthetic leather as good.
Conclusion
The synthetic leather that etnies or Emerica use for some skate shoe models is in many respects comparable to suede. Only when looking at the abrasion on griptape, it behaves somewhat differently and was not quite as durable as suede in my eyes. However, I skate very rough griptape and generally wear down my skate shoes pretty fast.
Skaters who prefer fine-grain griptape will probably not notice much difference from suede. In this regard, etnies' vegan skate shoes are worth a try.