Four years after their first collaboration, the Swoosh factory once again teams up with San Francisco's legendary FTC skate shop for a super limited Nike SB x FTC Blazer Mid. This sleek homage to the Justin Herman Plaza aka The Embarcadero is now available at skatedeluxe!
When you talk about iconic spots in skateboarding, one place always pops up: The Embarcadero aka The EMB. But the Justin Herman Plaza wasn't only the skate mecca of the 1980s and 1990s, it basically shaped San Francisco's skateboarding scene to what it is today. Pros like James Kelch, Mike Carroll, Henry Sanchez, and a dozen others skated the EMB to the core and formed today's street skateboarding. It was the place, where Mark Gonzalez landed his first Ollie in 1986 and later kickflipped over a major gap, which was then known as the "Gonz Gap". That's where history was made!
To this day, the red bricks on the ground around the Vaillancourt Fountain are such a distinctive feature that Nike SB and the crew of Kent Uyehara's FTC shop had to made it the subject of their second cooperation. The Nike SB x FTC Blazer Mid comes in beige pig suede with a stitched ruby swoosh and an embroidered red FTC logo on the heel tap. By the way, FTC at the beginning was short for "Free Trade Center", but means "For the City" or "F*ck the Cops" today. Well, times change!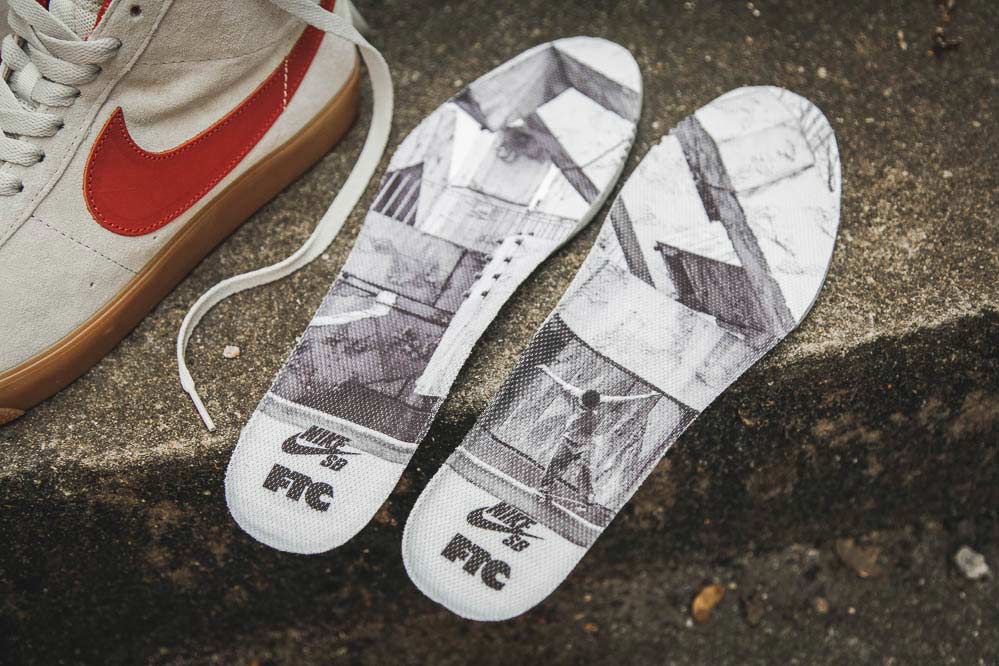 Although the Blazer Mid is rather modest, it is a shoe that you can appreciate during everyday riding. And there is also another point that speaks for this exclusive Quickstrike model: the Nike SB x FTC Blazer Mid will not be sold at any Nike Store or the official Nike online shop, which means that it's strictly limited and only available at selected shops. So if you want to get your hands on one of the Blazers, you have to be quick, otherwise, they will be sold out in a jiffy!