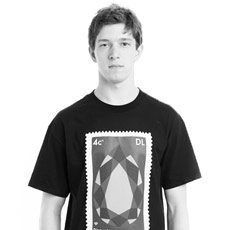 Christoph Radtke
Bio
Game Of S.k.a.t.e Machine!
Christoph Radtke was born and raised in Hannover where he still lives and skates. Thanks to his dad and the X-Games Christoph became enthusiastic about skateboarding. As true as it gets, Christoph started with a typical toy skateboard. Later he started to use a "real" skateboard and learned all the basics. After the Ollie, he quickly learned new tricks and could no longer leave skateboarding.
With Christoph Radtke, we've got a decent trick machine from Hannover. Those who shredded a couple of times with Christoph aka "Rudi" in the skate park or at a contest know what we are talking about. "Flip in – flip out" is not a prob at all and everywhere an Ollie is possible also a flip is possible for him.
Christoph really likes to skate on contests. Whether a "Game of S.K.A.T.E.", a line, or run sessions, Christoph is always on fire and ready for it. Just take a look at the results of the "Official German Championships" or his victory at Jackalope Festival in Montreal, Canada. In 2012, he teamed up with skatedeluxe and we are very happy about that. After recovering from a cruciate rupture Christoph is rocking his board again ever since.
The 'Rad Machine' reached another milestone in 2015 when he signed a deal with éS Footwear.
That Christoph is not somebody to rest on one's oars was proven in 2016 after he won the South German as well as the Rhineland-Palatinate championship of the Lexus COS Cup 2016. In the end, he reached the third place in the COS 2016 overall ranking together with Justin Sommer. We're looking forward to the things happening in the future!