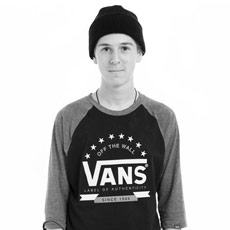 Thomas Graf
Bio
#YoungGun is Over!
Born and raised in Freising, Thomas Graf discovered skateboarding at the tender age of 12 and he has been practicing ever since to grow into an experienced skateboarder.
Thomas can often be found on basically all spots around Munich. It does not matter whether he is skating in a hall, a park or street – Thomas rocks with steez!
His skateboarding has evolved steadily over the past years, which was ultimately rewarded with a VANS deal. So the former "young gun" title is over now.
Remember the name, because we will hear and see a lot more from Thomas Graf.