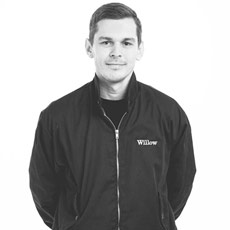 Willow
Bio
German Hammerking!
Christoph Wildgrube aka #germanhammerking was born in 1983 and grew up behind the Iron Curtain in Ludwigsfelde in times of the German Democratic Republic. In 1996, Willow got his first skateboard what marked the beginning of the rise of the probably best German skateboarder today. It is beyond question, that he belongs to the most likeable and entertaining skateboarders today.
Due to consequent hard work and creative skateboarding és Footwear, DVS and Flip Skateboards teamed up with Willow and so he got his first sponsoring deals. In Germany Willow was especially known at spots in Berlin, such as "Baustelle" aka Kulturforum. He is still regarded as the undisputed "King of the Doubleset". At these local spots, he shredded as hard as he could. And he's still ripping it there.
In late 2009, he was promoted to the global etnies team with Ryan Sheckler, Juergen Horrwarth, Cairo Foster, Albert Nyberg, Devine Calloway and many others. This still is a big deal for Willow. Some tours and video parts followed and due to his consistent performances etnies released a few special colorways for Willow.
In November 2010, Almost Skateboards presented Willow as a new team rider next to Daewon Song, Chris Haslam, Cooper Wilt, Lewis Marnell (RIP) and Youness Amrani. In addition, Willow received the Action Sports Awards and was chosen "Skateboarder of the Year 2011″. The #germanhammerking was on fire.
Willow signed for skatedeluxe in May 2012 and we're proud to count him as a member of the skatedeluxe skate team. After Willow got the opener part in the Almost 5 Incher DVD in 2012, he finally became Almost Pro and was elected as one of the "2012's Top 10 Searched Skaters" by Transworld Skateboarding Magazine. Skateboard Germany cheered that Willow finally made it.
Besides Skateboarding and his family, Willow invests his time in creative works with wood and concrete. Since a while now he tries out different materials to create artful pieces. "Hammerking" now gets a totally new meaning. In May 2015 he presented some of his handmade furniture at the Galerie K in Cologne for the public for the first time during an exhibition called "Die Leichtigkeit des Steins" ("The Lightness of Stone").
Willow wrapped up everything in 2016 after signing a deal with Forvert as his new backpack sponsor. His passion for art remains unbroken and is also sealed in blood by now. During the preparations for his new skateboard recycling art gallery Willow cut off a bit of his thumb. But he wouldn't be the Hammerking if this would stop him. We're eager to see what Willow his up his sleeve in the future.