Everything about snowboard bindings
1. snowboard bindings: general information
Today, snowboard bindings are pure high-tech products which, besides giving you a perfect hold on your snowboard, also provide great freedom of movement and a direct board feel. To make sure your new bindings meet your requirements and support your riding perfectly, you should consider important details such as the flex, mounting system and intended terrain.
Above all, you should know how to adjust a snowboard bindings correctly. This will allow you to fine-tune your setup. In order to get better insight into the subject, the following paragraphs will help you to learn everything about the world of baseplates, straps and highbacks.
Are you unsure of what you need and don't want to worry about your bindings? Then complete snowboards are the solution for you. So you get a perfectly matched snowboard setup and you're ready to ride!
2. snowboard bindings: construction
Snowboard bindings consist of a baseplate, a highback, an ankle strap and a toe strap. The baseplate is the centrepiece that connects your snowboard with the binding.
A highback is the part of the bindings that will fit your foot properly into the bindings. Ankle and toes strap are the attachments, which go over your ankle and over your toes, in order to keep you firmly in the bindings.
3. snowboard bindings: systems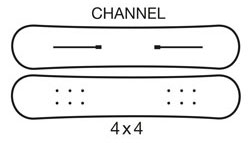 For bindings, there are two different attachment options to mount them on your snowboard. First, there is the so called EST system from Burton.
Binding with that kind of system are mounted to the snowboard via a channel system that is carved into the top sheet of your board. The advantage of this is that it takes less time to change the degree and stance (distance) of your bindings. There are special bindings from Burton featuring the EST system, which works perfectly on all channel Snowboards from Burton.
Besides this system, there is also the traditional 4×4 disk system. Here, the binding is mounted to the snowboard with 4 screws each. This traditional disc system can be mounted on all regular snowboards. For Burton snowboards featuring the channel system, a corresponding multidisk is required for installation. Burton also offers bindings to fit this system, called Burton Re:Flex bindings. Those bindings can even be used on both systems alike.
4. snowboard bindings: size
Just like every boot brand varies their sizes here and there, the size of snowboard bindings can also vary slightly. In order to have a better overview, we've put together a snowboard binding size chart with the most popular snowboard binding brands. With these size recommendations, you can see if your favourite brand is also compatible with your boot size at a glance.
Men
S
US: 6 – 8
EU: 38 – 41
US: 4,5 – 6,5
EU: 35,5 – 38
US: 5 – 7,5
EU: 36,5 – 40
US: 5 – 8
EU: 37 – 41
M
US: 8 – 11
EU: 41 – 44
US: 7 – 10,5
EU: 39 – 43
US: 7 – 9,5
EU: 39 – 42,5
US: 7 – 10
EU: 40 – 43
L
US: 10+
EU: 43+
US: 11 – 14
EU: 44 – 48,5
US: 10 – 13
EU: 43 – 47
US: 10+
EU: 43+
Women
S
US: 10+
EU: 43+
US: 5 – 8,5
EU: 36 – 40
US: 4 – 6
EU: 34 – 37
M
US: 6 – 8
EU: 36,5 – 40
US: 8,5 – 10,5
EU: 40 – 40,5
US: 6 – 9
EU: 37 – 41
L
US: 8+
EU: 40+
5. snowboard bindings: adjustment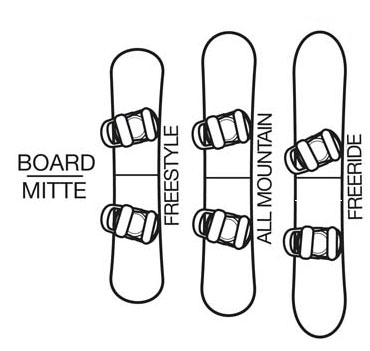 There are several ways how to adjust your snowboard bindings on your snowboard to fit your riding style perfectly. Our detailed snowboard assembly instructions will provide you some tips and tricks.
First, you should decide whether you're going to ride goofy or regular.
Tip: Stand upright with your legs closed and have a friend give you a soft push forward from behind. In most cases, the leg with which you take that first step forward is also the one on the front of the snowboard. But you can also simply try it out – in the best case, you learn to master both stances anyways.
After this check, it depends on your riding level and your preferred terrain. On the mounting plate of your snowboard bindings, you'll find a scale of degrees. If you are a beginner, set the bindings at the front to +15 degrees and the bindings at the back to 0 degrees. This is a good adjustment for getting started.
Once you are into tricks, it is advisable to go for a so-called duckstance. This setup is defined by a +15 degree angle on the front bindings with and an angle of -15 degrees on the rear. That will help you to ride switch and land tricks, especially spins, a lot easier. But remember, the degrees are very variable. You may like to test a little bit to find your perfect degree. Regarding the distance between both bindings, your shoulder width works as a good indicator.