Everything about snowboard boots
1. Snowboard Boots: General Information
When it comes to boots it's the same problem as with shoes – it's not always easy to find the right pair. In addition to design and functionality, the feel and comfort are also a must.
If your feet are not properly situated in your boots and you feel uncomfortable, it may interfere with the blood circulation and your foot can cramp or it can result in unpleasant pressure points.
Similar to snowboards, it's not just about size. There are some further important aspects about boots such as the flex and the lacing system. While the lacing system is a matter of taste and comfort, the flex is extremely important for the intended terrain. The skatedeluxe snowboard boots Wiki will help you find exactly the boots that suit you and your riding.
2. Snowboard Boots: size
The characteristics of a snowboard boot are much more complex than with your all day, every day sneakers. First, you need a lot more support in your snowboard boots. Secondly, there is also a certain degree of freedom of movement necessary so that your feet don't fall asleep while jibbing. In addition, because of the low temperatures, you will usually wear thick snowboard socks, which is important to consider when you're choosing the right size. Therefore, the size your new snowboard boots should be is an important question.
Therefore, snowboard boots are often purchased half a size larger than your typical shoe size. An indication of the actual size of a certain snowboard boot can be found in the product description under each snowboard boot in our shop. This will help you to get a pair of snowboard boots that really fits. If you have very big feet and consequently need snowboard boots with size larger than 12, it is advisable to consider a wide snowboard. If you aren't sure, you can always contact our customer service.
2.1 Snowboard Boots: Hangover
While on the slope, it can quickly become unpleasant if your boots reach too far over the edge of your snowboard. This phenomenon is also known as hangover. The basic solution is to use a wider snowboard and a correspondingly wider snowboard bindings if you wear a shoe size of 13 or more. But don't worry, 2 – 3 cm of hangover is normal and won't interfere with your riding.
TIP: If you already have everything at home and want to check to see whether or not your boots are too big for your setup, you can do a simple test. Put your boots on, buckle up on the snowboard and just see how far you can lean forward and backwards on your snowboard before your boots touch the ground. If you get to a 70° angle, you should be prepared for extreme carving. It is best to do this test with the help of another person, so you don't fall into your TV.
3. Snowboard Boots: Flex
The flex of your new snowboard boots should fit the terrain you feel at home most. For freeride and all mountain snowboarding, you should use a somewhat harder boot, which provides more stability and gives you more direct response. However, if you want to shred mostly in the park and love the skate feeling while snowboarding, a softer snowboard boot with more flex is recommended.
Our flex scale from 1 to 10 gives you precise information about the stiffness of a certain boot. If you are looking for a softer boot,, a a flex from 1 to 5, which goes from soft to medium, is a good choice. If you prefer a harder boot,, you should consider a flex from 6 to 10, which is slightly stiffer and offers more response.
4. Snowboard Boots: lacing systems
The day only has 24 hours and of not many of those are blessed with sunshine during winter. Of course, you don't want to waste this precious time on the mountain with elaborate lacing. Your snowboard boots should be attached quickly and reliably so you have a safe hold and good board control all day long.
Over time, three different lacing systems have been established. The BOA lacing, the zonal lacing, and the classic traditional lacing. Whether you are a traditionalist or a modern day time-saver, everyone can find the right system. In the next sections, we will explain the differences between all three lacing systems.
4.1 Snowboard Boots: traditional lacing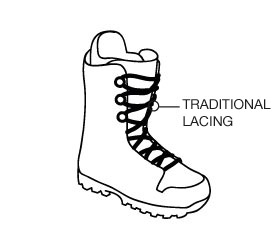 The traditional lacing is most common way of lacing. These boots are tied like normal shoes – everybody should know the trick. In the upper part, these shoes are equipped with hooks, which allow you to pull them tight without losing the lace tension. It takes a little bit longer, but you can bind your boot perfectly in every zone and prevent pressure points on your feet.
All boots with traditional lacing
4.2 Snowboard Boots: zonal lacing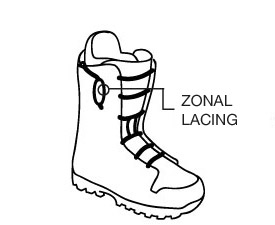 The zonal lacing system is a more efficient lacing system, because you simply need to pull on one or two cords to lace your boots. With this type of lacing, you can lace the zone at the shinbone and the zone above the foot separately in order to achieve the best wearing comfort. The various manufacturers offer different systems.
With the 1-zone system and the 2-zone system, you can basically distinguish two systems. In the case of the 1-zone system, the entire boot is laced with one cord and the laces are hooked into a blocking mechanism. In the 2-Zone System, two cords handle the upper and lower parts of the boot separately, allowing for more accurate lacing.
All boots with zonal lacing
4.3 Snowboard Boots: boa lacing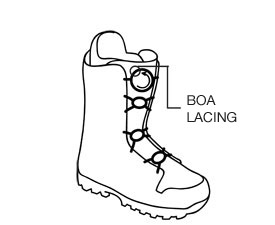 The The BOA system is the most advanced system on the market. With this system, you only have one wheel that will help you tighten your boot with a twisting wire rope. There are single BOA boots and boots with a double BOA system.
With the single BOA system, the outer shoe is evenly pulled together by every turn of the wheel. Boots with double BOA systems, allow you an individual lacing of the different zones thanks to its two wheels. This system is extremely fast and your boot will be perfectly laced even before your friends have their shoes on.
All boots with BOA lacing