Snowboard Assembly
Snowboards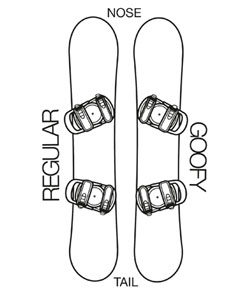 Before you mount the bindings on your snowboard and hit the slopes, it's important to know what stance you have: Goofy (right foot forward) or Regular (left foot forward)?
Tip: Stand with both legs closed and let a friend push you from behind. The leg, which makes the lunge forward, is the leg that should be positioned on the front of the snowboard.
After this is checked, it all depends on your skill-level and what type of terrain you want to shred.
The binding distance, also known as "Stance", should be slightly wider for freestyle/park snowboarding to ensure greater stability when jumping and more control when landing. Although you should note that a wider Stance has a slightly negative effect on your performance when riding slopes and freeriding, it mainly comes down to personal preference. Try changing your stance from time to time to get to know the effect and find your own sweet-spot!
Testing your optimal "Stance" is really important. As a rule of thumb for the binding distance, we usually use the shoulder width as an indication, but again, it also depends on you personal preference.
If you're already raging down the park and want to continue to refine your freestyle skills, it is recommended to align both bindings at the same distance to the nose and tail to ride evenly pleasant Switch as Normal.
Apart from the ideal binding distance, it is also important to set the optimal binding angle.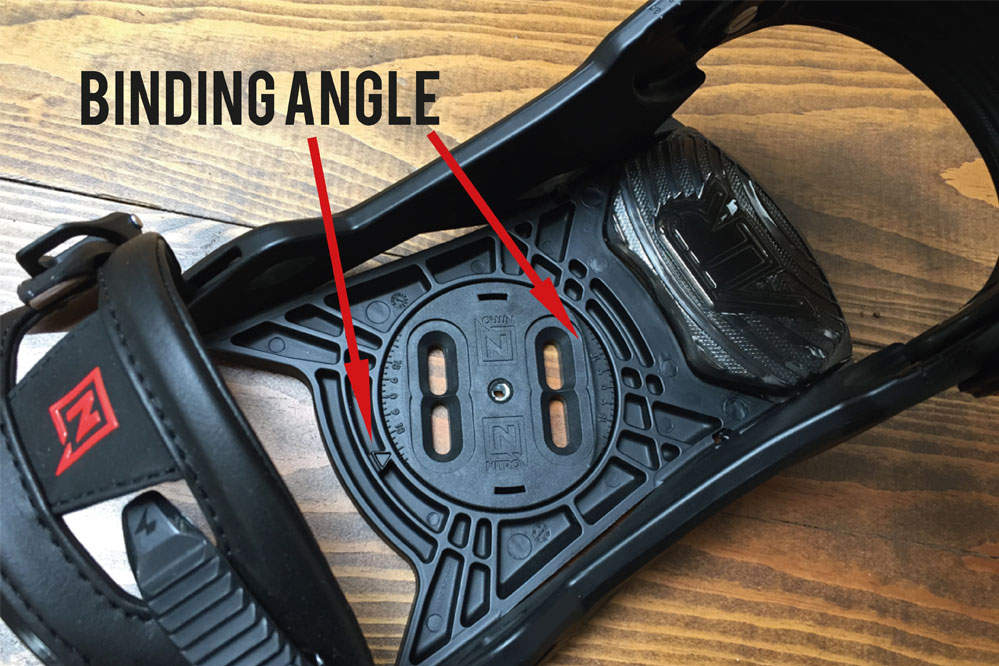 On the baseplate of the binding, you can see degree numbers that specify the binding angles in 3° increments. The angle degrees are relatively variable. Again, you may like to play around a bit to find your perfect angle number.
If you are a beginner, you should have the front binding at +15 degrees and the rear binding on the 0 degree position. This should be a good degree setting to get you started. In addition, you should mount your bindings with a slight setback, which means that you position your bindings a little bit more to the back (tail).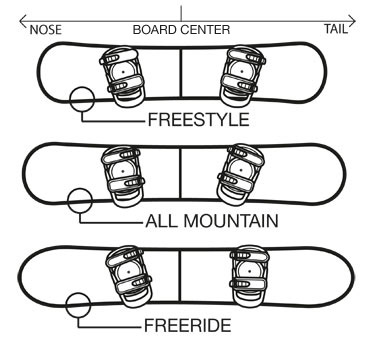 Once you've moved on to do Tricks and focus more on freestyle, it would be recommended to imply a so-called Duckstance combined with a centered binding position. This means that you mount the front binding in a positive angle (+ 15 degrees), and the rear binding in the same angle but negative (-15 degrees). This makes switch riding and landing tricks much easier.
If you prefer All-Mountain Snowboarding, it is recommended to mount your bindings with a light Duckstance. The front binding should be mounted close between +15 and +21 degrees, and the rear binding should be placed in a frame of -3 degrees and -12 degrees. Also a slight setback is recommended for this type of riding.
If you rather take on endless steep fields of off-piste powder, you should choose for a Freeride setup. Here, it is recommended to choose a narrower stance and greater setback. This ensures a better edge grip and also provides a natural float in powder. The rear binding is often set flat here, between 0° and +5°, whereas the front binding is mounted steeper; + 15 ° or even more.