Snowboard Assembly Instructions
1. Snowboard Assembly: General Information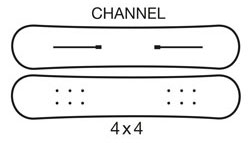 Here, we'll show you how to adjust your snowboard bindings correctly and how to mount them on your snowboard in the way that best suits your riding style. First of all, it is absolutely essential to look at the disc of your baseplate of your snowboard bindings.
Except for Burton, all manufacturers work with a 4×4 or a 2×4 disc system. In order to mount your new snowboard bindings on your snowboard, the inserts, the holes on top of the snowboard, should fit the disc. The more inserts you have on your snowboard, the more options you have for the binding distance and the positioning of your bindings on the board.
To provide you with even more flexibility, Burton goes a different way with their channel system and the corresponding EST series. This has many advantages, but limits the compatibility of other bindings. Make sure you check your new snowboard to see whether it has a hole system or a channel system and ensure your bindings will fit your board. On all snowboards except the Burton channel snowboard, the traditional disc system will work. In the following, we will explain how to adjust your snowboard bindings correctly.
1.1 Assembly Instructions: Goofy vs. Regular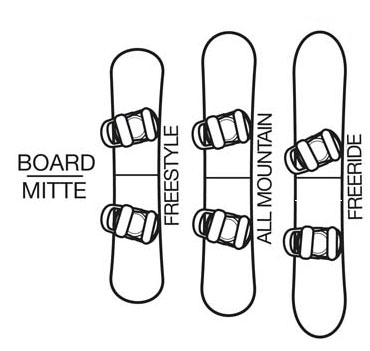 Before you mount your bindings onto your snowboard, you should decide if you'll be riding goofy or regular. This is important to know in order to mount your snowboard binding correctly. Regular means that your left foot is facing towards the direction you're riding. Goofy means the position where you stand with the right foot on the front of your snowboard.
Tip: To find out which position is suitable for you, there is a simple trick: Stand with your legs together and have a friend give you a slight push from behind. For most people, the leg with which you take the first step is the leg which will probably be on the front of the snowboard. The stance with which you start in the beginning won't strongly limit your possibilities. It's best to learn both over time.
With most snowboards, it doesn't matter in which stance you mount your binding. This applies to almost all twin shape snowboards as well as most directional shaped snowboards. However, there are some asymmetrical directional shaped snowboards that are designed for both goofy or regular. Here, you should ask before you purchase, which stance the board is designed for, so that you get the snowboard you're looking for.
1.2 Assembly Instructions: Distance adjustments
The distance describes how much space you have between both bindings on your snowboard. Here, next to your size, it depends on your level of riding and what terrain you want to ride.
For freestyle and park snowboarding, the distance between your bindings should be slightly wider to ensure greater stability during jumps and more control while landing. However, you should note that a wider stance will have a negative effect on your performance while downhill and freeriding. More tips on street snowboarding can be found in our Street Snowboard Guide.
Here, it often helps to try out several different adjustments to find the best distance for you. Your shoulder width is always a good starting point to determine the distance of your bindings.
1.3 Assembly Instructions: Degree Adjustments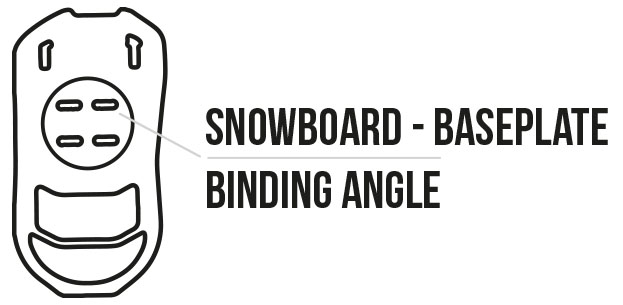 The binding angle tells you how your bindings are aligned to the center of the board. On the binding plate of the binding, you can see degrees which indicate the binding angle and can each be adjusted in steps of 3°. The degrees are relatively variable.
Again, it's entirely up to you and you can use a little trial and error to figure out how to adjust your snowboard bindings correctly. If you are a beginner, you should set the front binding to +15 degrees and the rear binding to 0 degrees. This is a good stance setting for getting started. If you want to learn more about the the best snowboards for beginners, head over to our Snowboard Beginner's Guide.
As soon as you start going for tricks, it would be advisable to adjust your bindings to a duckstance. That means that you mount the front binding at a positive angle of +15 degrees and the rear binding at a negative angle at approximately -15 degrees. That will make switch riding and tricks a lot easier for you. Also for All Mountain Snowboarding, it's recommended to have a subtle duckstance. The front binding should be mounted between +15 degrees and +21 degrees, and the rear binding at a degree of -3 or -12.
If you're mostly hitting the backcountry or riding off the slopes, you should aim for a Freeride setup. In this case, the rear snowboard binding is often set with minimum or no angle, i.e. with a degree of 0 ° to + 5 °, while the front binding is steeper, e.g. + 15 ° or more. In addition, it is recommended to choose a closer stance and a stronger setback. This results in a better edge grip and also ensures a proper boost in the powder.
1.4 Assembly Instructions: Position adjustments
If you already have some experience in the park and would like to evolve your freestyle skills, it is also recommended to set both snowboard bindings to the same distance from nose and tail to be able to also ride switch pleasantly. With this setup you stand on the middle of your snowboard with an even force transmission.
For the use on the slopes and for fast all mountain snowboarding, you can mount your binding with a light setback.
This means that you'll have your binding offset slightly from the center of the board. This shifts your center of gravity to the rear end of your snowboard and therefore gives you more power to the tail, which gives you more stability at high speeds.
Especially for deep powder, a setback of the bindings offers a big advantage, since the nose has a better float and allows the snowboard to slide more easily over the snow. In addition, you have more control over your snowboard, which gives you more security and stability, particularly on steep slopes.
2. Assembly Instructions: Step-by-Step
If you have all the knowledge and already know how to adjust and mount your snowboard bindings on the snowboard, you can skip ahead. For every binding in the skatedeluxe Online Shop, the necessary screws are included as a mounting set. You only need a matching Snowboard Tool and you'll be ready to go. Here is a step by step guide on how to assemble your snowboard bindings onto your snowboard.
1. The disk of your binding is located in the baseplate of your snowboard binding. First remove the accelerator pedal of your binding, also referred to as the top cover plate, to get to the screws and the disc.
2. Place the bindings on your board in accordance to your desired stance. Left foot forward for regular or right foot forward for goofy.
3.
Position the bindings to the desired distance from each other. For freestyle purposes, the distance can be a little further, for freeride tours a bit more narrow. As a starting point, you can orient yourself to your shoulder width.
4. Partially fasten the bindings and make sure the disc heads straight forward with the 0 ° angle marker. Make sure that the binding can still be moved for the next step.
5. Now you can adjust the binding angle by moving the binding slightly to the left or right. For park sessions, a duck stance with + 15 ° forward and – 15 ° backwards should work well. But remember, here you can use trial and error to find out what's best for you.
6. Screw the binding firmly so it can no longer move. Make sure that you do not over-tighten the screws to protect the threads.
7. Clamp or screw the accelerator pad back on and you're done. Have fun on the mountain!