Om de Impact Technology van het Almost Willow Jail Tats Deck te testen, hebben we echt alles uit de kast gehaald. In deze Product Test zal je te weten komen of het de moeite waard was!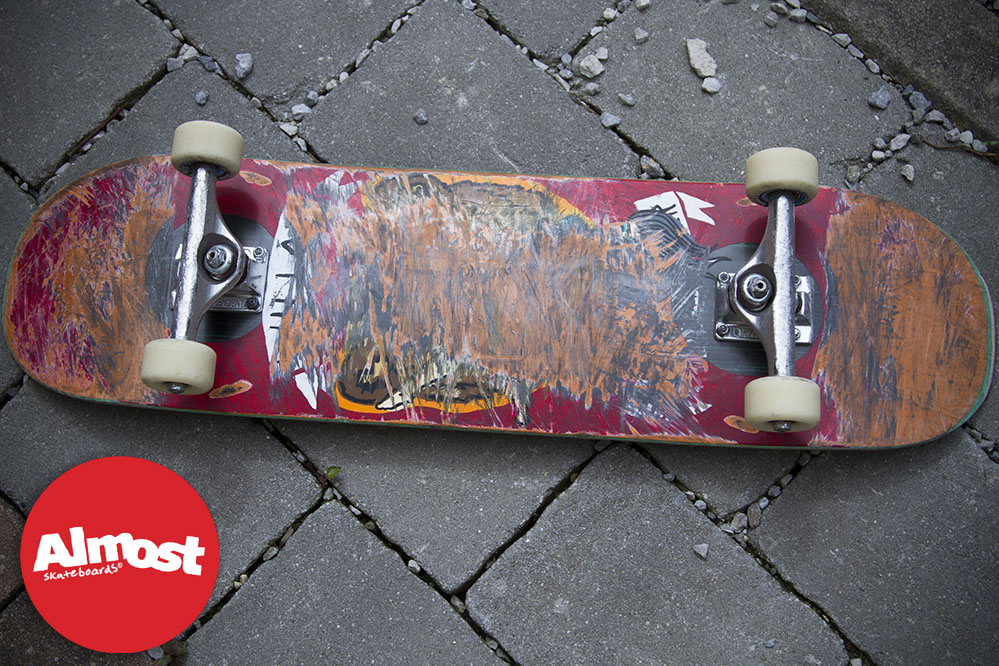 Opgericht onder de vleugels van Rodney Mullen en Daewon Song in 2003, is Almost uitgegroeid tot een van de meest gevestigde skateboard – fabrikanten. Samen met merken als Cliché, Enjoi of Zero, valt Almost onder Dwindle – Distribution. Ook het Almost team staat sterk met namen als Rodney Mullen, Daewon Song, Chris Haslam en zelfs skatedeluxe teamrider Willow, die Almost pro is sinds 2012. We hebben zijn laatste Pro Model uit de Jail Tats serie grondig getest en we waren vooral nieuwsgierig naar de Impact Plus technologie.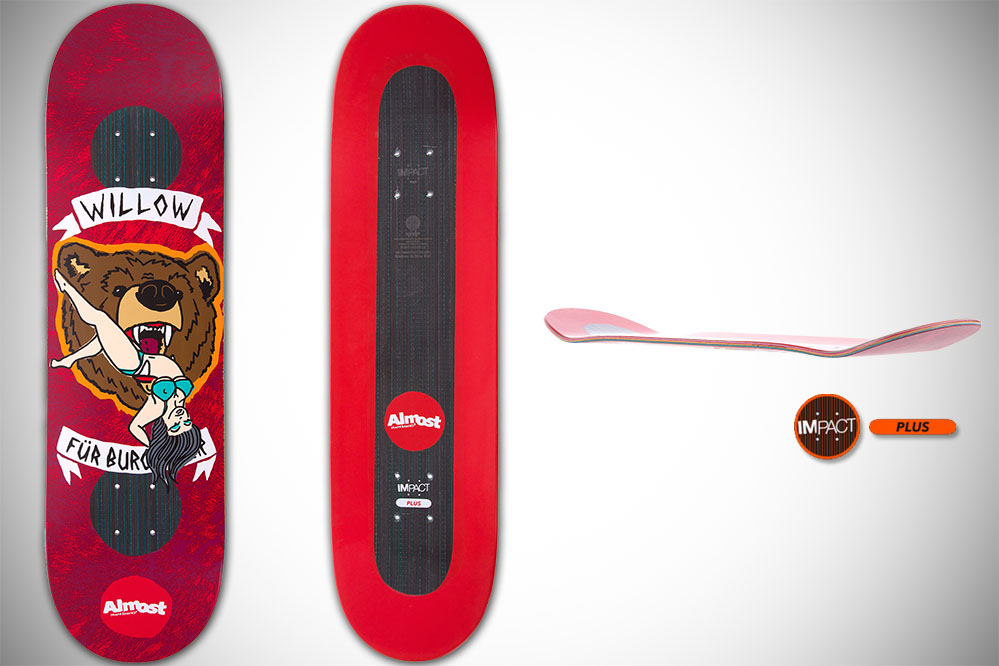 Shape & Concave
Het deck heeft een degelijke omvang met een breedte van 8,375 inch en een lengte van 31.85 inch en een Standaard – Popsicle vorm met medium concave. Dit klinkt misschien saai in tijden van ongewone vormen, maar voor ons is het nog steeds de beste formule voor een succesvol deck.
Pop & Duurzaamheid
We zullen eerst kort uitleggen wat de Impact Plus constructie inhoudt. Impact Plus betekent dat twee koolstofvezel inserts in de onderste laag van het hout zijn ingewerkt voor langdurige pop en verbeterde duurzaamheid. De ronde afzettingen liggen ter plaatse van de boringen voor de assen om te voorkomen dat het deck breekt bij onzuivere landingen. Bovendien heeft de bovenste laag hout ook een continue laag koolstofvezel materiaal om een langdurige spanning van de plank te waarborgen.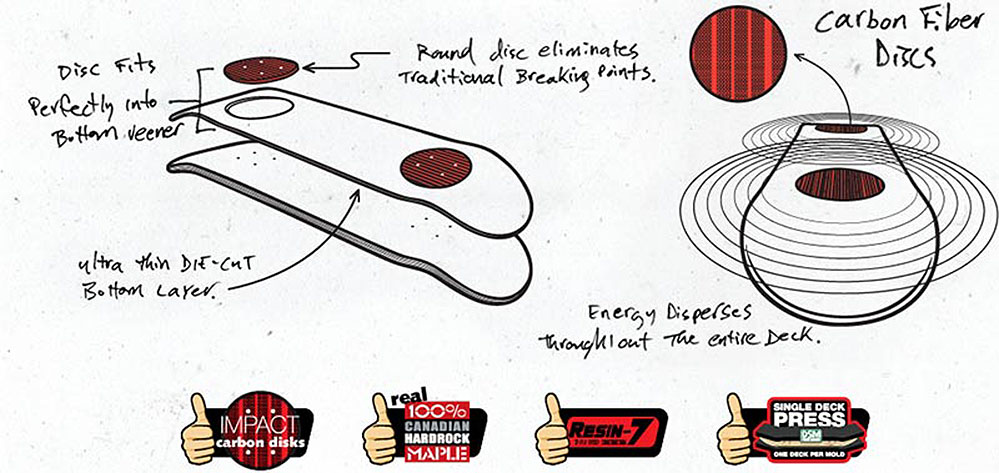 Maar hoe werkt het in de praktijk? Naar onze mening heeft het deck zeker een langer durende spanning. Zelfs na een aantal sessies is het deck merkbaar stijver dan je van een normale 7-lagen constructie zou verwachten en dus behoudt het deck zijn pop beter. Het deck geeft nauwelijks mee en voelt solide aan, zelfs als je niet direct met je voeten op de schroeven landt. Echter, wat de Impact Plus technologie niet kan voorkomen, is de slijtage van de tail en chips in de nose en tail door frontale botsingen, logisch ook ergens.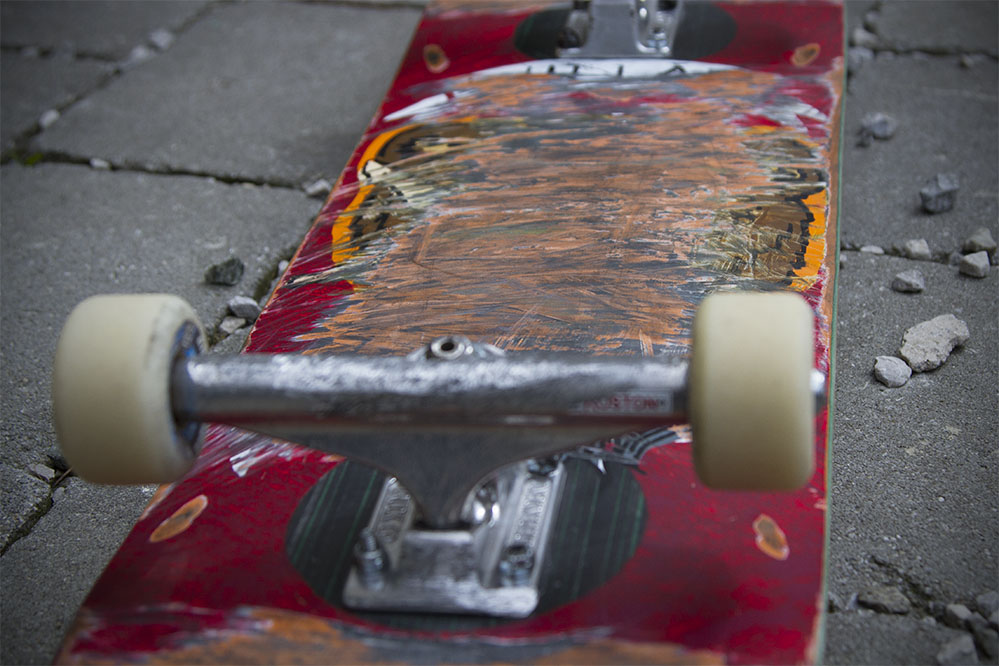 Conclusie
Willow z'n Pro model uit de Jail Tat serie heeft alles wat een goed deck nodig heeft. Voornamelijk is dit een solide vorm waardoor je je comfortabel voelt op het board. De Impact Plus Technologie is zeker de kers op taart. Het verlengt het gevoel van een nieuw deck onder je voeten te hebben en voorziet daarmee een langer durende pop.
● Check het Almost Willow Jail Tats Impact Plus 8,375" deck
● Alle decks met de Almost Impact Plus Technologie
● Bezoek Willow z'n Teamrider profiel
● Alle Skateboard Decks op skatedeluxe