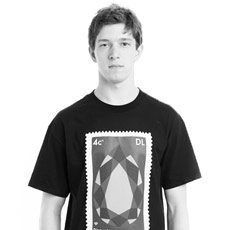 Christoph Radtke
Bio
Game Of S.k.a.t.e Machine!
Christoph Radtke is geboren en getogen in Hannover waar hij nog steeds woont en skate. Dankzij zijn vader en de X-Games werd Christoph enthousiast over skateboarden. Klinkt heel bekend, maar Christoph begon met een typisch speelgoed – skateboard. Later begon hij een echt skateboard te gebruiken en leerde hij alle basics. Na de Ollie leerde hij in een sneltempo nieuwe tricks bij en kon hij het skateboarden niet meer loslaten.
Met Christoph Radtke hebben we een regelrechte trick -machine uit Hannover. Diegenen die een paar keer met Christoph aka "Rudi" in het skatepark of tijdens een wedstrijd geskate hebben, weten waar we het over hebben. "Flip in – flip out" is geen enkel probleem voor hem en overal waar een Ollie mogelijk is, kan hij ook een flip.
Christoph houdt echt van skate contests. Of het nu een "Game of SKATE", een line of een run is. Christoph is er altijd klaar voor. Bekijk maar eens de resultaten van de "Official German Championships" of zijn zegen op het Jackalope Festival in Montreal, Canada. In 2012 kwam hij op het skatedeluxe team en we zijn nog steeds erg blij met hem. Na een heftig herstel is Christoph weer terug op zijn board.
De 'Rad Machine' haalde nog een mijlpaal toen hij in 2015 een deal tekende met éS Footwear
Dat Christoph iemand is die niet zomaar even rust neemt bewees hij in 2016 toen hij de South German en de Rhinelands-alatinate championship of de Lexus COS Cup 2016 won. Uiteindelijk haalde hij de derde plek op de COS 2016 samen met Justin Sommer. We kijken uit naar wat er in de toekomst met hem gaat gebeuren!