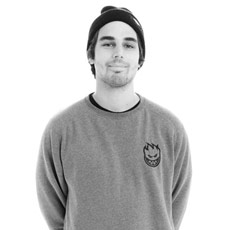 Douwe Macare
Bio
Blijven lachen en de hele ledge uitrijden!
Geboren en getogen in Arnhem: Douwe Macare is onze homeboy uit Nederland. Douwe skate gewoon alles graag – maakt niet uit of het wedstrijden, street of park sessies zijn, of gewoon onnozel doen. Tijdens dit alles is hij wel altijd gefocust op zijn tricks, maar vergeet nooit om te lachen.
Vooral hubbas, ledges, rails en grote gaps zijn Douwe's favoriete obstakels. Met zijn positieve attitude en 90's thrash muziek zorgt hij altijd voor een goede sfeer.
Maar naast al het plezier sleept deze aardige Nederlander ook geweldige resultaten binnen. In 2016 haalde hij tot drie keer toe de tweede plek bij de Red Bull Hold the Line contest, bij de Skate World Cup in Graz en bij het NK Skateboarden. Douwe gaat all-in terwijl hij niet vergeet dat skateboarden om plezier gaat!
We kijken uit naar alles wat de toekomst houdt voor Douwe en het skatedeluxe Skate Team.