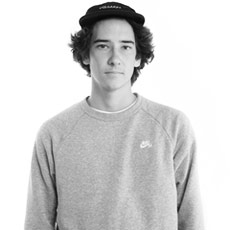 Matt Débauché
Bio
Van surfer naar skater!
Matt Débauché is geboren en getogen in het Franse deel van het Baskenland. Dit deel van het land staat bekend als een paradijs voor surfers en soms ook wel "Frans Californië" genoemd door de boardsports-industrie, de bergen en de mooie golven. Hoewel hij heel veel gesurft heeft toen hij jonger was, koos hij uiteindelijk toch voor de houten plank en asfalt. Zijn veelzijdige skaten met veel flow bewijst dat zich richten op skateboarden zeker de juiste keuze was.
Het maakt niet uit of hij ledges of grote gaps aanpakt, zijn veelzijdigheid en mooie flow bewijzen dat focussen op skateboarden een goede keuze was.
Zijn keuze werd ook gewaardeerd door Nike SB, Collapse, Chill or Die en een plaats op het skatedeluxe team. Bienvenue dans l'équipe Matt!