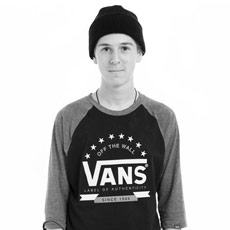 Thomas Graf
Bio
Geen #YoungGun meer!
Geboren en getogen in Freising ontdekte Thomas Graf het skateboarden al op de prille leeftijd van 12 jaar. Sindsdien is hij blijven oefenen om uit te groeien tot een ervaren skateboarder.
Thomas is vaak te vinden op vrijwel alle spots rond München. Het maakt niet uit of hij nu skate in een hal, park of op straat – Thomas skate altijd met stijl!
Zijn skateboarden is gestaag geëvolueerd in de afgelopen jaren, wat uiteindelijk beloond werd met een VANS deal. Zijn voormalige titel als "Young Gun" is dus nu voorbij. Onthoud de naam, want we gaan nog veel horen en zien van Thomas Graf!