Loaded Bhangra 48.5" (123cm) Tavola longboard

Questo prodotto purtroppo è esaurito.
The Loaded Dancer is dead! Long live the Loaded Bhangra! The guys of Loaded Longboards created with the Bhangra a more compact dancing/ freestyle board that you could basically do everything on. A board that has plenty of room to get your dancing groove on and is light enough to throw it around. The Loaded Bhangra Longboard Deck is not overly huge, can bust out steezy slides, and can be carried and fit into a trunk easier. Can you downhill on this board? Probably, but it is not a DH board. Due to the rocker, slides and dancing are becoming more easier. Besides, Loaded Longboards also added a mellow concave, which will lock you in but won't feel uncomfortable while dancing. All in all, this will give you more confidence while sliding and landing big spins and stuff like that. More nose and tail curvatures allow easier catching while doing tricks and with some practice and good timing, you'll also be able to ollie the Bhangra!
We advise you to use
longboard trucks with a hanger width of 180 - 195 mm
and
longboard wheels with a height of 72 mm
max on this deck.
length
: 123 cm
width
: 24 cm


wheelbase
: 83 cm
construction
: two vertically laminated bamboo cores with a middle layer of cork, rocker, kicks
concave
: low
flex
:
- flex 1: 68 - 113 kg
- flex 2: 41 - 86 kg
truck mounting
: topmount
griptape
: black, rough on the kicks / medium on the platform
Hai una domanda?
Mandaci un messaggio utilizzando il nostro modulo di contatto o via e-mail a service.it@skatedeluxe.com e risponderemo entro 24 ore.
Assicurati di includere il collegamento del prodotto o il nome esatto così sappiamo che cosa vuoi dire.
Stiamo ancora imparando la lingua, quindi per favore pe paziente :-)

Ecco la nostra sezione FAQ per le domande frequenti.
Linea verde
Chiamaci gratuitamente: 800 977 638
Puoi chiamarci dal lunedì al venerdì dalle 9 alle 12 e alle 14 alle 18.
Le vostre domande e risposte
22 recensioni perr Loaded Bhangra 48.5" (123cm) Tavola longboard
Filtra recensioni
Mostra valutazioni in:
21 Recensioni
0 Recensioni
1 Recensioni
0 Recensioni
0 Recensioni
0 Recensioni
Non ci sono recensioni in italiano. Vedrai tutte le recensioni qui sotto.
Valutazione:
Lingua: Deutsch
Data: 15.05.2011
Autore: Tristan (4)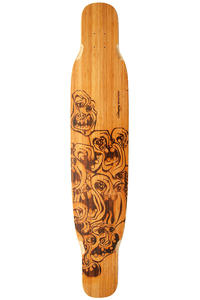 eigentlich is es ja kein china board sondern made in california USA...
0 di 1 clienti hanno contrassegnato questa recensioni come utile
Questa recensione è utile?
Valutazione:
Lingua: English
Data: 06.05.2017
Autore: The asian (6)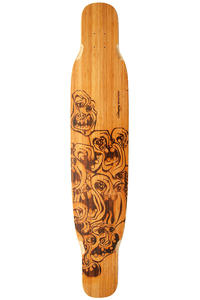 Loaded Bhangra
Hey guys, i recently bought the loaded bhangra for my first dance board.
so far, everything is amazing. The size of the deck is spot on. The amount of space you have, as you transition from step to step feels very smooth af.
The weight isn't too bad, it's a matter of getting used to the deck/set up you have.
the grip tape is mediocre, except for the ultra course grip on the oppsite sides of the tail, for the narly ollies and kick flips/any trick that require any heavy pops. Simply awesome.
but the ovrall rating of the board in general, for crusing, downhill, free style ect... depends on how much you practice in the individual styles. The board, deffo has good potential in all of these styles. Again. this board is not an all round board. The length of the affects the preformance of certain styles, such as downhill/ freestyle, but depends on the amout of practice. Finally, the apperence of the board is simply lush. The desing on the bottom is simple, with a cool vintage coating, that makes the length of the board stand out more, in is beautiful simplicity. Highly reccomend if you are looking for a good dance board.
Questa recensione è utile?
Valutazione:
Lingua: Deutsch
Data: 27.04.2017
Autore: Erich (12)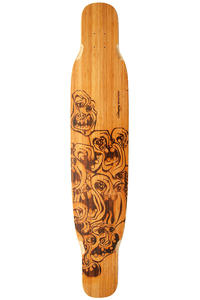 NICE
Das Board sieht super aus und haltet auch sehr viel aus ich benutze es für Tricks und zum dancen es hat bis jetzt keinen riss oder sonstiges bekommen wohlob es auch von mehreren metern höhe geflogen ist
Questa recensione è utile?
Valutazione:
Lingua: Deutsch
Data: 10.09.2015
Autore: Cino (232)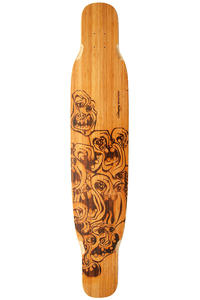 Das Schlachtschiff unter den Loaded Boards !

Super zum dancen etc.
Aber wenn man damit durch die city crusien will, ist es ein bisschen zu groß meine meinung nach !
Nur 4 Sterne wegen dem hohem Preis !
Questa recensione è utile?