skatedeluxe Wish List Raffle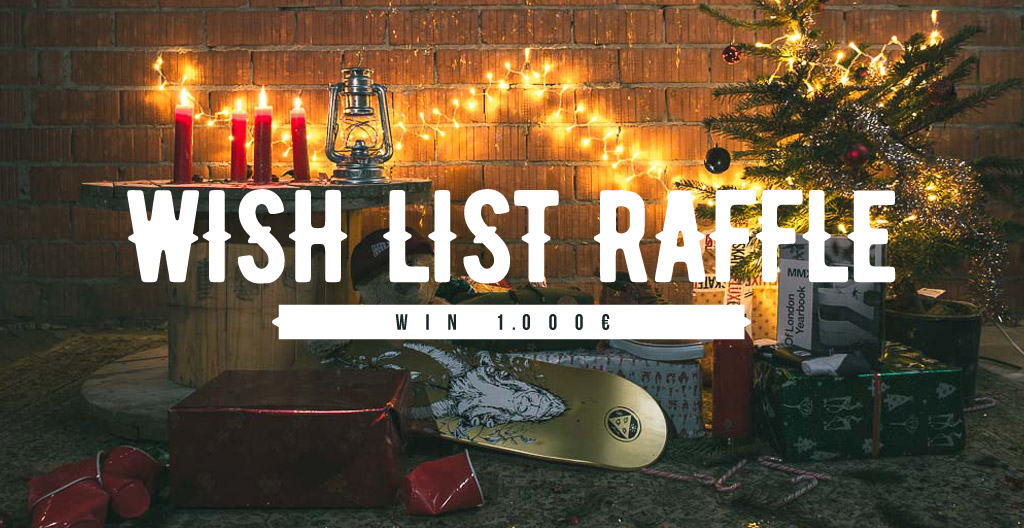 Just can't wait for Christmas, all the good food and all the presents? Now you don't have to! We'll gift you with 1,000 EUR worth of all your favourite items from your wish list long before the official holidays. Yeah, you read that right! The skatedeluxe wish list raffle is back to bring you joy and to take some of the load off Santa's sleigh.
Here you can drop everything you're hoping St. Nick will bring you, from laces to skate wax. We're giving away a phat 1,000 EUR gift card to one lucky winner who's publicly shared their wish list with the world.

On top of that, we're giving you the chance to be one of nine people to nab a randomly picked article from your wish list.
The deadline participate is 17 December 2016.


The winner is: Aaron L. | Merry Christmas and happy shopping!
The winners of the random items for the second Sunday of Advent are:
The winners of the random items for the third Sunday of Advent are:
The winners of the random items for the fourth Sunday of Advent are:
This is how the skatedeluxe wish list raffle works in detail:
Log in to your account or create a skatedeluxe customer account in the online shop or.
Add all your favourite products with a total value up to 1,000 EUR to your wish list. To do this, select your size from the desired product and click the "ADD TO WISH LIST" button (below the "Add to shopping cart" button).
you're done filling your wish list, share it publicly on Facebook or Google Plus
Attention: Please make sure your wish list is public for the entire raffle period.
The deadline to enter is 17 December 2016, 23:59 (CET). All decisions are final. Terms and conditions of participation for raffles and competitions apply.
The jackpot winner will be announced here on the fourth Sunday of Advent and will be contacted by us per Email. On the first, second and third Sundays of Advent, the winners of their random wish list items will also be announced on the site and notified.
P.S. In the skatedeluxe Advent calendar there's a new deal or giveaway every day! Take a peek at it daily for some awesome specials!