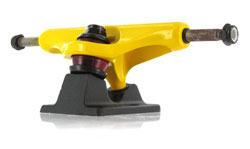 The choice of trucks is, next to the choice of the right deck, one of the most important decisions of a skateboarder. However, especially for beginners, it is not always easy, to find the right size and other designations. That is why we have put together the various dimensions of the trucks and the importance of low, mid /standard and high trucks, especially for you. There is also some interesting information about the different truck manufacturers that you can find here.
---
Choosing the right size of trucks for your board
Choosing the right size of trucks for your skateboard is crucial in order to make the ride as smooth as possible. If your trucks are too narrow, your ride will me very unstable. If the trucks are too wide, you will get trouble steering so get them just right. To help you make the choice easier, we've put together the recommended truck sizes for the different widths of boards. We've also indicated the sizes of the different truck companies, because some of them use a different unit of measure, such as Independent and Thunder.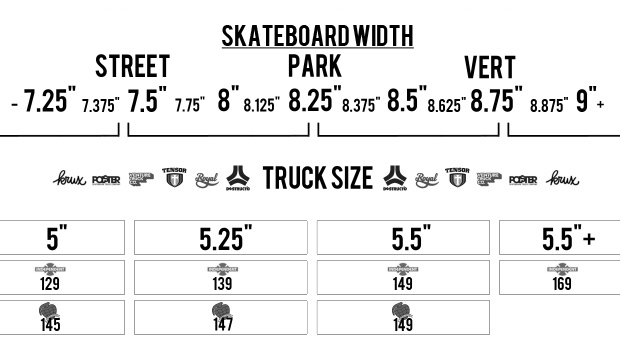 ---
Low – Mid – High?
The difference between High, Standard / Mid and Low is almost negligible, but the subtleties are crucial, although it mainly comes down to personal preference and the size of the wheels.

are as the name says: "low". They make the deck lower, which makes the handling of your deck more stable and lighter. However, the risk of wheelbites is relatively high, especially with loosened trucks and unclean landings. Therefore, you should always use small wheels with Low trucks (50mm or 51mm) or use shockpads or riserpads to avoid wheelbites.
are actually the compromise between low and high axes and thus ideal for all-around skateboarding and those who cannot decide.
are as the name says "high", so you stand somewhat higher above the ground. The board can be popped steeper, and thus makes your ollies higher (theoretically). The risk of wheelbites is also minimized, but they are heavier, and the board is handled somewhat unstable, due to the higher turning angle of the trucks.
---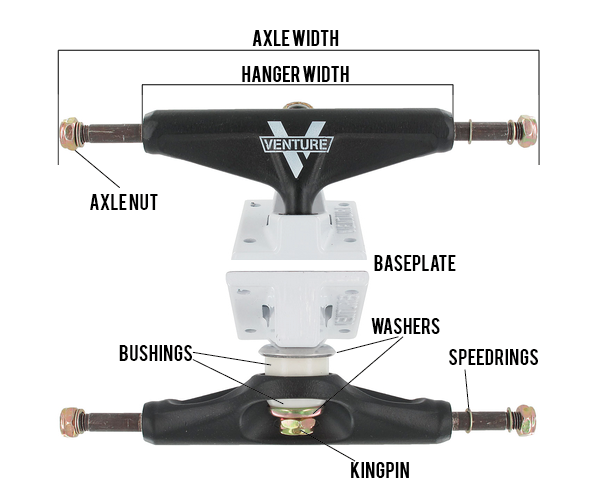 | Manufacturer | Size Designation | Hanger Width | Axle Width |
| --- | --- | --- | --- |
| Venture | 5.0″ | 5.0″ (127mm) | 7.64″ (194mm) |
| | 5.25″ | 5.25″ (133mm) | 8″ (203mm) |
| Independent | 129 | 5.0″ (127mm) | 7.6″ (193mm) |
| | 139 | 5.39″ (137mm) | 8″ (203mm) |
| | 149 | 5.9″ (150mm) | 8.5″ (216mm) |
| | 169 | 6.29″ (160mm) | 8.9″ (226mm) |
| | 215 | 8.46″ (183mm) | 10″ (254mm) |
| Thunder | 145 | 5.0″ (127mm) | 7.75″ (197mm) |
| | 147 | 5.39″ (137mm) | 8″ (203mm) |
| | 149 | 5.9″ (150mm) | 8.4″ (213mm) |
| Grind King | 5.0″ | 5.0″ (127mm) | 7.67″ (195mm) |
| | 5.25″ | 5.25″ (133mm) | 7.874″ (200mm) |
| Royal | 5.0″ | 5.0″ (127mm) | 7.67″ (195mm) |
| | 5.25″ | 5.25″ (133mm) | 8″ (203mm) |
| Tensor | 5.0″ | 5.0″ (127mm) | 7.67″ (195mm) |
| | 5.25″ | 5.25″ (133mm) | 8″ (203mm) |
| Destructo | 5.0″ | 5.0″ (127mm) | 7.67″ (195mm) |
| | 5.25″ | 5.25″ (133mm) | 8″ (203mm) |
Venture Trucks are, next to Independent Trucks, the most popular trucks in the world and especially in Europe, where they have a very large market share. The great strength of Venture lies in the high quality finish of the trucks, which makes them extremely robust and durable with relatively low weight. In addition, Venture can stand out with a wide range of different colors.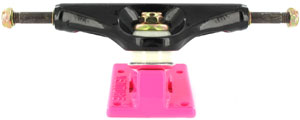 Venture Trucks Color Black Pink Low 5.0″

Independent Trucks from Santa Cruz (California) are the perfect example of good skateboard trucks. Since 1978, the guys have been at the top and will not give up their place so easily after 30 years of domination with the Independent Stage 1 (Indy I) Bennet and Tracker Trucks. Their trucks are all true classics and are characterized by fine steering and, above all: their extremely long lifetime and consistency. If you want to destroy an Independent Truck, you must be ready to put up quite some stuff … Additionally; Independent provides a lifetime warranty against defects in materials and manufacturing process.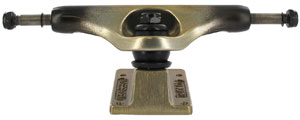 Independent 139 Stage 10 Team V Series 5.39″ Truck

Thunder Trucks have worked out of their underdog role from the 80s for quite some time and are now seen as the big fish in the truck business. In addition to their eye-catching designs, Thunder Trucks reign supreme with a wide range of products and extremely lightweight trucks on which the legendary Jamie Thomas pledges allegiance.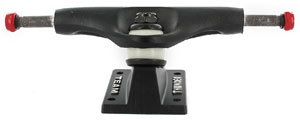 Thunder Deathwish 145 Low Truck

Tensor Trucks is indisputably the most innovative company in the skateboard truck world, which is not surprising when you consider that the legendary Rodney Mullen founded this company in 2000. Tensor put forth their magnesium-based axles, which makes the trucks (on average) 25% lighter than all other trucks. In addition, they use specific base plates made of very sturdy plastic (except for the Response series) to increase the slide properties of the trucks. The bushings of Tensor Trucks are connected to each other, which provides additional stability. At each base plate, four small fangs are attached which 'glues' the trucks to the deck.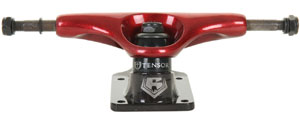 Tensor Response Creager Laser Crest 5.0″ Mid Truck

Destructo Trucks is now one of the top truck manufacturers of the world. The company from Costa Mesa, California, uses special aluminum to manufacture their trucks, which is also used in the manufacture of weapons. This makes the axles relatively light, very stable and durable. Almost all Destructo trucks have a downwardly offset Kingpin, which prevents abrasion while grinding. The new Destructo Trucks are equipped with a Hollow kingpin, which reduces the weight even more.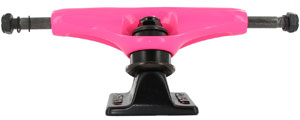 Destructo Superlite 5.0″ Mid Truck