1. Longboard Decks
This page will give you an explanation of the different parts of a longboard, which will help you choose the right components for your setup. We've divided the wiki into six chapters, one for each component set of a longboard. Here you'll learn everything about decks, axles, wheels, and small parts to help you find your way around the world of longboarding.
1.1 General Information
Most longboard decks are made of pressed Canadian maple or bamboo, both of which are often mixed or coated with other materials, such as fibreglass or epoxy. It's also possible that the board has a core made from these materials. In recent years, materials such as ashwood, poplar and basswood are more frequently used. Though they differ optically from skateboards the segments of a longboard are the same: In the front, there is the Nose, in the back is the Tail, and the space between the mounting holes is called the wheelbase.
1. Deck Width
2. Wheelbase
3. Nose
4. Tail

As you may have already noticed, there is a wide variety of materials, shapes, lengths and widths, that all have different properties of course. There are two general things about the length of longboards:
Longer Longboards are more stable at high speeds
Shorter boards are more maneuverable and will perform well throughout the city
Therefore, the deck length depends on the different types of decks or the terrain the deck is made for.
Which Longboard is right for you?
It's difficult to provide general recommendations about how to choose the right lenght and width of a longboard based on your height and weight. While it's easy to match skateboard decks with your height and shoe size, those parameters aren't very helpful when it comes to longboard decks. Nevertheless, you can say that the taller and heavier you are, the longer your deck can be. For kids, shorter boards or cruisers might be more appropriate.
A good reference point is the wheelbase of a longboard deck. The shorter the wheelbase, the smaller the turn radius when you put pressure on the side of the board. In short, a short wheelbase makes sharp turns possible. Consequently, short riders can have a hard time to controlling a longboard with a large wheelbase because they can be less manoeuvrable. Of course, you can filter for different wheelbases in our shop.
Since in longboarding fewer tricks are done than in skateboarding, longboard width isn't a crucial factor when you're looking for a new setup or deck. Often you'll stand diagonally on your board, so it isn't ideal to match your shoe size with deck width.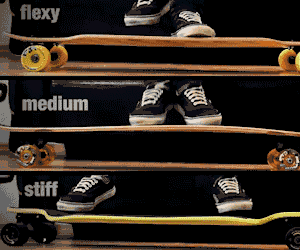 More informative is the longboard flex. There are longboards with and without flex. For example, for carving and cruising, flex can be a nice feature. When you're blasting down a hill flex is the last thing you want for your board. Generally, you should keep two things in mind:
Less flex provides stability at high speed
More flex provides an easy and surfy ride
To ease the selection in our shop, we use three levels of Flex to help you make the right choice: "stiff", "medium" and "flexy". It is important to note that the Flex also depends on your weight. The heavier you are, the more your board will flex. For our categorisation, we use the standard weight of 70 – 85 kg to indicate all relevant information.
So if you're rather light, you can ride flexy boards easily, but at high speeds, a board with less flex could be more appropriate. It can be quite uncomfortable to ride a board with a lot of flex when you have a higher body weight. Therefore, we would suggest medium or stiff boards in this case.
Of course, it also depends on where and how you want to ride your longboard. Some companies such as Loaded Longboards also offer various flex levels for different weight classes. You'll find information like this in the product descriptions of the longboards in our shop.
If you're unsure which longboard will suit you best or if you're just starting out longboarding and want to learn the basics like pushing and steering, it's wise to take a look at our longboard completes. Those boards are already assembled, so you can get started right away.
Tip: If you're looking for a longboard for cruising your city, simply use the "usable for" filter and choose "cruising" to only display all cruising longboard decks. Or you might want to take a look at the cruiser skateboards (a.k.a. cruisers) as well.
1.2 Longboard Deck Types
1.2.1 Downhill

In Downhill skateboarding, speeds of 100 km/h and more can be achieved. Most trucks, however, tend to already start wobbling format speeds of about 50 km/h (known as speed-wobbles). Therefore, most downhill boards have a drop so the board sits closer to the ground than other boards, thus preventing the board from wobbling. Here, only the nose and tail are raised, so that the wheelbase is closer to the ground. The pressure points of the rider on the board migrate below the truck turning point, making the board much more stable at higher speeds. Due to the low centre of gravity, taking narrow corners is easier. Dropped decks are typically somewhat slower in steering, which is why many downhill riders choose for flex-free top-mount boards with a high concave – especially on routes with a lot of curves. These boards are often more agile than the dropped boards.
1.2.2 Freeride

In recent years, Freeride Longboarding established as an extremely popular discipline. Freeride longboarding isn't necessarily about hitting top speed, but taking advantage of the full width of the road and having the most fun possible when riding down a hill. Therefore, slides and other tricks are hot topics in freeriding. Freeride decks are designed for speed, similar to downhill boards. However, you can also find models with a slight flex.
Most freeride decks are twin-tips (symmetrical), so there is no clearly defined front and rear, which is a great advantage for slides. In addition, most freeride boards are designed as a drop-through board to facilitate sliding and that is why dropped boards often find themselves in the freeride world; because of their deeper position. Some freeride decks, however, do have nose- and tailkicks to make wheelies and shove-its possible.
1.2.3 Carving

Carving isn't about reaching the highest possible speed, but rather taking deeper downhill turns. Carving decks are usually somewhat more flexible. In addition, some segments above the wheels are often slightly hollowed out or not even present (cutouts) to prevent the wheels from touching the board (wheelbites) and therefore prevent the consequent horrible sudden stop. Carving decks often have a camber-profile, so the deck is slightly curved upwards, which supports the flex and provides better turn initiation. The layers are pre-tensioned so the deck really "springs" out of carves and gives a very surfy and snowboard-like feeling.
1.2.4 Cruising

Cruising boards or cruisers are actually just extended skateboards, since they usually have a tail and some are also equipped with a nose. Ollies and airs are also possible in a limited context when using this type of deck. But the classic pintail shape remains the most popular shape for cruising boards.
1.2.5 Slalom

Slalom boards are slightly shortened and typically have a length of 60-90cm, which is why the core scene often discussed whether they should be among the longboards or not. Especially for riders who only occasionally use the board, the slalom board is very popular because of its maneuverability and transport friendly size.
1.2.6 Dancing
As opposed to slalom boards, dancing longboards or simply dancers, are very long since the entire space on the board is used to move on while riding. Additionally, most dancers have kicktails that make some tricks and manuals possible.
2. Longboard Trucks
2.1 Construction
Just like common skateboard trucks, longboard trucks consist of a hanger and baseplate which are connected by the kingpin. Inside the hanger, you'll find the axle where the wheels are placed. The hanger reaches into the baseplate at the lower end – the pivot.

Between baseplate and hanger, the bushings sit on the kingpin in the openings of the hanger which are called bushing seats. In order to reduce uneven pressure on the bushings, washers are installed between the bushings and their points of support.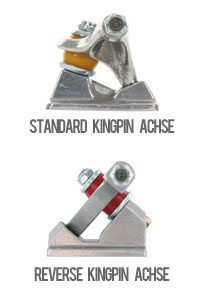 Most longboard trucks have different truck geometry than skateboard trucks. With longboard trucks, the kingpin usually sits diagonally in the truck and points to the outside. Those trucks are called "Reverse Kingpin (RKP) Trucks". Those are much agiler than the usual "Traditional Kingpin (TKP) Trucks".
Nevertheless, TKP Trucks are still very popular with retro and cruiser boards due to the close connection to skateboarding. There are also some freeride and downhill longboards that use traditional kingpin trucks due to the low level of the trucks and their inertia. By the way, you can comfortably filter for RKP and TKP trucks in our shop.
2.2 Hanger Width
When selecting trucks, you should pay attention to the width of your deck. In general, the position of the bearings should align with the outside of your deck. Of course, it is very rare that the trucks will fit exactly to the board. In that case, we would recommend wider trucks than ones that are too narrow.
However, it's your riding style or what you want to do with your setup that determines what trucks suit you best. In the product description of our decks, you can see which truck widths fit best with the longboard decks in our shop.
Narrower Trucks like 150 mm trucks (hanger width) are manoeuvrable and allow you to apply more pressure on the ground when you're doing turns. Therefore, these trucks are ideal for carving, slaloming and cruising the city. If your board doesn't have cut-outs, you should think about using riser pads to prevent wheelbites.
On the contrary, wider trucks are less responsive, yet provide stability at high velocity. Consequently, trucks with a hanger width between 170 – 180 mm are what you're looking for if you want to go downhill. Although with these trucks, you'll have to make a compromise in terms of grip.

What are Wheelbites?
When your wheels touch your deck while turning, it's called a wheelbite. If you're riding bigger wheels, the distance between them and your deck can be quite short. In this case, unexpected contact between deck and wheels can occur during sharp turns. As a consequence, your board will come to a sudden stop.
2.3 Truck Height
The truck height is measured from the bottom of the baseplate to the middle of the axle. While wheel size and the type of mounting affect the height of your longboard, the truck height can directly influence the riding properties of your setup.
Generally, you can sum up the differences between high and low trucks as follows:
| High Setup | Low Setup |
| --- | --- |
| More stability at high speed | Surfy riding with deep turns |
| Trucks can be loose / less risk of wheelbites | Trucks should be harder / higher risk of wheelbites |
| Pushing and foot brake are harder | Pushing and foot brake are more comfortable |
| Predictable and controllable slides | Less controllable slides, wheels regain their traction faster |
2.4 Hangerflip & Rake
There are some tuning possibilities you can make use of to tailor your truck to your riding – for example in tightening or loosening the kingpin nuts or in giving another bushing type/durometer a try. Another option with some RKP trucks is the hangerflip which changes the trucks' castor. It requires that the hanger of the truck has rake.
A hanger has rake when the axle isn't on the same level as the pivot but sits slightly offset instead. You could also say that rake changes the position of the wheels in relation to the truck's axis of rotation. Trucks with positive rake are more manoeuvrable what makes them quite popular in carving and cruising. Sounds super complicated? Agreed, but this graphic should help you understand what trucks with rake look like.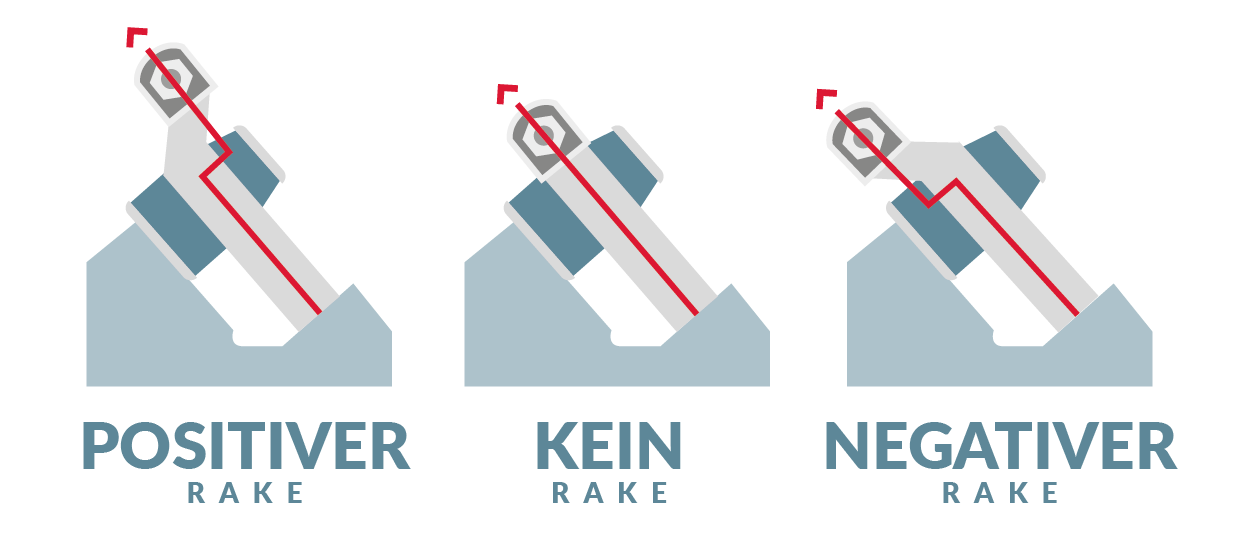 So, the hangerflip simply means that you turn the truck's hanger 180° which makes the truck lower and a bit more sluggish. The truck would then have negative rake. Therefore, your setup might become smoother to ride.
Attention: The hangerflip doesn't change the baseplate-pivot angle!
Tip: Especially in downhill skating, you should make sure that the rear truck is tightened harder than the front truck. This reduces the risk of speed wobbles.
What are speed wobbles?
When your trucks start to wiggle and shake at high speeds and become hard to control, you are experiencing speed wobbles. Speed wobbles can make untrained riders (and professionals as well) slam pretty easily. Therefore, agile trucks and high velocity are an unfavourable combination for beginners.
To summarize the facts about rake, you can find the different characteristics of positive and negative rake in the following chart:
| | Positive Rake | Negative Rake |
| --- | --- | --- |
| Characteristics | Agile & fast turns | Linear & easily controllable turns |
| Pros | Maneuverable & ideal for carving | Stable & predictable steering |
| Cons | less stable at high velocity | Lazy steering & relatively low setup |
2.5 Baseplate-Pivot Angle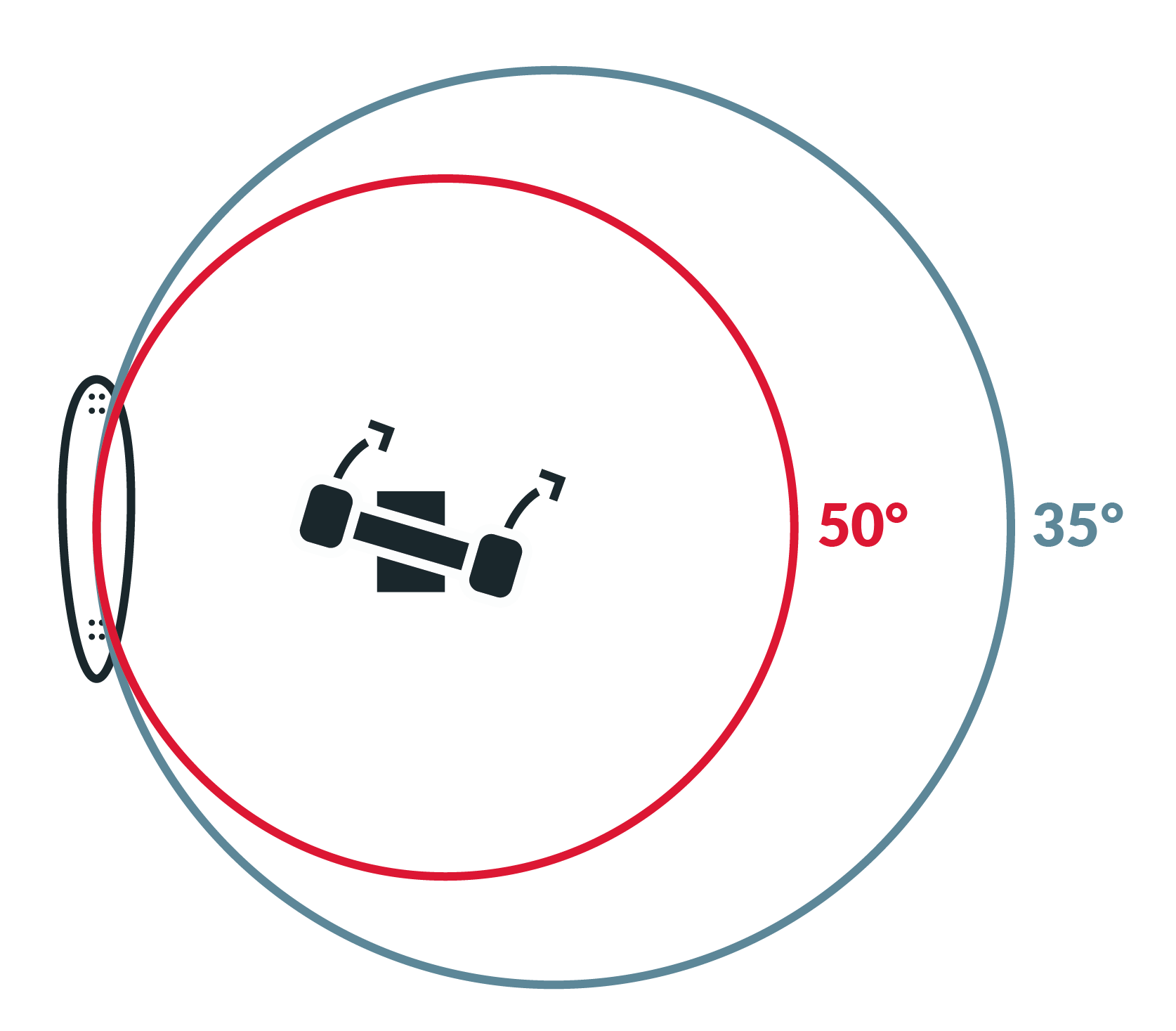 Another important property of RKP trucks is the baseplate-pivot-angle. High angles like 50° for example, make an agile and manoeuvrable truck that is ideal for deep turns and carving. If you like to go downhill with high speed, trucks with a low angle like 42° are what you're looking for.
Due to the low angle, those trucks are more sluggish but also more stable and easier to control at high velocity. The angle of the truck has an influence on the lean and turn. Learn more about these two in paragraph 2.6.
2.6 Lean & Turn
The last paragraphs should've helped you to gain a basic understanding of longboard trucks. Nevertheless, there are some terms you will definitely encounter in the world of longboarding: Turn and Lean.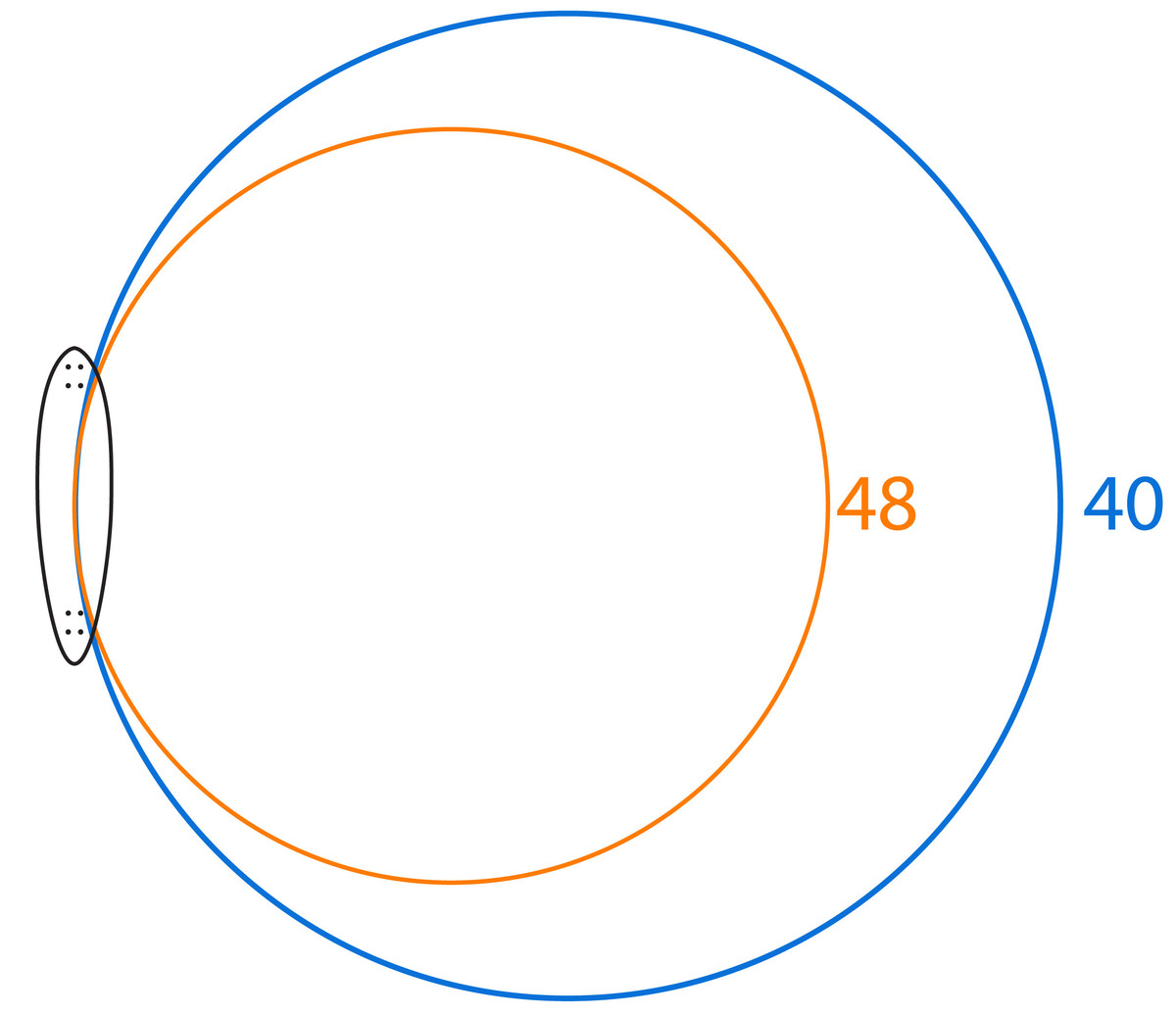 What is turn?
Obviously, turn describes the radius your longboard goes when you make a turn or, to put it in other terms, the direction your trucks are headed when you're steering. A general rule of thumb would be that trucks with a high baseplate-pivot angle can do sharp turns, which results in a small radius. When it comes to strong turns, one would say their turn is high. Consequently, trucks with a high angle are maneuverable. Conversely, trucks with a low angle have a small turn, making the radius of the turn bigger and the truck less responsive.

What is lean?
Lean describes the angle your board leans when you apply pressure to the edges of your deck. If the board leans a lot, the lean is obviously high; if it barely leans, the lean is low. To put it in a nutshell, trucks with a low baseplate pivot-angle have more lean. The turn of those trucks is small, so you'll have to apply a lot of pressure to the deck's border in order to make a turn. As a matter of fact, with high-angle longboard trucks, it's simply the other way around.
Longboard and skateboard trucks follow the principle: lean to turn. This means that the turn is a consequence of the lean. In other words: the pressure you apply to your board determines the radius of the turn your board makes. Physically speaking, in a 45° truck, the lean and turn are equal.
It's possible that high lean and a big turn-radius are responsible for the fact that trucks with a low angle can be easier to control. So if you want to blast down a hill with top speed, a truck with a low baseplate-pivot angle is the right thing for you.
The following table summarizes all information about lean and turn you need to know.
| High baseplate-pivot angle | Low baseplate-pivot angle |
| --- | --- |
| Less Lean | More Lean |
| Less Turn | More Turn |
| Smaller Turn Radius | Larger Turn Radius |
| Agile & Responsive Steering | Lazy Steering & More Stability |
| Suitable for Carving & Cruising | Suitable for Downhill & Speed |
2.7 Assembly
There are basically four different ways to attach trucks to your longboard:
Top Mount: The standard installation from below.
Drop-Through/Dropmount: With a drop-through or drop mount, the trucks' baseplates are mounted on top of the board and reach through the deck, which alters the centre of gravity and changes the steering behaviour.
Dropped/Lowered: When the longboard deck itself has a drop, it's called a "Dropped" or "Lowered" setup. These boards have a lower centre of gravity which makes them more stable at high speeds. The truck mounting would technically correspond to "Top Mount".
Doubledrop: A double-drop is the rare combination of "Drop-Through / Drop Mount" and "Dropped / Lowered".

Flush Cuts: The area where you mount your trucks on the deck is milled out so that they are mounted a bit deeper inside of the deck. This provides a good compromise between top-mount and drop-through, but pre-flush cuts are very rare since the cut-outs have to perfectly fit the baseplate of the truck
Tip: For beginners, it can be nice to learn to ride on a dropped board because the lower centre of gravity makes it easier to push and keep your balance.
2.8 Bushing Seats
Last but not least, there is one more thing that has an impact on how your trucks perform: the bushing seats. As mentioned before, the bushings sit in the bushing seats of the hanger. There are countless variations of bushing seats but in the end, you can break them down into three different types: stepped, round & flat.
In stepped bushing seats, the bushings sit really tightly, which results in stable steering
Round bushing seats give the bushings a little bit more room and provide you with agile steering. Ideal for carving and turns
Flat bushing seats are the most simple but also the most versatile seats. With these, you can experiment a lot with different bushing types. However, they also are less stable at high speeds