Choosing your first skateboard is often difficult, especially for beginners. To make things easier for you as a beginner, here are some useful tips on what to look for when buying your first skateboard and how to find the right setup. Because one thing's for sure: if you start with the right setup, you'll have more fun practicing.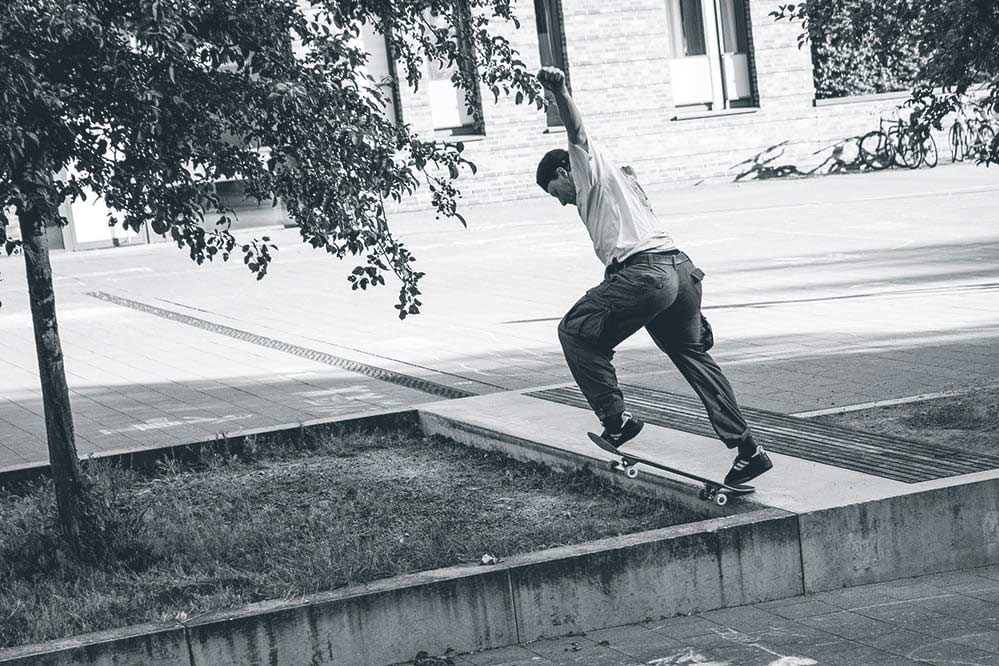 ---
Table of Contents
---
1. Skateboards for beginners – things to keep in mind
Although the individual parts of a skateboard hardly differ at first glance, there are a few things to consider so you can find the right complete skateboard that is tailored to your needs. There are different types of skateboards that are designed for different terrains. Which skateboard is right for you depends on where and how you want to skate.
1.1 What types of skateboards are there?
Skateboards
"Classic" skateboards are made for tricks in the skate park, in a half pipe, in a bowl or on obstacles on the street. While the most common form of skateboard decks is the popsicle shape, there are other variants.
For children & petite people there are skateboards that are a bit smaller or shorter than conventional skateboards. In terms of quality, skateboards for children are manufactured according to the same standards as normal skateboards & are ideal for young, budding skaters.
---
Size recommendations – skateboard decks
---
2. Complete skateboard or custom skateboard?
The components of your skateboard have to fit together. For example, not all skateboard trucks fit on every deck. If you don't want to put together your own skateboard setup, but want to get skating right away, we recommend that you buy a complete skateboard.
The complete boards in the skatedeluxe skate shop are high quality, already pre-assembled and therefore ready for skating. Since they're beginner models, these skateboards make sense because they're a little cheaper.
To the complete skateboards
---
2.1 Your individual skateboard with the skateboard configurator

With the help of the skatedeluxe skateboard configurator, you can put together your own skateboard in just a few steps. This makes sure that parts such as the deck, trucks, wheels, etc. definitely fit together and at the same time, you'll get useful tips while creating your own skateboard setup. Simply select the components, check recommendations and information and order your individual skateboard.
---
3. Skateboards by terrain
When choosing your setup, you should consider what style of skating you'll ultimately want to focus on. If you already know where your preferences lie or if you're simply looking for an all-round setup, you can consider the following recommendations. As mentioned before, these are just recommendations – not requirements.
---
3.1 Park-Skating | Allround
If you want to skate in skate parks or leave all your options open, we recommend an all-round skateboard setup. Different deck widths naturally have different attributes.
While narrow decks are manoeuvrable and easy to flip, wide skateboards have the advantage of offering more space to stand and land. The best thing to do is to check our overview and think about what's important to you.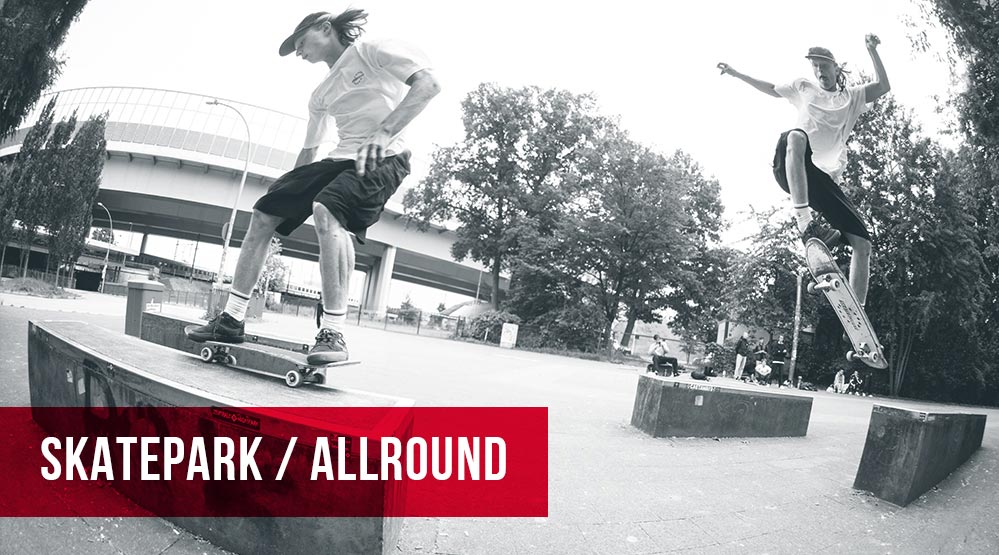 Mid or standard trucks are best suited for your all-round setup. You'll want to choose slightly softer, medium-sized wheels between 52 and 56 mm for this setup; this increases the grip on what are usually very smooth surfaces in skateparks.
Depending on your preference, you can also install shock or riser pads to increase smoothness. When you start practising on ramps, you should definitely wear protective gear.
Checklist – Skateboard Setup Skate Park | Allround – For Beginners
• Deck: From wide to narrow, anything is possible here
• Trucks: Mid
• Wheels: 52 mm – 56 mm, ≥ 98A
• Bearing: SK8DLX Blacks, Bones Reds
• Shock Pads: optional
• Nuts & Bolts: short (7/8″ – 1″ | longer accordingly, if you use shock pads)
• Protective Gear: suggested
To get started, we also have some great complete boards that you can order, already assembled and ready to skate!
---
3.2 Street skating
You and your board belong on the street? Then it's best to go with a skateboard from this category. As its name suggests, street skating obstacles are found on the street or in public, e.g. benches, stairs, railings, etc. Many street skaters tend to have narrower decks because they are easier to flip than wide boards and are generally very agile.
Low and mid trucks are best suited for this style. These are also available in light versions with a hollowed-out kingpin or axle pin and are screwed to your deck using a short assembly set (7/8 ″ – 1 ″). What you save in weight, you theoretically gain in height on ollies and flips.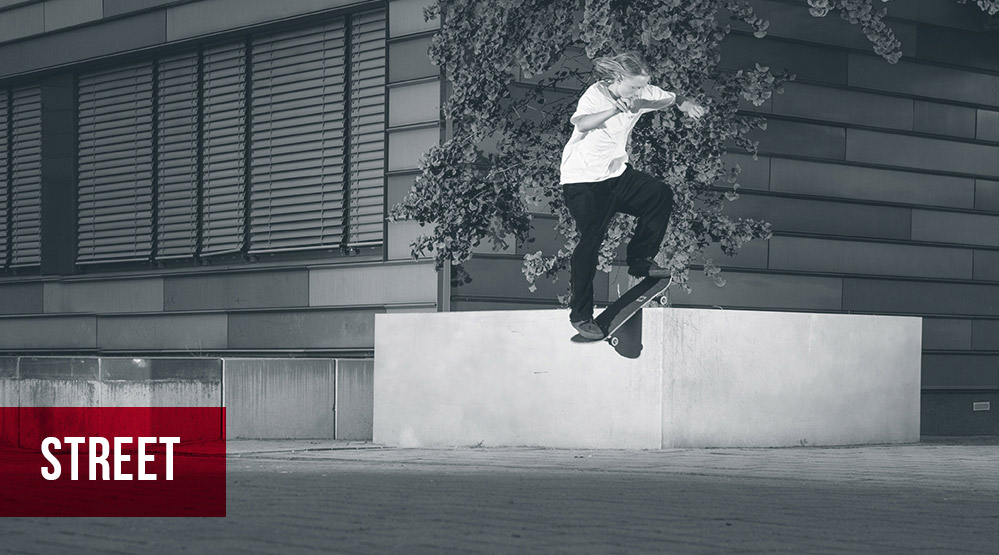 For grinds and slides, it's best to choose hard wheels starting from 100A; small wheels are normally used for street skating since they accelerate faster and are more manoeuvrable. However, if you'll be skating rough spots with rugged surfaces, your wheels shouldn't be too small because the smallest stone can bring your wheels to a sudden stop, causing you to kiss the concrete.
When selecting your bearings, stick to models that are durable and resilient to the dirt on the streets. Tip: you should always have some skate wax around for curbs and rails.
Checklist – Skateboard Setup Street – For Beginners
• Deck: rather narrow decks that are agile and flip easily
• Trucks: Low or Mid
• Wheels: 50 mm – 53 mm, ≥ 100A
• Bearings: SK8DLX Blacks, Bones Reds
• Shock Pads: optional
• Nuts and Bolts: short (7/8″ – 1″)
Don't want to deal with the all the different individual components of your skateboard? Don't sweat it! We also offer a selection of complete skateboards that'll be shipped to you ready to skate!
---
3.3 Halfpipe | Bowl | Ramp (Transition)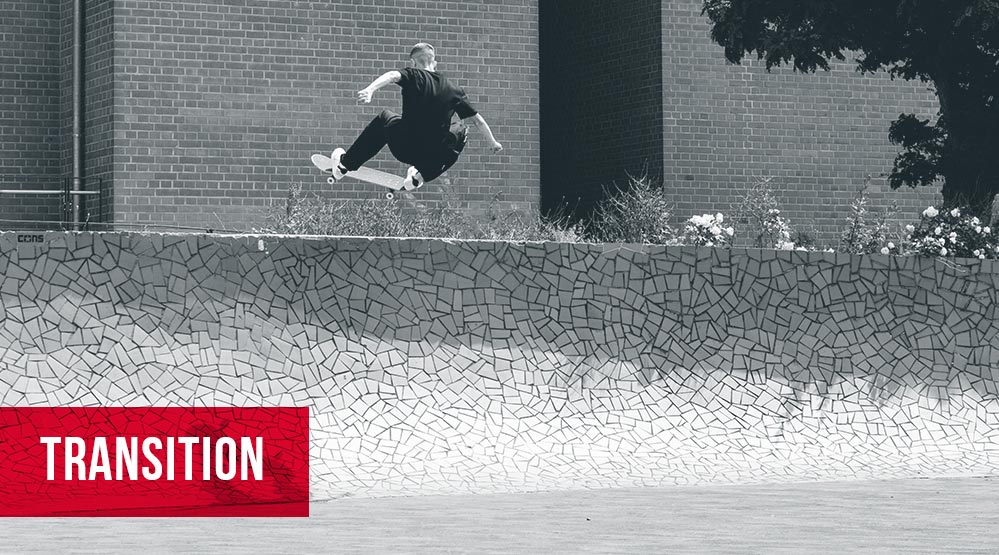 We recommend wider skateboards for skating in ramps and bowls. Wide decks give you more space to stand, which will pay off at high speeds and airs. In addition, wheels with a larger diameter are used in transition skating because they maintain high speeds for longer.
For a bit more grip, softer wheels are recommended for a transition setup. When using big wheels, you should stick with mid or high trucks in order to prevent wheelbites. Riser pads and rails (plastic rails attached to the deck for increased stability during board and lip slides) are often used for this style of skating. Anyone who skates ramps should never skimp on protective gear.
Checklist – Skateboard Setup Mini-Ramp, Bowl and Vert – For Beginners
•
Deck:
wider decks for more space to land on
•
Trucks:
Mid or High
•
Wheels:
53 mm – 56 mm, ≥ 98A
•
Bearings:
SK8DLX Blacks, Bones Reds
•
Shock Pads:
suggested
•
Bolt Pack:
longer (1″ – 1 1/4″ depending on the size of your pads)
•
Protective Gear:
suggested
•
Additional Equipment:
Rails (optional)
Do you just want to keep it simple? We have a great selection of complete skateboards that can be delivered to your doorstep, ready to skate.
---
4. Protective gear in skateboarding? Definitely not uncool!
If you start skating, you won't be able to avoid falling – unfortunately this is part of skateboarding. While experienced skaters know how to properly break a fall, helmets & protective gear protect you from injuries and help you get back on the board faster. Protective equipment is by no means uncool – professional skaters like Mark Gonzales or Lizzie Armanto prove just the opposite.
As a beginner, you should definitely wear a helmet. Additional protective equipment for knees, elbows and wrists is also advisable. You can of course find a wide selection of helmets and protectors online in the skatedeluxe skate shop. Protective gear is particularly recommended when skating ramps, bowls and transitions, as the speeds and heights are usually more extreme than in skate parks or street skating.
---
5. More information about skateboards
If you want to learn more about skateboarding and the individual components such as decks, trucks and wheels, have a look at the skatedeluxe skateboard Wiki or watch the skatedeluxe Buyers Guide videos. As a beginner, you'll get a load of skateboard knowledge and learn everything there is to know about the different parts of a skateboard.
Our customer service team is also available to you anytime if you want help selecting your first skateboard!
Skateboards for schools and workshops
Do you want to offer a skateboarding course or workshop and urgently need equipment? At skatedeluxe, you get the right offer for high-quality skateboards and everything you need for your course.