The search for the perfect skateboard can be a total headache for newcomers and beginners. In order to ease your troubles, here are some useful tips on what to look for when buying your first skateboard, and how to find the right setup for your skating needs. One thing is certain: skaters with the right setup have way more fun practising.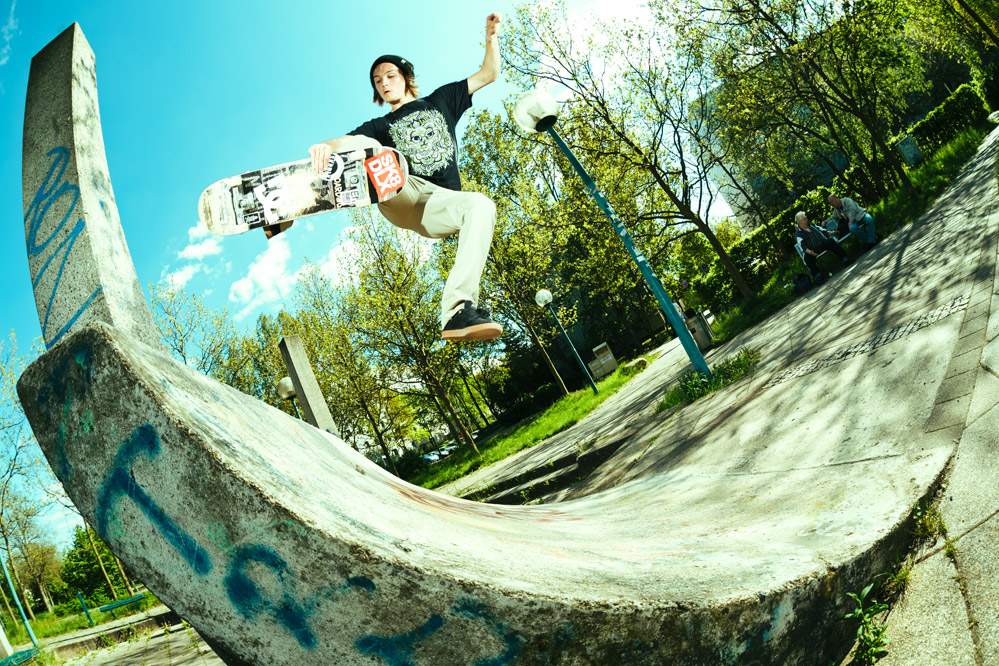 Although at first glance, it might be difficult to distinguish all the individual parts of a skateboard, there are a few basic things you can keep in mind that will help you create a complete skateboard for yourself. To ensure that the deck, trucks, wheels, bearings, and bolts all fit together, we've designed the skatedeluxe Skateboard Configurator. With this configurator, you can conveniently create your perfect custom skateboard online in six easy steps. Now check out our tips, and give the configurator a go!
Size Recommendations: Deck
Of course, your personal preference comes into play when determining how narrow or wide your board should be. Current trends in skateboarding may also influence your decision about the width or shape of your board. A good guideline for choosing the size of your deck is based on your body size. Take a look at the table to find the right width for your size. The width of a skateboard is always given in inches. One inch corresponds to 2.54 cm.
| Shoe size – deck width | Height – deck length |
| --- | --- |
| US 7 | EU 40: 7.875″ – 8.125″ | < 140 cm: 28″- 30.5″ |
| US 9 | EU 42.5: 8.00″- 8.375″ | 140 – 175 cm: 30.5″- 31.875″ |
| US 10 | EU 44: – 8.125″- 8.5″ | 175 – 190 cm: – 31.875″- 32.25″ |
| US 12 | EU 46: 8.375″ – 8.625″ | > 190 cm: > 32.5″ |
Of course, the given and following guidelines are just recommendations. Setups other than the ones proposed by us can work out just as fine and can be fun to ride as well. It also depends on what you want to do with your board and where and how you want to skate. In the following steps, we'll give you suggestions for your skateboard setup based on different terrains.
P.S. When searching for skateboard decks in the online Skate Shop and when using the skatedeluxe Skateboard Configurator, you can filter for specific deck widths. If you're using a laptop or computer, the filter will be on the left side, and if you're on your smartphone, it'll be on the top right.
Terrain
When choosing your setup, you should consider what style of skating you'll ultimately want to focus on. If you already know your preferences, or simply want to find a nice all-around setup, take the following suggestions into consideration. As mentioned before, these are just recommendations- not requirements.
Park Skating / All-around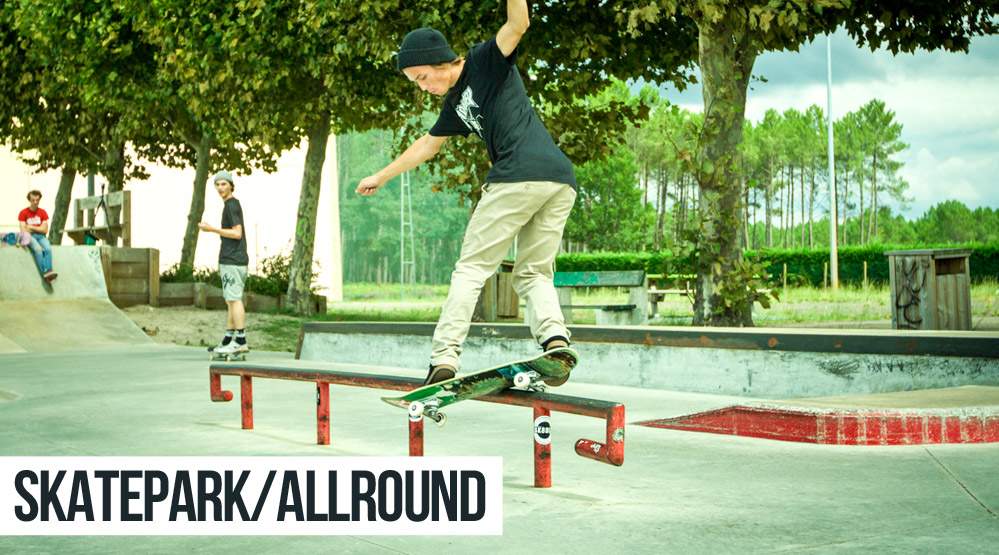 If you feel most comfortable in skateparks or just haven't made up your mind, we suggest going with an all-around setup. The decks are between 7.57" and 8.5" wide and are suitable for almost any terrain because they provide the best compromise between manoeuvrability and stability. Mid/Standard Trucks are best suited for your all-around setup.
You'll want to choose slightly softer, medium-sized wheels between 52 – 56 mm for this setup in order to increase the grip on the usually very smooth surfaces in skateparks. Depending on your preference, you can also install shock or riser pads to increase smoothness. When you start practising on ramps, you should definitely wear protective gear.
Checklist – Skateboard Setup – Skate Park | Allround – For Beginners
• Deck: From wide to narrow, anything is possible here
• Trucks: Mid
• Wheels: 52 mm – 56 mm, ≥ 98A
• Bearing: SK8DLX Blacks, Bones Reds
• Shock Pads: optional
• Nuts & Bolts: short (7/8″ – 1″ | longer accordingly, if you use shock pads)
• Protective Gear: suggested
For starters, we also have some great complete boards that you can order, already assembled and ready to skate!
Streetskating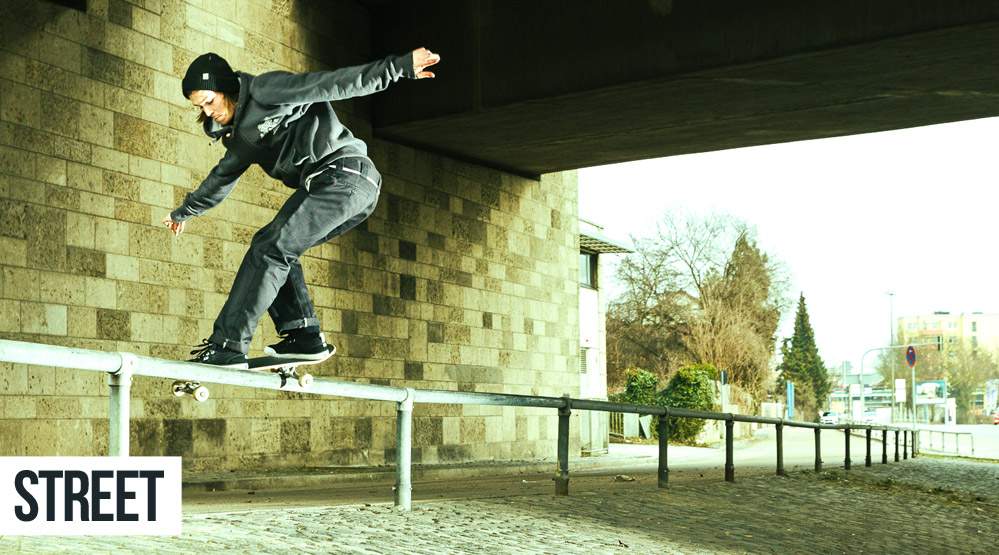 Do you and your board belong to the streets? Then this style of skating is right for you. Narrow boards, between 7.5" – 8" are particularly suitable for street skating because they can flip easier than wider boards and are generally more agile. Low and mid trucks are best suited for this style. There are also lightweight trucks and variations with hollow kingpins or axles and mounted with a short bolt pack. What you save on weight, you'll gain in altitude on ollies and flips.
Hard wheels with a durometer of 100A or higher are best suited for grinding and sliding. Normally, while skating in the streets, small wheels are used since those accelerate faster and are more manoeuvrable. Anyway, if you'll often skate crusty spots with a rough surface, your wheels shouldn't be too small because any little stone can make your wheels stop and make you fly off your board embracing the concrete. When selecting your bearings, stick to very durable and resilient models because of the dirt on the streets.
In street skating, everything comes down to your imagination and how you interpret your environment. Anything can be skated and only your creativity is the limit. Tip: Always have skate wax on you when skating curbs and rails.
Checklist – Skateboard Setup – Street – For Beginners
• Deck: rather narrow decks that are agile and flip easily
• Trucks: Low or Mid
• Wheels: 50 mm – 53 mm, ≥ 100A
• Bearings: SK8DLX Blacks, Bones Reds
• Shock Pads: optional
• Nuts and Bolts: short (7/8″ – 1″)
Don't want to deal with the all the different individual components of your skateboard? Don't sweat it! We also offer a selection of complete skateboards that'll be shipped to you ready to skate!
Halfpipe | Bowl | Ramp (Transition)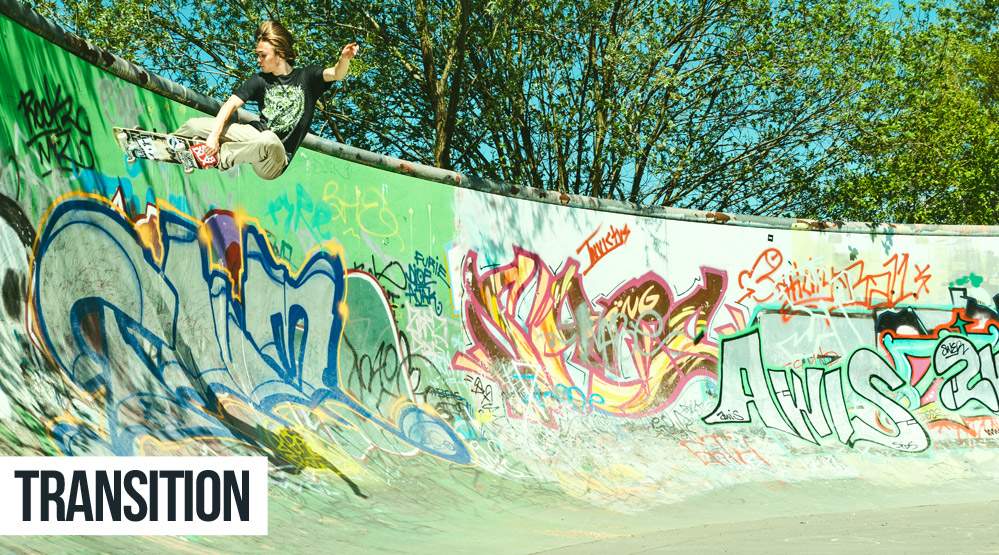 If your future will be filled with ramps and bowls, scoring points with aerial and lip tricks, we'd recommend skateboards with a width of 8" or more. These also come in a variety of different shapes. Wider decks provide you with more space to stand on, which can be a plus at high speed and while doing airs. Additionally, transition skaters usually skate wheels with a large diameter since those can retain high velocity longer. Some of them also use slightly softer wheels for more grip. Due to the big wheels, you should stick with Mid or High trucks in order to prevent wheelbites. Riser pads and rails (plastic rails attached to the deck for increased stability during board and lip slides) are often used for this style of skating. Anyone who skates ramps should never skimp on protective gear.
Checklist – Skateboard Setup – Mini-Ramp, Bowl and Vert Skaten – For Beginners
• Deck: wider decks for more space to land on
• Trucks: Mid or High
• Wheels: 53 mm – 56 mm, ≥ 98A
• Bearings: SK8DLX Blacks, Bones Reds
• Shock Pads: suggested
• Bolt Pack: longer (1″ – 1 1/4″ depending on the size of your pads)
• Protective Gear: suggested
• Additional Equipment: Rails (optional)

Do you just want the whole process of selecting your first board to be as simple as possible? We have a great selection of complete skateboards that can be delivered to your doorstep, ready to skate.
Skateboarders wearing protective gear? Definitely not uncool!
Think you're too cool for protective gear? Sorry to disappoint, but you're wrong. Sure, you almost never see experienced skaters wearing helmets and kneepads, but the key word here is "experienced."
As a beginner who isn't entirely confident on a skateboard, you should definitely wear a helmet. Additional protection for knees, elbows, and wrists are also fitting. You can find a wide range of protective gear in the skatedeluxe online Skate Shop!
If you want to learn more about skateboarding and the individual components such as decks, trucks, wheels and more, check out the skatedeluxe Skateboard Wiki or have a look at the videos at the end of this page. As a beginner, you'll get a load of skateboard knowledge and learn everything there is to know about the different parts of a skateboard.
Our customer service team is also available to you anytime if you want help selecting your first skateboard!