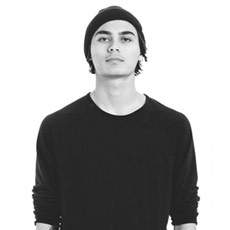 Denny Pham
Bio
It's a Phamtastic World
Denny Pham was born and raised in the Hanseatic City of Rostock. Actually, his path could have gone completely different because as a kid he always wanted a BMX for which he didn't have enough money, so he first stepped on a skateboard in 2001… Thank God!
Some time ago, Denny moved to Berlin to allow himself a better living standard. In addition, the capital city has plenty of spots for skateboarding, of course. Denny convinced with his style of skating and Jart Skateboards teamed up with him. Others followed quickly. As a next big deal Red Bull hooked him up and Nike SB teamed up with Denny as well. This still is amazing.
Then another big deal was in coming and Flip Skateboards noticed Denny's skills. After numerous speculations, it was certain in April 2014: Denny is AM on Flip!
Denny Pham convinces in every session. Every time he skates he is really focused and concentrated on what he's doing. Denny prefers "flip in flip out" lines and switch tricks in all kind of situations. He's got style!
In recent years, Denny evolved to a true professional, which is not only proven by his impressive range of sponsors but especially by his way of skateboarding.
In spring 2015 Denny Pham amazes the international scene with his very own part for Thrasher Magazine – "It's a Phamtastic World". A Thrasher Part has always been renowned as the ultimate accolade for any skater. The circle of the elect is very small, especially for European skateboarder. On April 25 it was expanded to a name from Berlin – Denny Pham. Incredible board control meets technical finesse and we are proud that Denny made it to such a video part.
We are confident that the future will have a lot more in store for Denny!