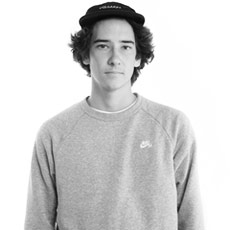 Matt Débauché
Bio
Fresh Style From The French Basque Country
Matt Débauché was born and raised in the French part of the Basque country which is known as a surfer's paradise and sometimes called "French California", due to the resident boardsports industry as well as high mountains and nice waves. Although he was surfing when he was younger, he opted for the wooden plank and asphalt.
No matter if he's taking on ledges or big gaps, his versatile skating with massive flow proves that focussing on skateboarding was definitely the right decision.
And his choice got honoured with deals on Nike SB, Collapse, Chill or Die, and a place in the skatedeluxe team. Bienvenue dans l'équipe Matt!