Stance socks are omnipresent. Everyone seems to know them and all want to praise them. But why, this was my aim to find out. Six weeks I wear my Stance socks to figure out if there is any truth to the hype, the great praise and the premature praise. You didn't believe? Then read it for yourself!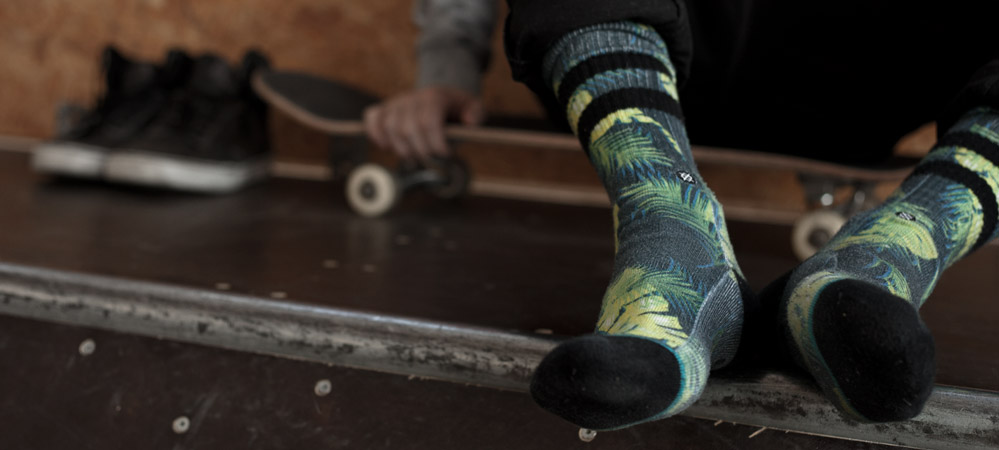 So here we are. Holding my new and at the same time first Stance socks in my hands. My first look: sceptical! Why? Because without being asked every second person told me something good about Stance socks. Stay critical, I said to myself. Finally there are enough rumors and lies about products that are not that good in the end. Enough talking – Let's check the material!
What is it all about?
I chose three Stance socks and tested them for six weeks, trying to find out, what's behind the hype. I confronted my socks with different situations and challenges to see how they react. Therefore, I have been wearing my stance socks for six weeks almost every day. Can they meet the high expectations and what about the heat, the odor, material, quality and the processing?
My initial impression!
"I'm no material expert, but the socks felt like they were high-quality products."
You know the situation: you get a package with a new product, it looks like you imagined it, BUT it smells. It "smells" new and somehow chemical – not the best first impression you can get!
Luckily, my Stance socks gave me a different impression. There was no scent. The first plus! At first glance, the colors and motifs looked very bright and detailed. At this moment, this is a second plus. I'll tell you on a second look how they reacted to the first washing. For the used material they get the third plus. I'm no material expert, but the socks felt like they were high-quality products. It's important that socks feel good and especially that they fit well. All these plus points are just margin-notes. So I sceptically slid into my new Stance socks after a moment. My first reaction: I was positively surprised. They fit very well! For this they get the next plus.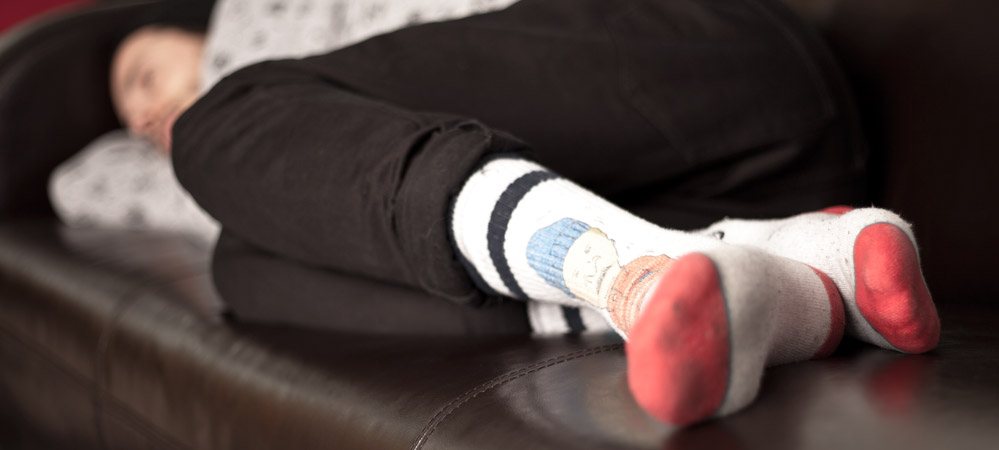 It smells like …
I wore my first pair of socks for 5 days. In order not to distort the result, I organized new sneakers and started with my test: For five days I lived in my socks. I walked, skated, ran, sat at work, hung around in the cinema and spend my whole day in them. I just took them off for sleeping. Even after 3 days, there was no bad smell. As Curious as I am, I couldn't stand to put my nose to these socks – after 5 days! Of course, they didn't smell like new ones and they were a little bit musty but basically they were alright! I was excited, so I give another plus.
… warm feet
Especially in winter, for me socks have one primary function: They have to keep my feet warm without sweating. That is definitely the case. If it's cold or frosty down below I react sensitively. In winter I usually wear two pair of socks to avoid cold feet. With my Stance socks this was not necessary. They were always and at every point really warm and my feet have never sweating. I didn't even get cold even when I went cycling and had to put my pants into the socks. Around my ankles there was no cold wind, just warmth – unbelievable!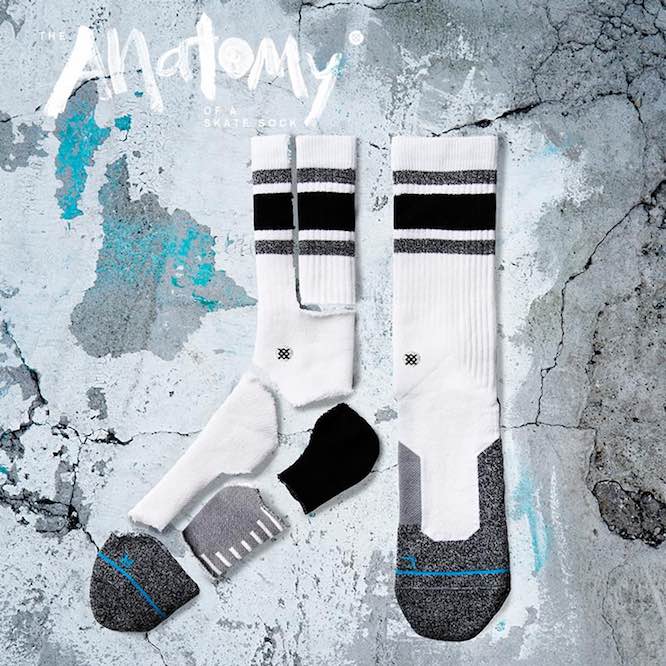 There was a further and more unplanned test phase: I hate to sleep with socks simply because sometimes it's too hot or too wet. By chance, I fell asleep in my Stance socks. Because of the test, I kept wearing socks at this night. And I must say: It was amazing and I slept wonderful! It felt like my feet had an own blanket – no sweating, just comfort!
Through the winter with colors, style and a great fit
Stance has an outstanding wide range of colors and motives. Despite my general scepticism, I liked this fact from the beginning. I've always and forever loved colorful socks! I was really digging the graphics, but at the same time I was concerned that they would only look good on the featured product photos. Again, Stance proved me wrong: All three models shone in rich colors detailed designs. Plus point!
"…no slip, no trouble and no eternal pull up and no painful strangling of my ankles."
In addition, the fit and quality impressed me as much as the ability of the socks to keep my feet warm. I got the shoes size US7 and the size M fits perfectly. My experience taught me one thing: socks always slip! They are not staying where they belong and if they do, they leave you with painful pressure marks. Stance socks convinced me at this point too. In truth, all models sat really well, no slip, no trouble and no eternal pull up and no painful strangling of my ankles. While skateing they supported me and gave stability. I was really surprised about the material and the really good feeling about it. Therefore: A plus for the socks.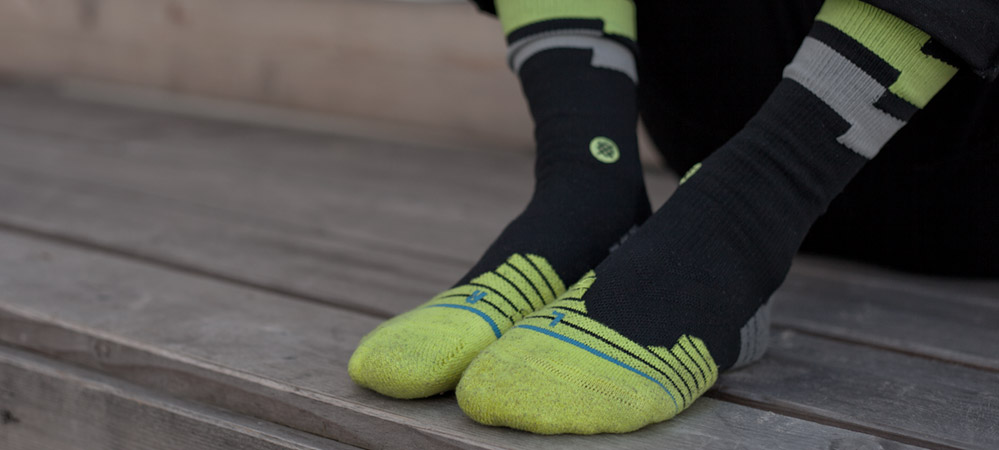 The processing and a trip through the washing machinee
Of Course, in six weeks it's not possible to check the complete processing. You need more time for that. But in these six weeks of wearing my Stance socks I did not find any defects in material and workmanship. One models fuzzed a little bit but that did not bother me. My decision about this topic: Looking at the short period of the test I give no plus and no minus point, because I can't confirm 100 percent that the quality is perfect the whole time..
Of course, socks have to be washed. This is also the point, a garment reveals it's true quality. I let my socks run through all classical washing temperatures: 30, 40 and 60 degrees. All socks looked good after washing. There were no changes in regard to color, fit and quality. They still sat very well and looked colorfully. A clean plus please!
Everyday situations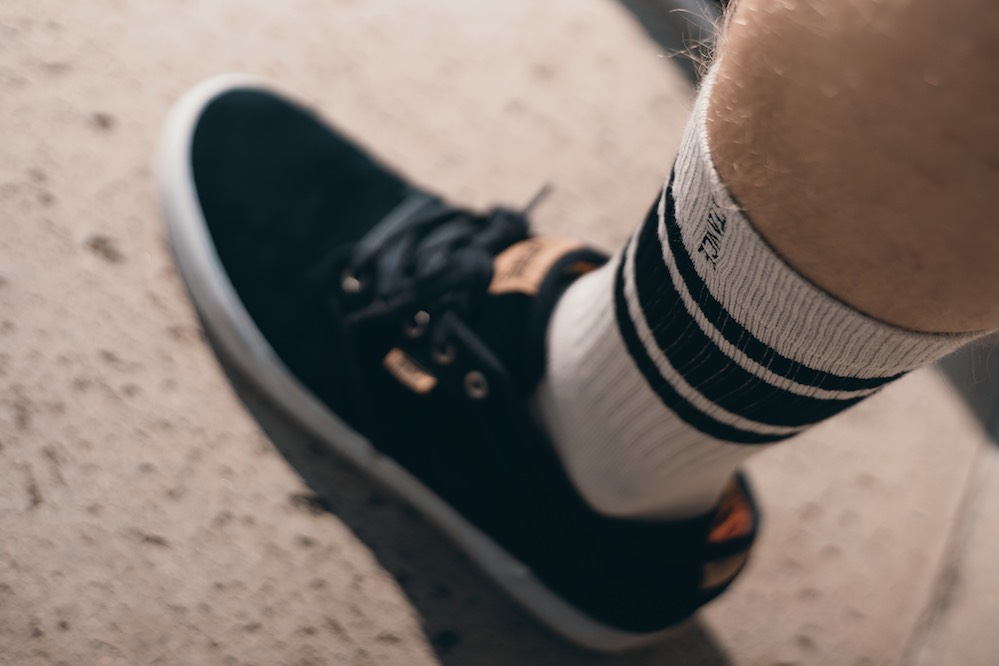 Stance socks are true companions – in every situation imaginable.
Far away from previously mentioned points, I tried to use my socks in different everyday situations. In my house I walked, ran and dragged my feet, I strolled my backyard without shoes, I toddled through the puddles in my bathroom, I used different shoes and walked with them for several hours. I wore my socks when it was cold outside, in front of my TV, and when my girlfriend was sick I gave my Stance socks to her. I know it sounds a little bit strange and I see you are sceptical, but my three Stance socks were amazing in every situation mentioned!
Conclusion
I was sceptical in the beginning – also regarding the price. Products that are loved by everyone tend to confuse me. I am always on the search for the snatch but I didn't find it. The quality, colors and wearing comfort of my three pairs of Stance socks were simply outstanding. In every situation (walking, skating, sitting, sleeping, working, living) my feet were warm without sweating. They produce no unpleasant smell and after washing (30, 40 and 60 degrees) they didn't lose any of their quality. I didn't know that socks can be like this. For me socks were always a slipping and not very comfortable garment, which get holes after a few weeks.
But there is another way – there are also Stance socks!