Teenage Riot is back: Europe's biggest skate contest for kids & skaters up to 18 years old. Enter the contest & get the chance to win goodies and 4.000 EUR in prize money in cash and vouchers.
READ IN ANOTHER LANGUAGE
DE | FR | NL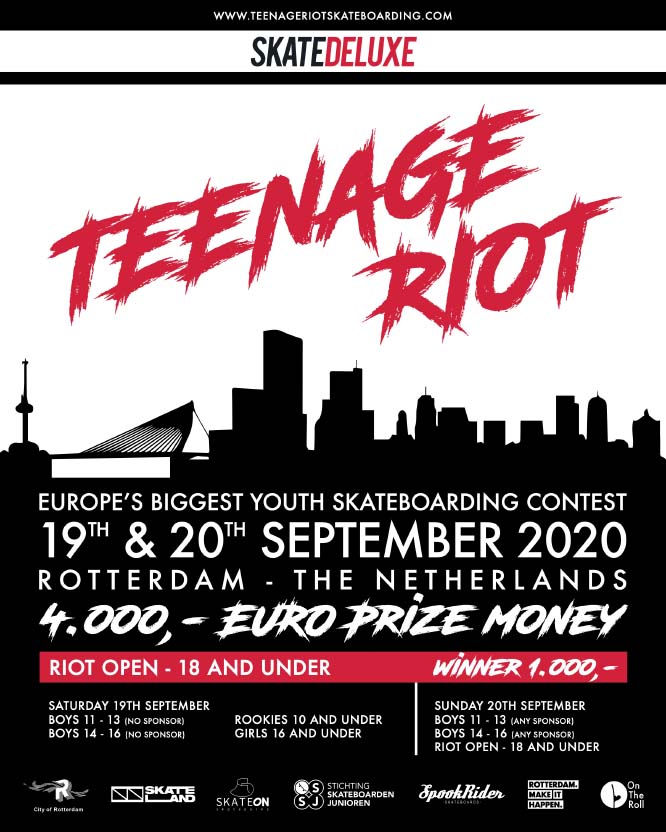 Teenage Riot 2020 is taking place at Skateland in Rotterdam, the Netherlands on the 19th and 20th of September, 2020.
The contest will be organized into seven different groups for every age and skill level. The Skateland skate park will be open from 10:00 am on both days. Additionally, there will be a Best Trick contest on Friday 18th of September, in the evening.
Due to the Corona virus, this year will be a little bit different than previous editions. Find more about the saftey measures on the Teenage Riot website.
Below you'll find details about the event and the different contest groups:
---
Groups:
Rookies:
Boys:
11 years – 13 years (unsponsored)
11 years – 13 years (sponsored)
14 years – 16 years (unsponsored)
14 years – 16 years (sponsored)
---
Details:
When:
19th & 20th of September, 2020
Where:
Skateland Rotterdam, Piekstraat 4, Netherlands
---
For registration & more information, visit the official Teenage Riot website. Sign up now!
Sign up now