Bones Bearings are the legendary, best-selling and pure classics! And that's damn right! For decades, Bones Bearings are the first choice for skateboarders all over the world. Here you'll learn more about the history and the different models.
Bones Bearings – Skateboarding legends
Bearings are inconspicuous hardware parts of your skateboard. But in fact, they're as important and essential as your deck and the trucks. The better your bearings, the more speed-up and fun. In the early 1980s, skateboarding was at a low ebb and it was difficult to find top quality bearings. George Powell set out to find the best, fastest, most affordable and the best-manufactured bearings in the world. At the end, he started working with the Swiss to manufacture and optimise a bearing for skating. And from today's point of view, this was not less than his best decision.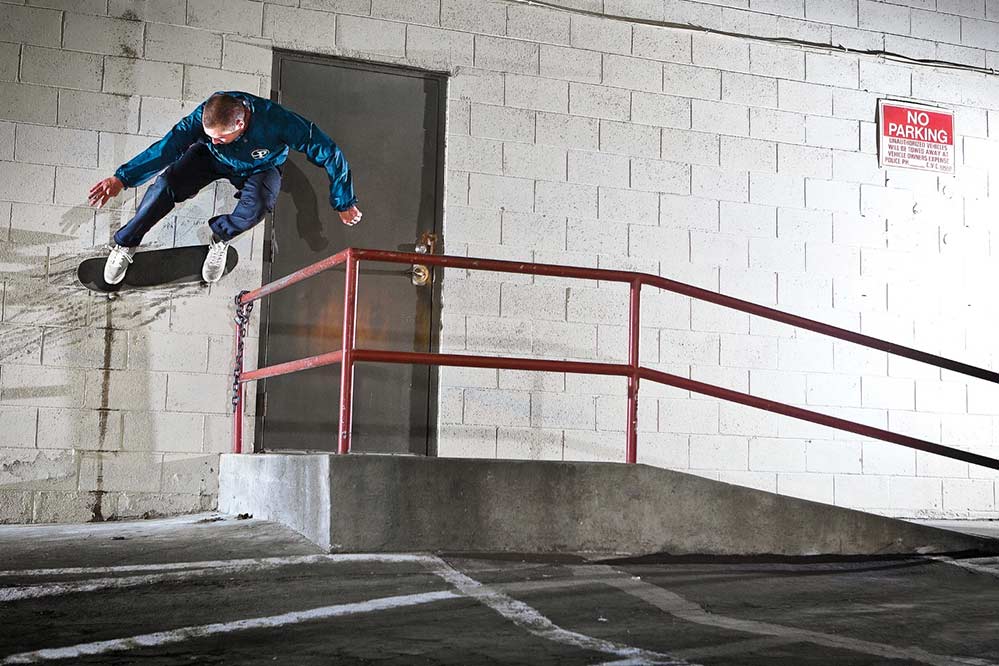 Which are the most important features for skateboarding bearings?
During the manufacturing, the team changed from a standard stamped metal ball retainer to a high-speed precision moulded plastic one that could be removed by skaters to allow better cleaning of the bearing. And as a second major feature, the Bones crew replaced the usual lubricant with a special one they called Bones Speed Cream™.
"…still the fastest bearing you can buy for skating"
The different Bones Bearings
If you're looking for new bearings, you're spoilt for choice. Many companies have packaged and hyped you to buy ABEC-1, 3, 5, 7 or 9 "super bearings" with cartoon characters, racy names or whatever. But not Bones! No ABEC, just "Skate Rated". So simple! The Bones range is grouped in Bones REDS™ & Bones Swiss.
Bones REDS™ – Best quality, affordable prices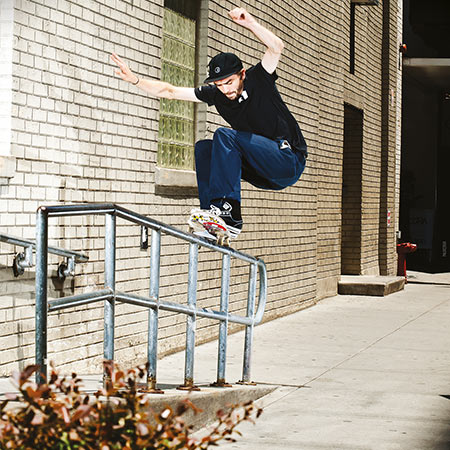 The only thing negative to say about Bones Bearings is today's price. But wait! It is high because the Swiss have to charge this much to make money, and we have to pass our increased cost along to you. This puts Bones Swiss out of reach for many skaters and so Georg Powell has been searching for a bearing that approaches the performance of the legendary Swiss at a lower price – Hello Bone REDS™!
"We are proud of Bones REDS™ and so we are not afraid to say our affordable bearings are made in China…"
Bones REDS™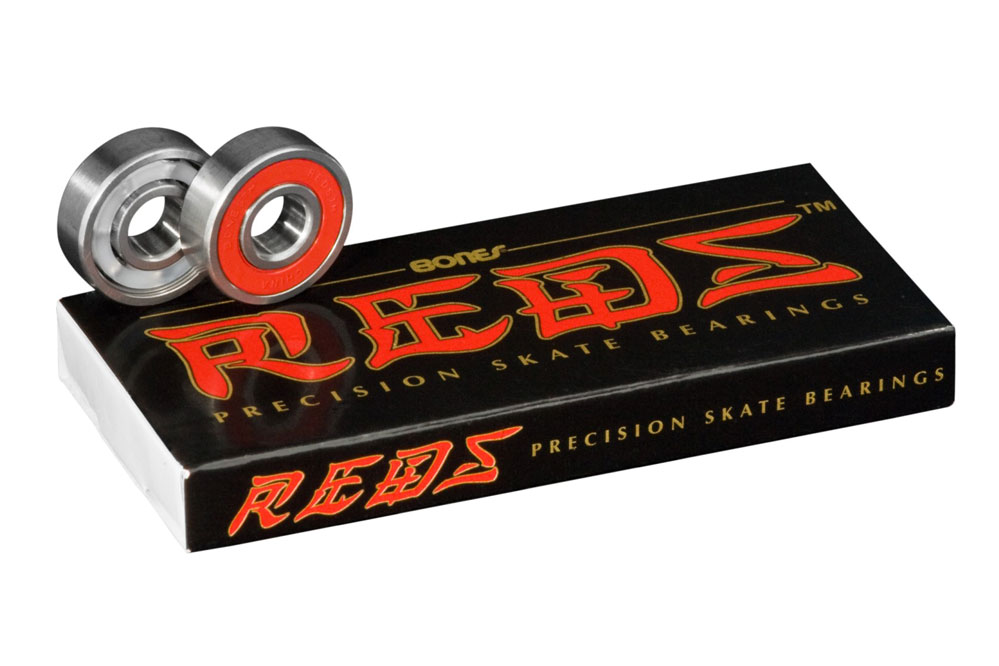 Bones REDS™ are manufactured in China to the Bones Skate Rated™ specifications in a manufacturing facility dedicated to producing the highest quality skate bearings in China. They are inspected twice before being shipped to skaters and offer the greatest combination of performance, durability and low cost in the business.
Bones Super REDS™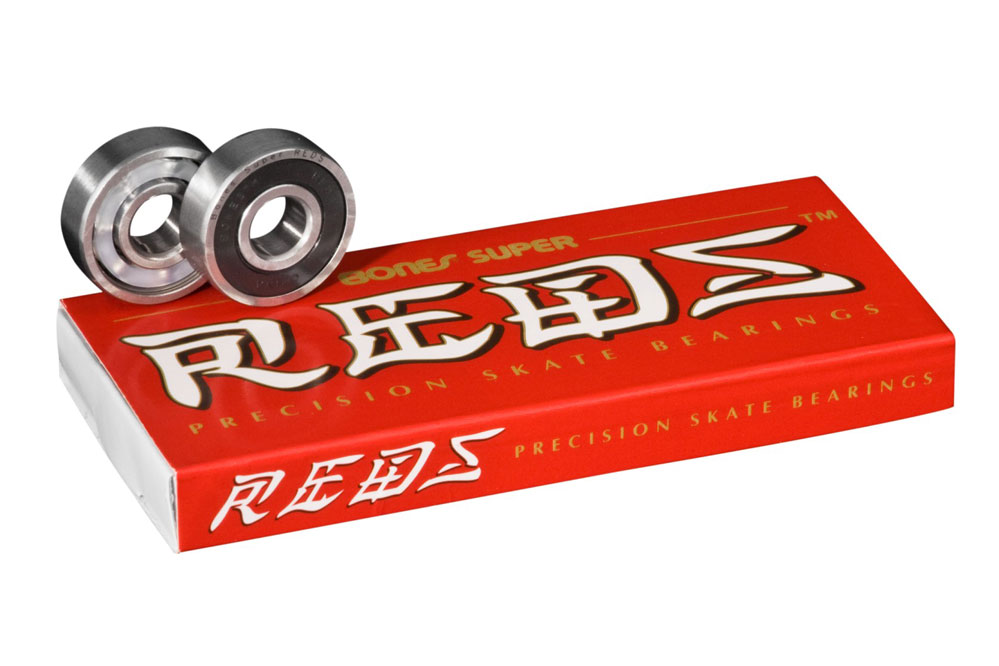 Super REDS™ are designed from the ground up to be the best bearing on the market at this price range. The Supers are not the REDS™ with a better finishing. Super REDS™ are a superior bearing, using higher quality steel races, better quality and grade balls, and a superior surface finish. The result is a bearing that is as fast as REDS™ but quieter, smoother, and longer lasting.
Bones Ceramic Super REDS™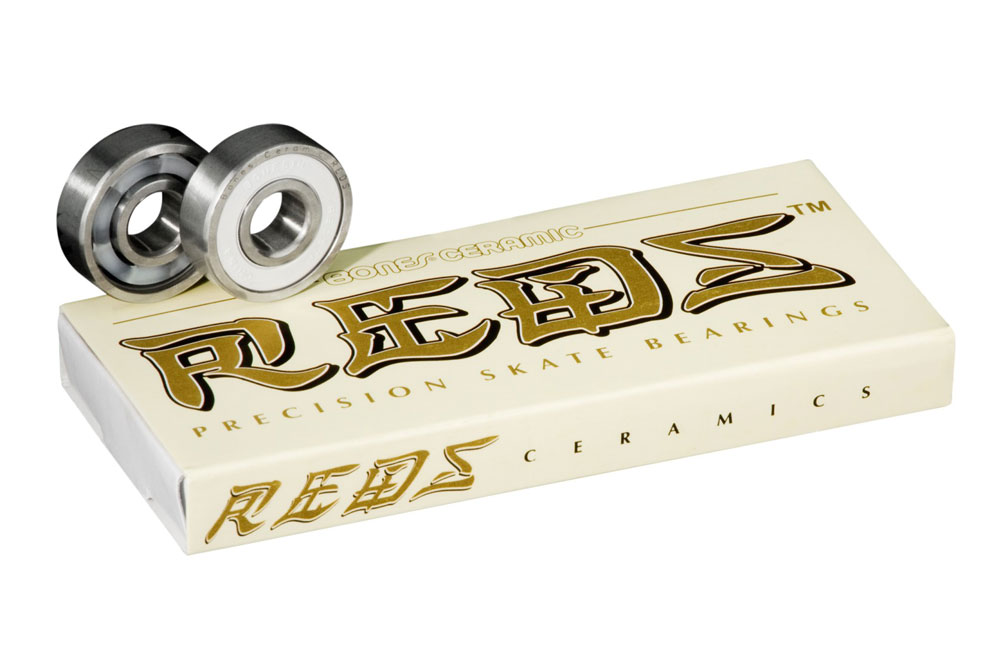 The story of Ceramic Super REDS™ is simple. Take the world class steels used in Super REDS™ and swap the steel balls for top quality grade 5, silicone nitride, hot, isostatic pressed ceramic balls and you have Bones Ceramic Super REDS™. These ones are lighter and provide faster acceleration because the balls weigh much less. They create less friction and are thus faster than Super REDS™, with or without lubricant! Top speed guaranteed!
Bones Race REDS™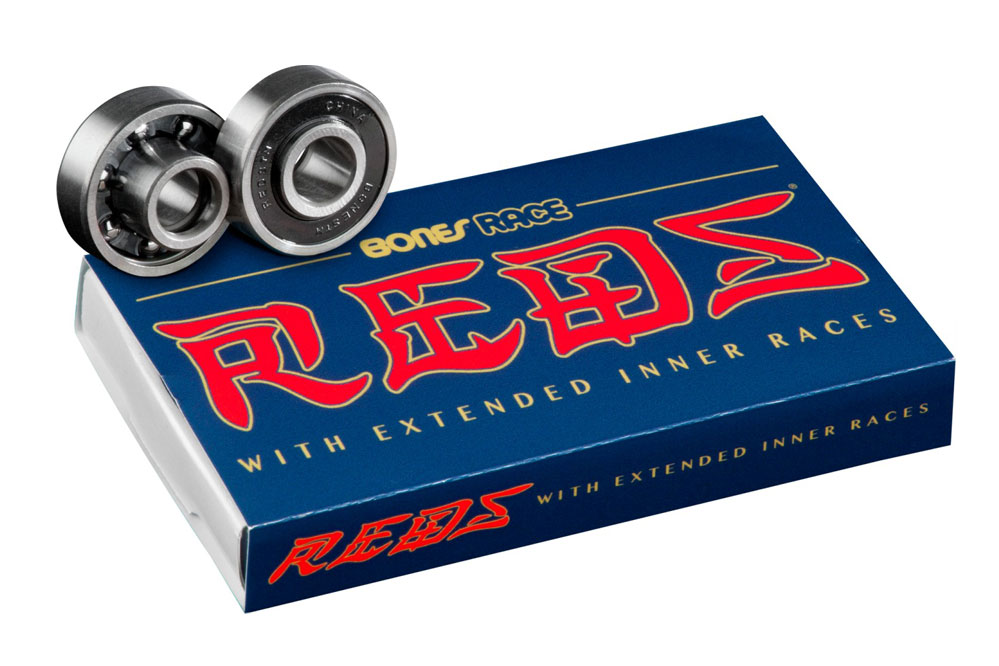 Bones Race Reds bearings are based on the Bones Super Reds. What Race Reds are not, is a Reds bearing with just better super finishing aka surface polishing. Super and Race Reds are superior quality bearings, using higher quality steel races, better quality and grade balls, and a superior surface finish. A precision ground extended race eliminates the need for speed rings and spacers and provides better alignment of the bearings when the axle nut is tightened.
Bones Swiss – Best quality, maximum speed
Welcome to the luxury category of bearings! Here you'll get the finest materials and the best manufacturing you can imagine for bearings. With this, you get the fastest rolling, quickest accelerating, self- healing, longest lasting, bearing you can buy – Made in Switzerland. Now, learn more about the four different Bones Swiss models.
Bones Swiss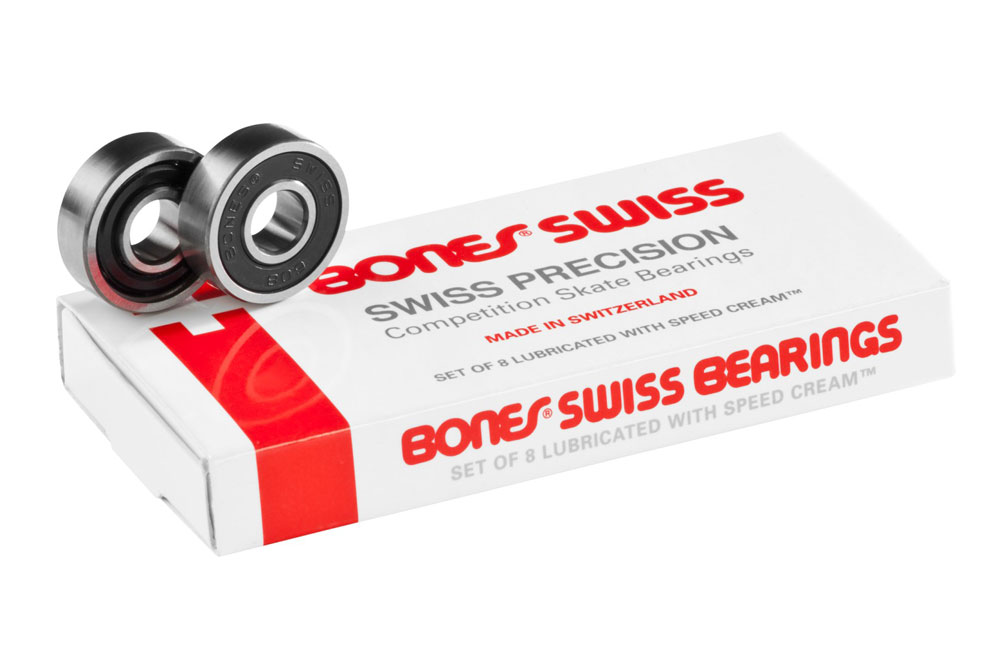 Legendary Original Bones Swiss bearings are the optimum combination of Bones' Skate Rated™ design and Swiss precision manufacturing, created by the standard by which all other bearings are measured. Bones Swiss have been preferred and chosen for more than 28 years by the world's top professional skaters. When they say "Swiss," this is the one they mean.
Bones Super Swiss 6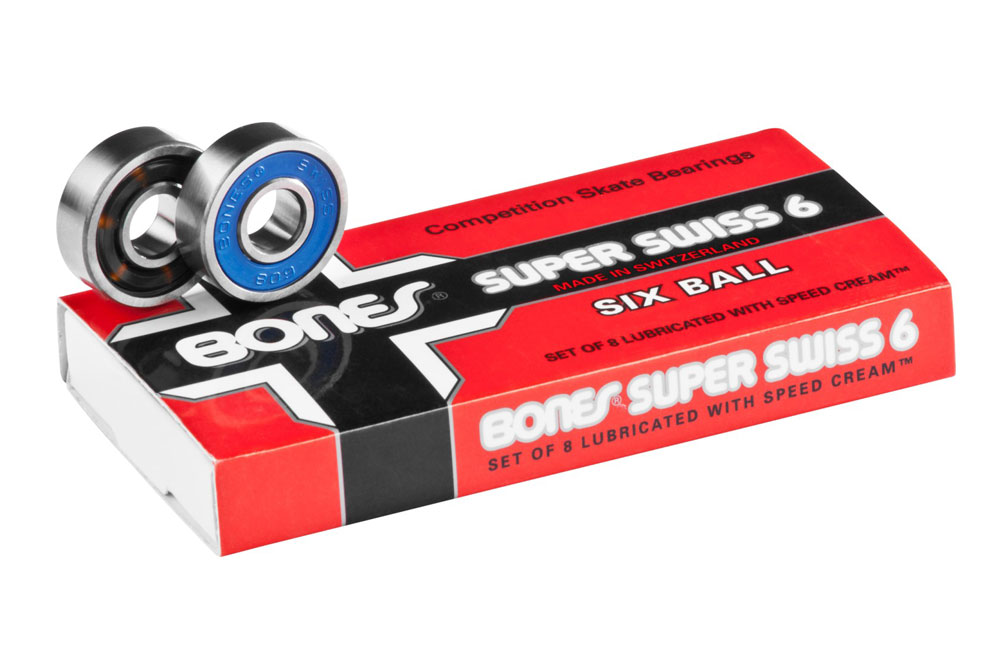 This unique design features six larger diameter balls instead of the seven balls used in common 608 bearings. The advantage of this design is higher speed, rapid acceleration, greater strength and durability. Many pool and vert riders prefer this model.
Bones Swiss Labyrinth 2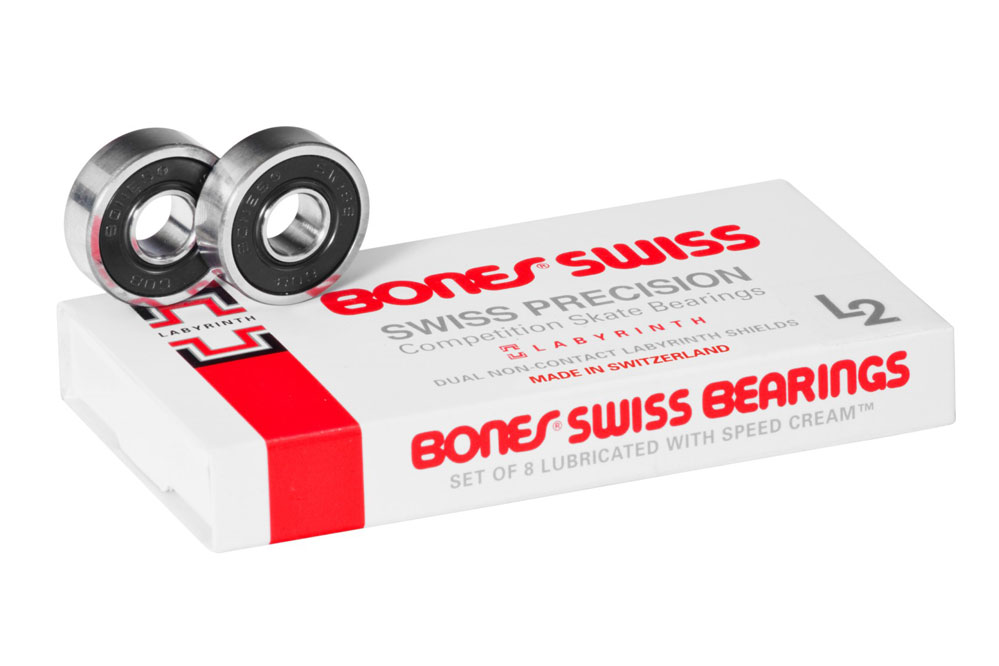 The New Bones Swiss L2 bearings feature a new shield that reduces drag and increases the overall speed of the bearing. The Bones Swiss L2's have a new redesigned inner race and two new labyrinth shields to keep the dirt out longer, but still allow easy maintenance when necessary. The only difference you will notice is that the L2 Swiss will last several times longer than the original Bones Swiss bearings between cleanings. This significant increase in service life comes at a lower retail cost, so the value is greatly increased.
Bones Swiss Ceramics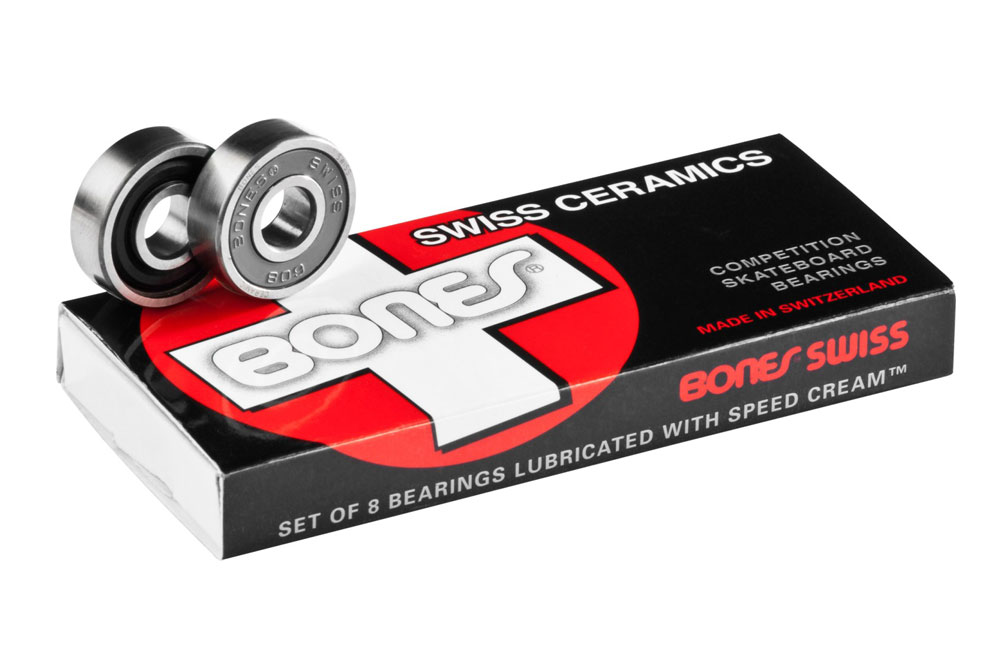 Bones Swiss Ceramics are in a class by themselves. If you want the best there is, here you'll find it. Cerbec® brand ceramic balls are the finest in the world. When they are combined with peerless Bones Swiss steel races and Speed Cream lubricant, the fastest rolling, quickest accelerating, self- healing, longest lasting, bearing you can buy is created.