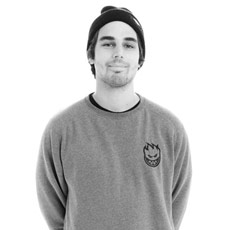 Douwe Macare
Bio
Keep on smiling and ride the whole ledge!
Born and raised in Vierakker, Douwe Macare is our homeboy from the Netherlands. Douwe likes to skate everything – no matter if its contests, street or park sessions. While doing that he's always focussed on his tricks, but never forgets to smile.
Especially hubbas, ledges, rails and big gaps are Douwe's terrain of choice. With his positive mental attitude and 90s Thrash sounds he always guarantees good spirits.
But besides all fun, this sympathetic dutchman brings some great results as well. In 2016 he reached the podium as second for three times in a row at the Red Bull Hold the Line contest, during the Skate World Cup in Graz and at NK Skateboarden. Douwe simply goes in full measure all the time but never loses the fun doing it!
We're really looking forward to everything the future holds for Douwe and the skatedeluxe Skate Team.