With the Lizzie, Vans is expanding their Pro Skate range and introducing a versatile high-top skate shoe with a universal fit & lots of features. We immediately picked up the Lizzie Armanto pro model for a review.
READ IN ANOTHER LANGUAGE
DE | FR | NL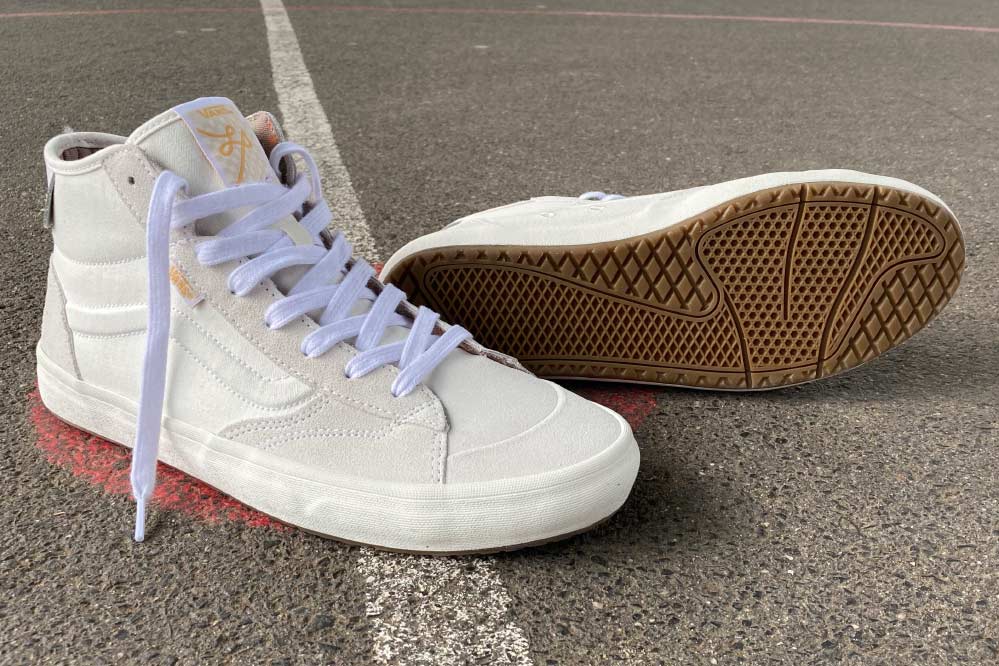 Classic features re-imagined: the Vans Lizzie
Lizzie Armanto's pro shoe is a high top that combines several of Vans' classic design elements. While the silhouette is clearly inspired by the SK8-Hi, the side elements and stitching in the ollie region are reminiscent of the Vans Old Skool. The Duracap reinforced toe cap is somewhat similar to that of the Vans AVE Pro, whose sole also has similarities to the Lizzie's sole profile.
The outsole has a classic vulcanized construction. However, the vulcanization is rather thin compared to other Vans vulc shoes. I also immediately noticed a V-shaped cutout on the soles' side: in the area where the shoe folds when the forefoot bends. The waffle tread of the sole made of SickStick rubber compound is uncharacteristically close-meshed for Vans skate shoes and features grooves in strategic places.
The padding in the Vans Lizzie keeps it quite subtle and is roughly comparable to the Crockett High. What's new is the Vans EcoCush insole. This one is almost identical to the well-known PopCush footbed from Vans. However, in comparison EcoCush soles are made up of a percentage of bio-based, plant-based sources and are part of the Vans V3 initiative for more sustainable skate shoes.
However, the arch of the EcoCush soles in the Vans Lizzie is slightly flatter compared to PopCush insoles. In addition, the material feels a bit softer or is easier to compress. Can those cushioning properties keep up with their predecessor?
This is how the Vans Lizzie fits – Sizing & universal fit
The Vans Lizzie has a regular fit or, in other words, is "true to size". I would recommend ordering it in your usual size. Compared to other Vans skate shoes, such as the Skate Classics, I felt that the shoe has a little more space in the forefoot area.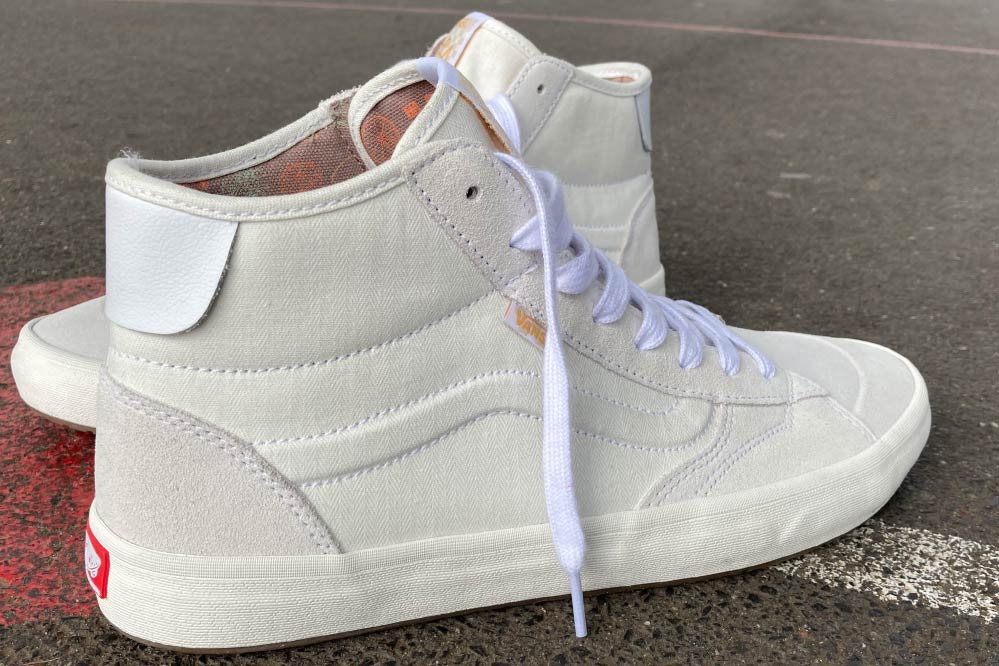 This means that the fit also accommodates skaters with wider feet. Considering the Vans Lizzie is based on – according to its namesake – a rather narrow foot, Vans has done everything right here in terms of a universal fit.
A definite plus of this shoe is that you won't have to break it in at all. The Vans Lizzie is "ready to skate" right out of the box and feels comfortable. This probably comes back to its sole and construction as described above.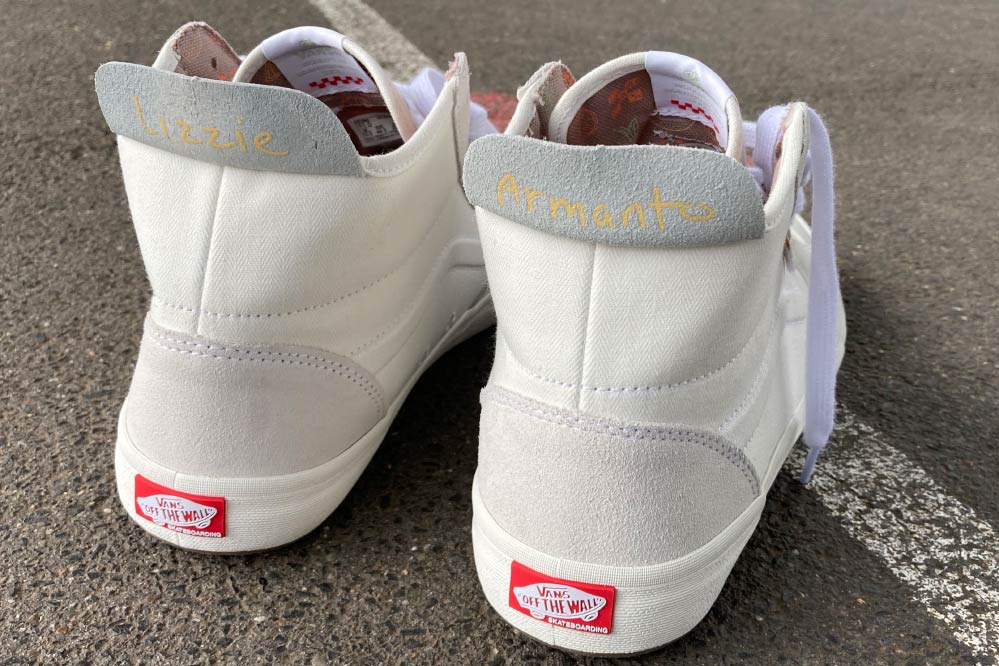 The elastic tongue straps and high lacing ensure a snug fit. I did have a bit more wiggle room in the heel region than I personally prefer, but you can adjust that with a tight lacing.
Board feel, grip & co. – the first sessions with the Vans Lizzie
It's obvious that Lizzie Armanto's shoe is designed for her skating. From bowl to mega ramp – Lizzie skates mainly transition, and without compromise. Since my transition skills are limited to a handful of lip tricks, I took a different approach for this test and asked myself: does the Lizzie work for street skating?
As I said, I didn't have to break in the Vans' Lizzie one bit. The first flat ground kickflips in the shoe were admittedly quite a feat of strength – but this was worth it! The Lizzie sole is extremely grippy. Statements like "the board sticks to your feet" take on a new meaning. This also makes sense, because when you skate vert you don't want to lose your board because of too little grip.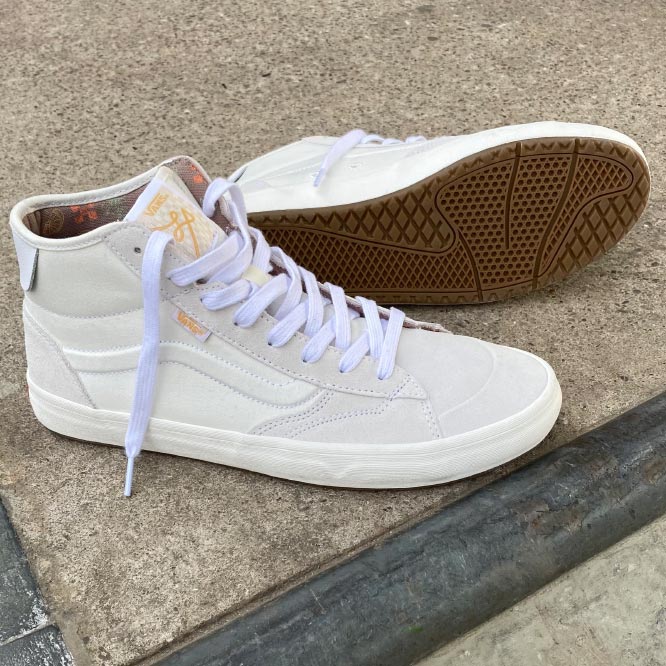 Curb tricks, basics and small stuff continued to work as usual for me with the Vans Lizzie. The board feel was right from the start. Here, the construction works out pretty well and is in no way inferior to the Skate Classics. After about an hour, I had completely forgotten that I had put on a new pair of shoes.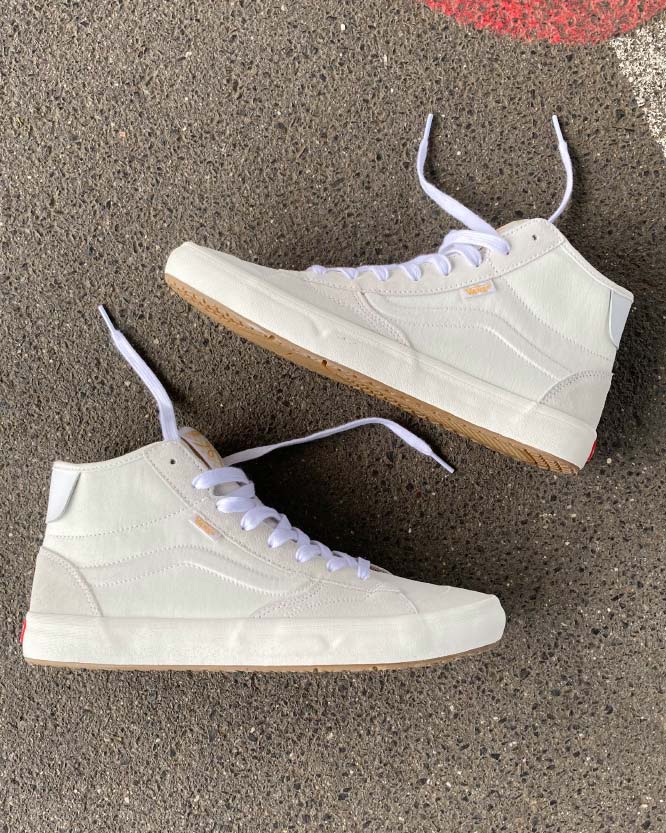 In terms of impacts and hard landings, I didn't notice any difference between PopCush and EcoCush insoles. I think you can count on great support here, just like with your usual Vans skate shoes.
Tough as Lizzie herself – the Vans Lizzie & durability
With less material, most skaters assume less durability – especially when it comes to skate shoes. The Vans Lizzie is completely unfazed by such wisdom. After about 20 hours of skating, the shoe sure looks used, but its strengths really show in the interesting zones.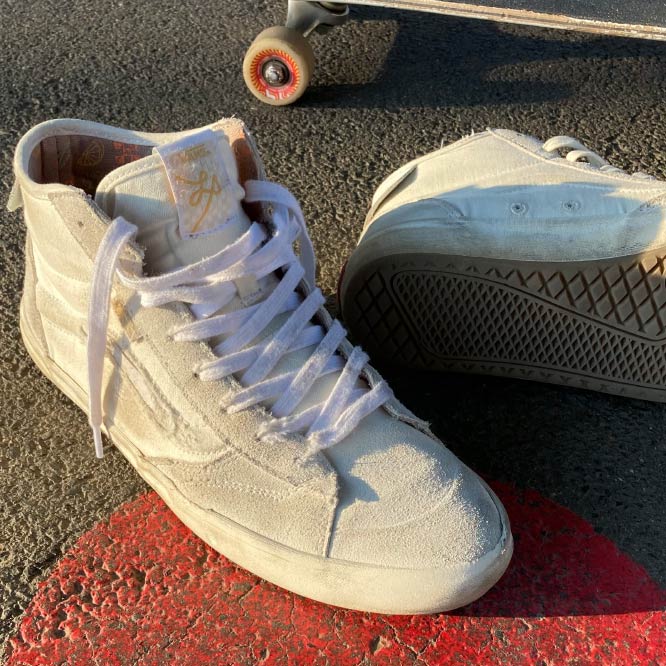 The vulcanization is a bit worn on the toe and side, as is the profile of the sole. However, both are still in top condition and, in my experience, will continue to hold up for at least the same amount of time. Otherwise, I only found a bit of cosmetic wear & tear: roughened seams, a torn shoe lace and the canvas with the incorporated Sidestripe has suffered somewhat.
---
Conclusion – is the Vans Lizzie worth it for you?
The Vans Lizzie is a solid skate shoe through and through; its strengths lie in comfort, board feel and durability and it's moving a step forward in terms of sustainability.
If you often have problems with the fit of skate shoes, the Lizzie could finally be an alternative for you – regardless of where and how you skate. In my opinion, the Lizzie is a great shoe for street skaters.
Advantages
No break-in time
Superior boardfeel & grip
All over durability
Only those who notoriously break laces might find something to complain about with this shoe. If you have no problem with high-top shoes, or have always wanted to try one, you should give the Lizzie from Vans a chance.
---