Venture trucks have been a household name on the skateboard truck market for quite a while. Team riders like Kader Sylla, Mike Anderson or Bobby Worrest swear by Venture trucks. We have examined the Venture Trucks 6.1″ for you more closely.
READ IN ANOTHER LANGUAGE
DE | FR | NL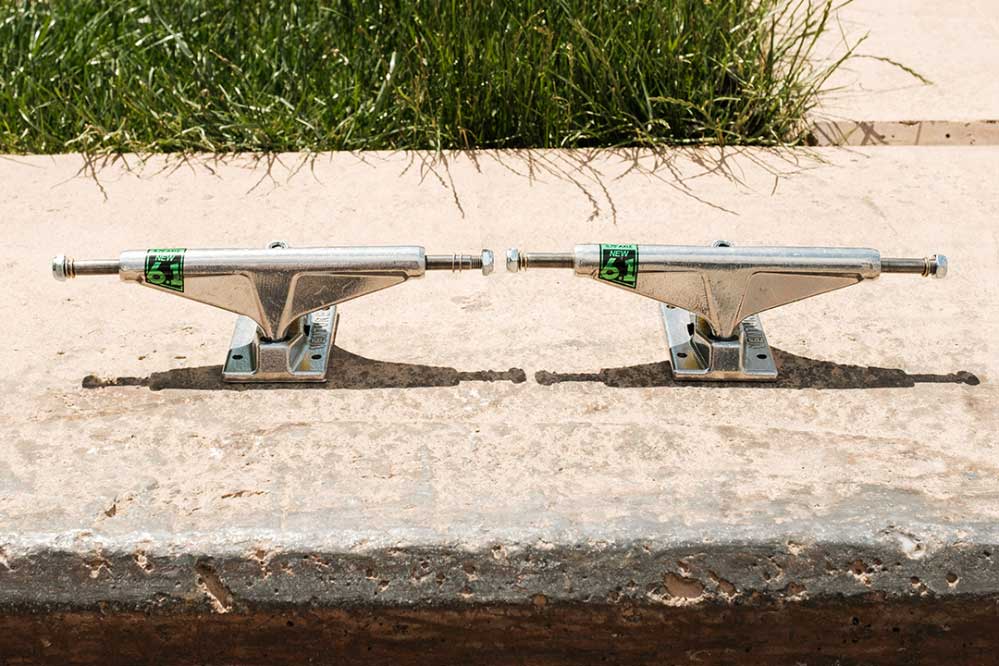 Venture 6.1″ trucks – giving the people what thy want
After Venture trucks haven't been an alternative wider boards for a long time, DLXSF took the wish for a Venture trucks with a wide axle to their heart. The Venture 6.1″ is suitable for 8.6″ decks and wider.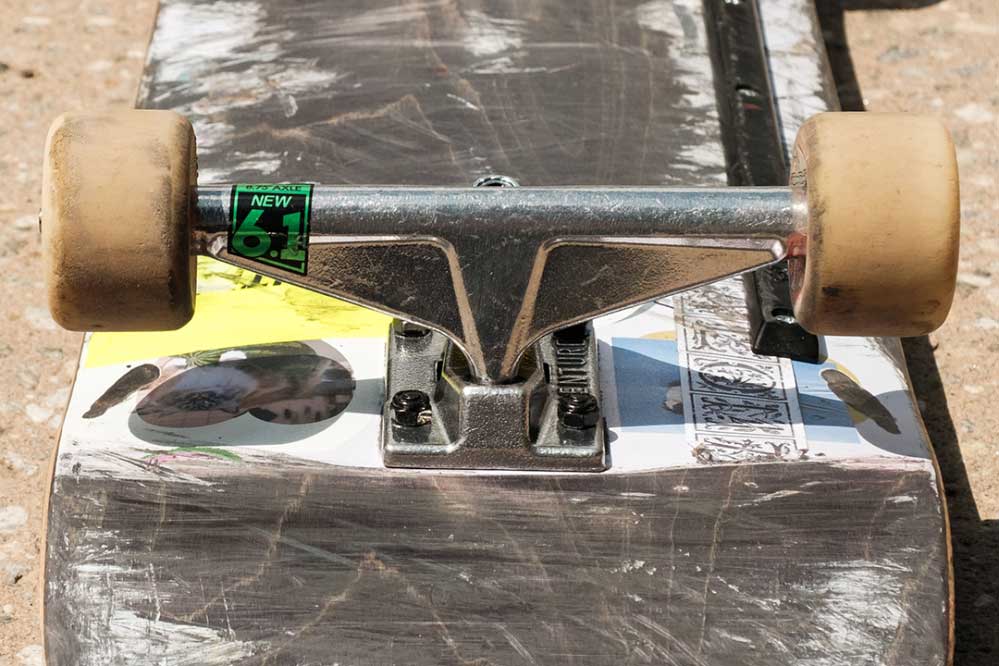 Classic Venture design that convinces
Design-wise, Venture 6.1″ trucks hardly differ from all other Venture trucks – except for the width, of course. The classic V-shape of the hanger has been retained and the baseplate is identical to those of other Venture trucks.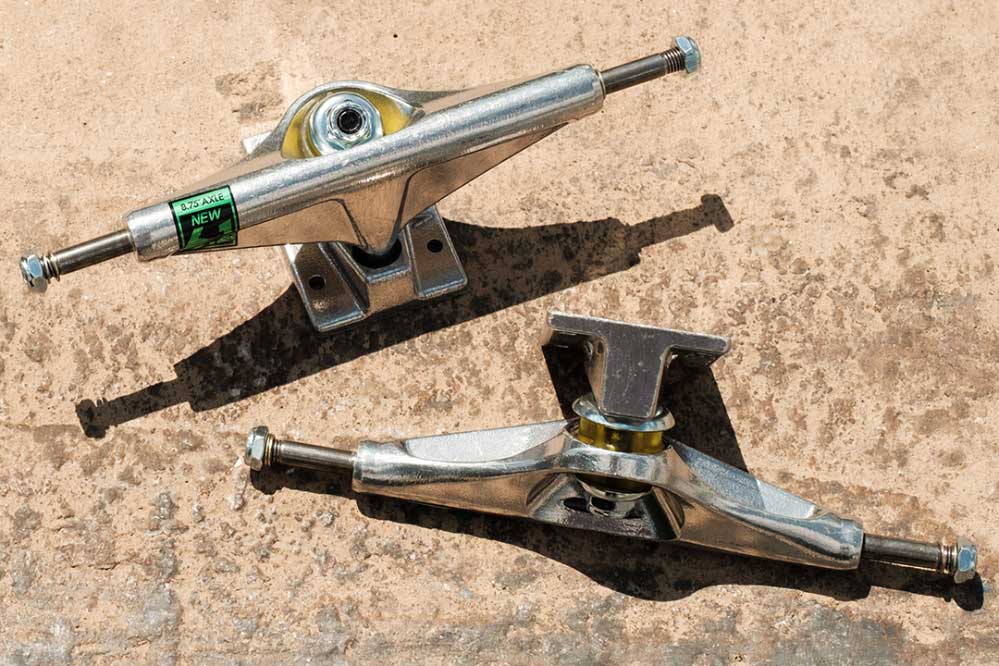 Technical data – the Venture 6.1″ in detail
The Venture 6.1″ truck has an 8.75″ (221 mm) wide axle, making it a great fit for boards between 8.625″ and 8.75″. With a height of 53.5 mm, it is similar to the other classic Venture High trucks and is also suitable for wheels with larger diameter.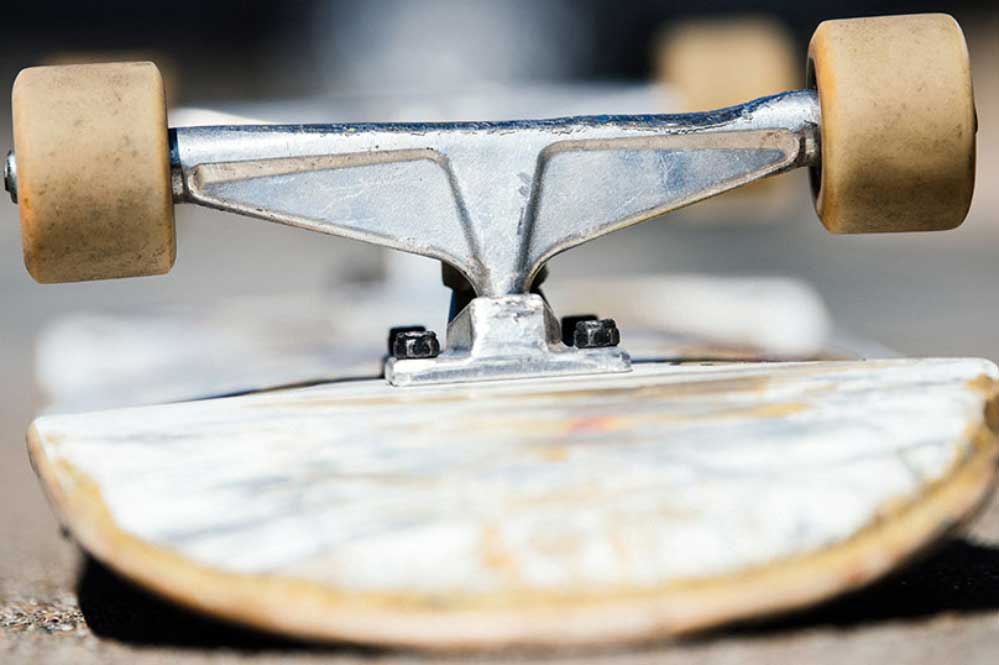 In terms of weight, the trucks naturally differed a bit from the narrower Venture Highs due to the additional material. However, with an individual weight of 383 grams, the Venture High 6.1″ is just 5 grams heavier than the next smaller Venture High 5.8″. Mounting the hardware to the deck is a bit tricky with some skate tools due to the geometry and the extended wheelbase of Venture trucks, but is not a real problem.
Steering, Grinds & Slides: Venture 6.1″ Performance
Venture trucks are not necessarily known for their exceptional steering response. There are certainly skateboard trucks that are more responsive and make tighter, more direct turns. However, once you get used to the characteristics of the Venture High 6.1″, you have without a doubt found a good alternative for wider decks. Especially in the points "Pinch" and "Kingpin-Clearance" the Venture High stands out from some of the competition.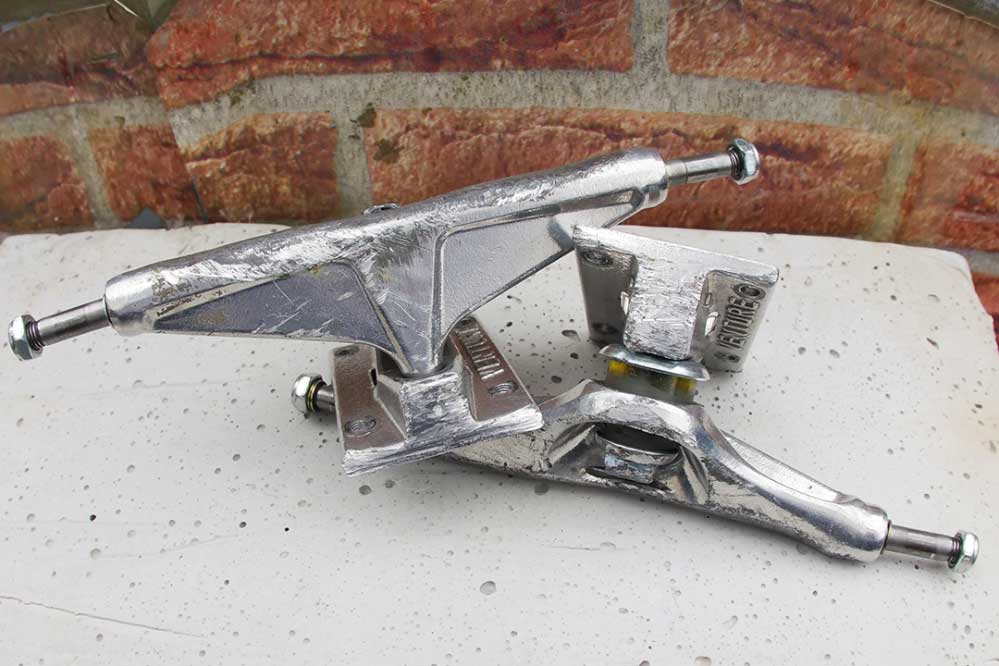 Durability of the Venture 6.1″ truck
The Venture High 6.1″ are neatly finished and withstand stone, concrete and metal without problems – a pleasant grind on all materials. The bushings and pivot cups of the Venture truck could also convince in the test – no cracks, no material fatigue, the same applies to hanger and baseplate.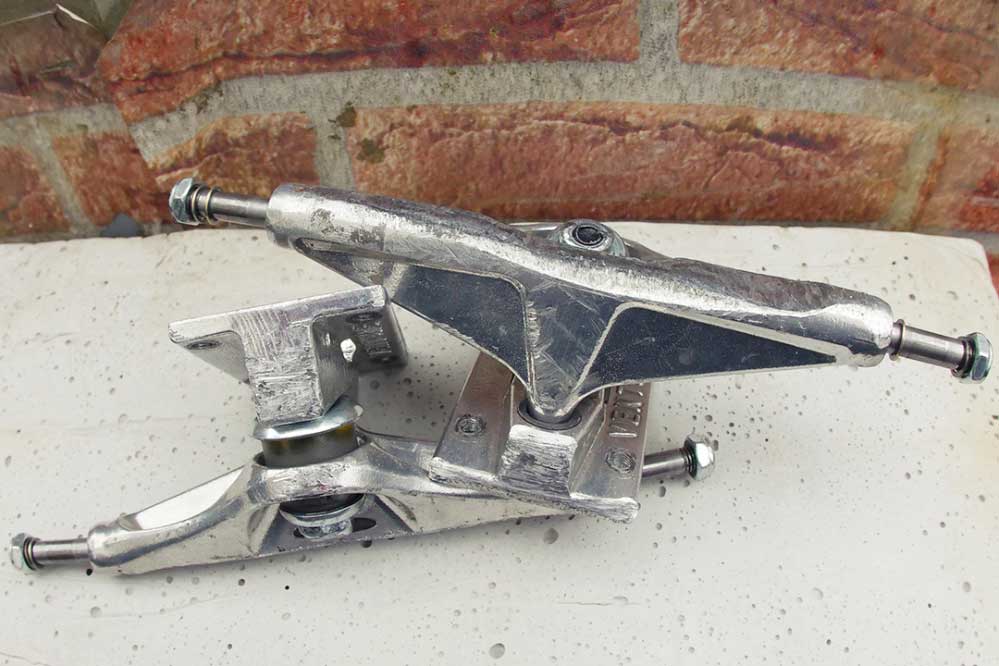 ---
Conclusion
Most skaters are loyal to a truck brand for a long time, sometimes for a lifetime. With the Venture High 6.1″, Venture fans can now enjoy the familiar feeling on wider boards – but so can anyone who has not yet had the pleasure due to their preference for wide decks.
Advantages
boardfeel
durability & manufacuring
price
---
By the way: If you're looking for the right sound for your next session, you can't miss the Venture Trucks Mixtapes: