Our skatedeluxe product tester Fabian bolted the Ricta Lopez Speedrings 52mm onto his trucks and tested them on slide behavior, control, wear and street-suitability. In this review you will see how the Ricta Speedrings feel and score. To anticipate the result a little bit: These wheels are good fun!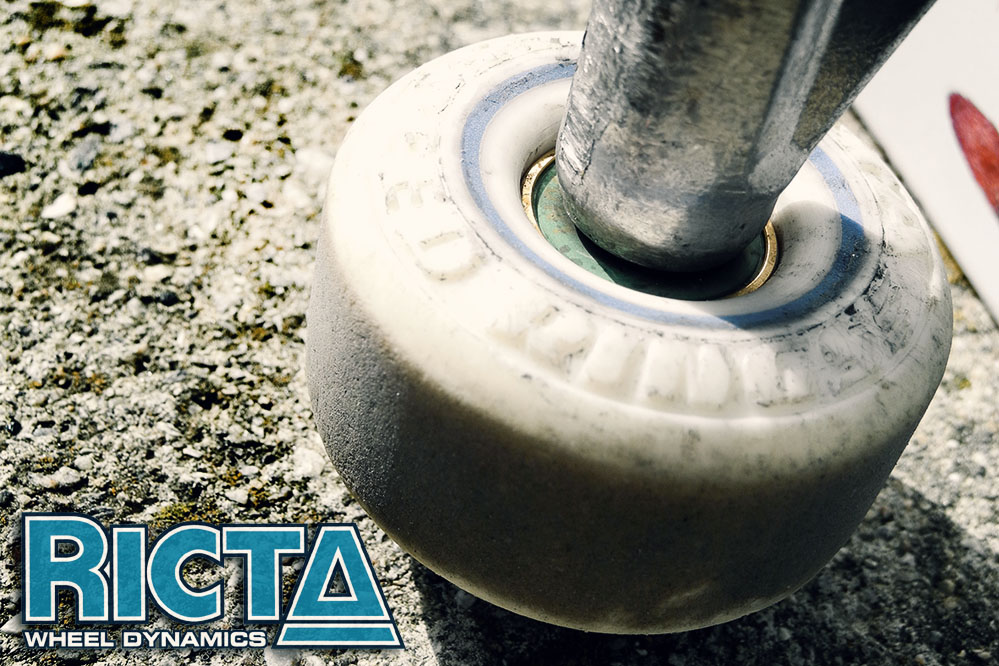 Ricta Speedrings
For almost 15 years Ricta Wheels is a part of the NHS distribution. Together with brands like Flip Skateboards, Independent or OJ Wheels Ricta can look back to many years of experience and technical innovations with a brand philosophy focused on performance and fresh designs.
Construction
The Ricta Speedrings 52mm wheels serve up the instant speed of cored wheels, but without their hard-core chatter. Structural "Flex-Rings" fight bearing deflection under load to provide hesitation-free landings. That brings a successful rolling away from more tricks. These wheels are not just made out of polyurethane. They feature a softer urethane layer for reducing weight. To name the degree of hardening Ricta is using a durometer B-scale like Bones (read more about that in our Bones STF wheels Selected Brand blog post). Duro 81B stands for 100A, so this Ricta wheels are very hard.
Rolling
Because of the feeling of the running surface first I was skeptical. Due to the durometer this wheels are quite fast but also smooth at the same time, even on rough aspahalt. The tested wheels were able to convince particularly in control and slideability, they managed to surprise me in a positive way. Compared to Bones or Spitfire wheels with same durometer the Ricta featured more grip. When it comes to 'flatspot resistance' I have to deduct one point. You really have the feeling of being able to control the slide at any time. But after long slides you might have flatspots. But in normal use, it should remain an exception.
Conclusion
All in all with the Ricta Lopez Speedrings 52mm wheels you'll get high performance wheels for your daily session. Particularly noteworthy is the relatively smoothe ride, despite a relatively high degree of hardness. In addition, the low weight is incredible. In normal use, flatspots should remain an exception.