Despite being on the scene for more than 10 years, ACE Trucks is still somehow an insider tip – but it's about time all that changed! Learn everything you need to know about ACE skateboard trucks in our skate test.
READ IN ANOTHER LANGUAGE
DE | FR | NL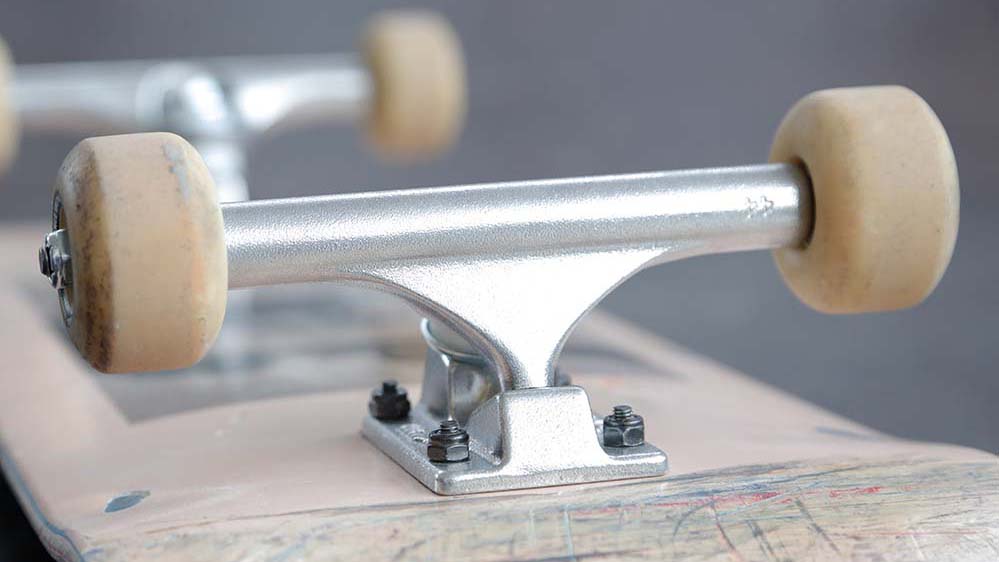 ACE Trucks was founded in 2007 by Joey Tershay. In cooperation with his business partner Steve "Shrewgy" Ruge, he gathered a lot of know-how about designing and producing skateboard trucks. The Independent Stage III truck, which was popular for its maneuverability, served as a template for ACE trucks. Staying true to the mission statement "quality without compromise", there were a few optical and technical changes in comparison to the prototype model.
Design
The plain, almost minimalistic design of ACE trucks is an eye-catcher. The Baseplate is similar to one from Independent, but only the pivot has been repositioned more to the inside (direction wheelbase). The characteristic, round hanger provides a lot of material and guarantees durability, judging from the looks of it. In comparison to other skateboard trucks, the ACE trucks hanger stays straight all the way from wheel to wheel and doesn't taper. Instead, the hanger's ends are conical around the axle, to provide more space and less friction for the bearings.
The ACE 44 Classic truck's kingpin sits very low to prevent hang-ups. Additional ACE trucks are known for their exact steering performance. The very low bushing seat in combination with the stock bushings might be responsible for that. ACE trucks come with 86A Bottom and 91A Top Bushings to ensure maximum performance turns.
Specifications
Compared to other brands like Independent or Thunder, ACE marches to the beat of its own drum when you're looking at the technical data. The ACE 44 Classic truck has an 8.35″ wide axle and a 5.75″ wide hanger. The brand recommends it for decks 8.125″ to 8.5″ wide. This places the truck in between Independent's 144s & 149s or between Thunder's 148s and 149s.
ACE Trucks tech sheet
| | 33 Classic 5.375″ | 44 Classic 5.75″ |
| --- | --- | --- |
| Height | 52 mm | 52 mm |
| Type | Mid | Mid |
| Hanger Width | 5.375″ (136 mm) | 5.75″ (146 mm) |
| Axle Width | 8″ (203 mm) | 8.35″ (212 mm) |
| Suggest Deck Width | 7.75″ – 8.125″ | 8.125″ – 8.5″ |
| Weight | 361 g | 388 g |
With 52 mm height, we would consider the 44 Classic a mid truck. So, you can easily ride wheels with a diameter of up to 56 mm in combination with ACE Classic trucks without the need for riser pads. Find a detailed overview of the specifications on all ACE trucks in our skateboard trucks wiki.
Without a shadow of a doubt, the ACE 44 Classic is no lightweight truck, weighing 388 grams. Still, the Independent 144 Stage 11 is a little bit narrower and also weighs 388 grams while being "smaller". That being the case, I would say the ACE 44 Classic is slightly lighter than similar Independent trucks.
Performance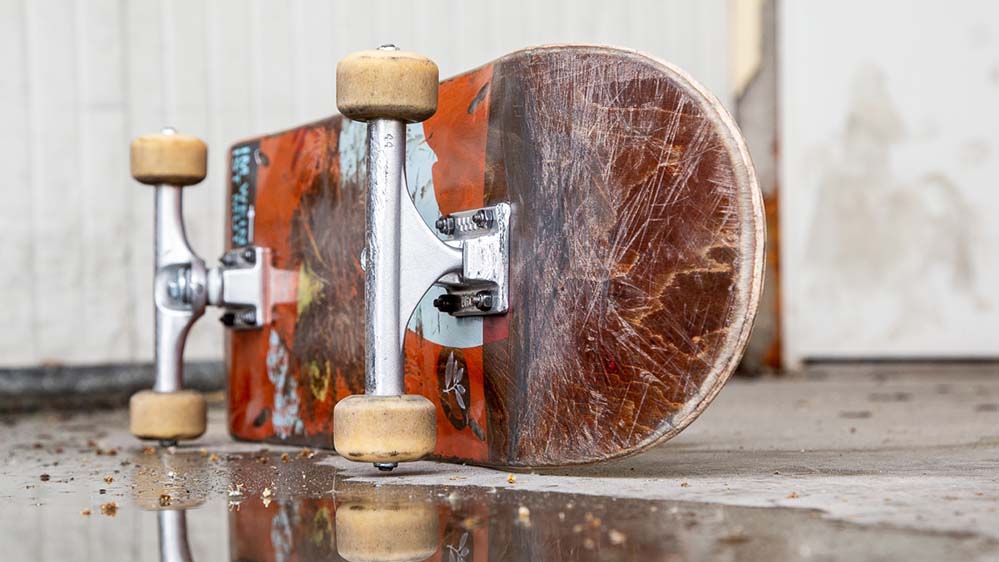 During the first session, it becomes crystal clear how precise the maneuverability of the ACE Classic trucks are. Very tight turns are no problem – it doesn't surprise me that trucks from ACE are quite popular among pool skaters. Although I usually don't ride loose trucks, I skated the ACE 44 in its regular setting – without tightening the kingpin nut.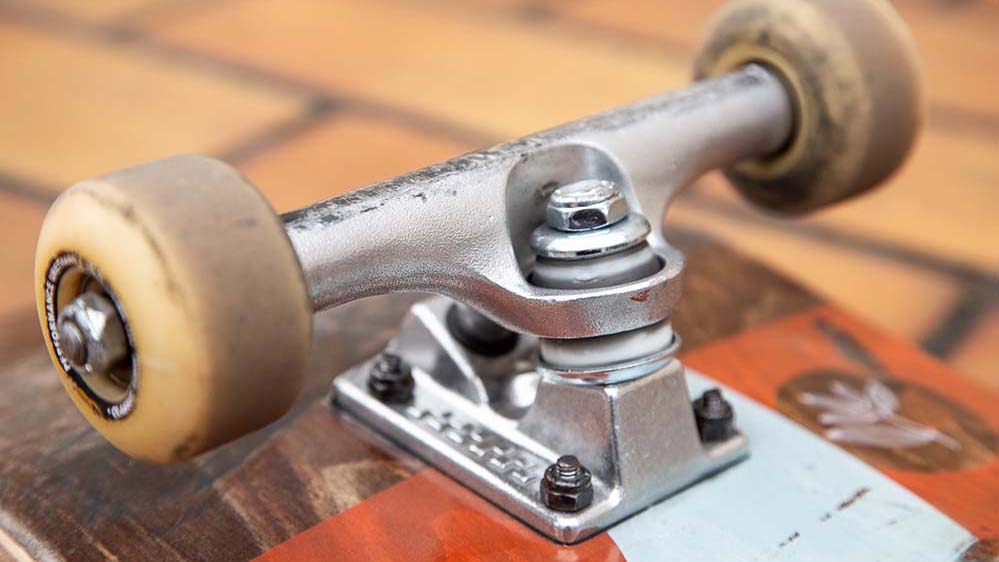 However, the trucks were stable at all times and a reliable ally, even with sketchy landings. At first, grinds on smooth surfaces, for example, marble-like curbs or metal edges, were a little "bumpy". The polished aluminum has a rather "grainy surface". Anyway, after a few grinds, the hanger is super smooth and grinds nearly everything.
Durability
I have been skating the 44 Classic trucks from ACE now for about four months and I still love them. Not once have I adjusted the bushings – the trucks are just as maneuverable now as they were on the first day.
So far, wear and tear are also limited – although, I primarily used the trucks in skate parks and therefore mostly skated smooth curbs and copings. If there is a bias that ACE trucks are exclusively for skating pools, I can't confirm it. I'm mostly skating curbs, banks, and flats – and the ACE 44 Classics are forming a dream team with my 8.25″ deck.
Conclusion
Before the ACE Trucks review, I definitely boxed Joey Tershay's trucks into the pool skateboarding category. But my opinion has changed dramatically and I would now call the ACE 44 Classic 5.75″ skateboard trucks one of my favorites.
Street skateboarding and ACE Trucks work together really well. Team riders like Kevin Rodrigues, Dane Brady or Brian Delatorre are proof of that. Due to their incredibly precise steering behavior, durability and the almost non-existent break-in period, I would recommend ACE Trucks to anyone who's looking for an all-around truck and doesn't care about its weight.
| Pros | Cons |
| --- | --- |
| Plain, timeless design | A bit heavier than other trucks |
| Extraordinary maneuverability | |
| Versatile | |
| Durability of hanger and bushings | |