Powell-Peralta is a veteran among the skateboard brands and yet embodies innovation like no other. After the revolutionary Flight Shape, Powell-Peralta presented the Dragon wheels in 2022. We've put the Dragons on a board and tested them for you.
READ IN ANOTHER LANGUAGE
DE | FR | NL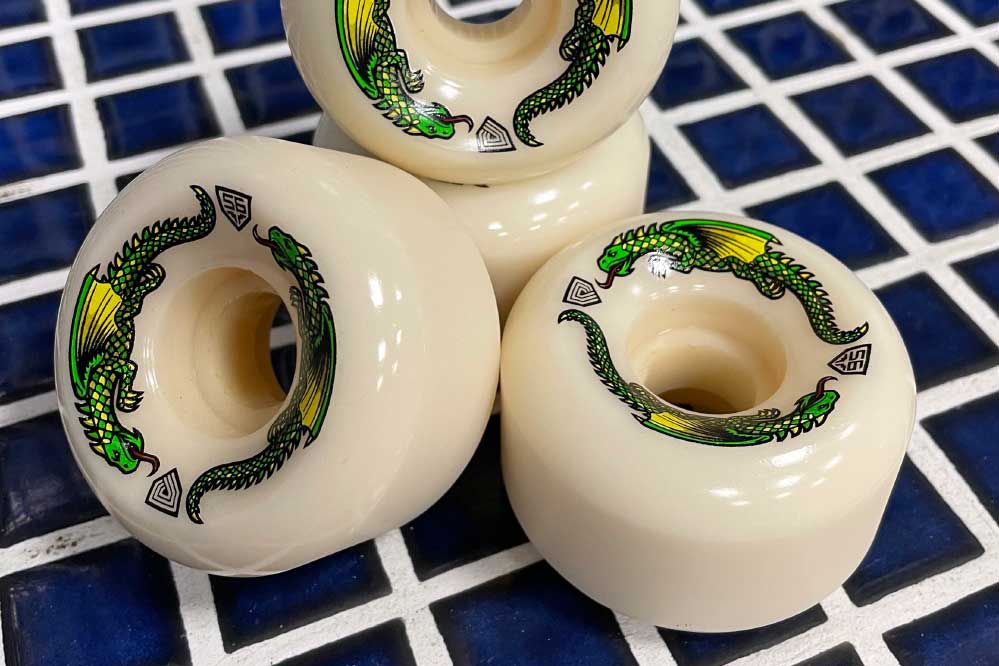 The majority of older skaters will probably know best about Powell-Peralta. Especially speaking about skateboarding's history, you have to mention Powell-Peralta and the iconic Bones Brigade. Since the beginning, George Powell and Stacy Peralta's brand has been a driving force of technical advancement in skateboard hardgoods product development. The Dragon Formula wheels join that tradition: 93A wheels that supposedly slide like hard wheels!
Available options of Powell-Peralta Dragons
You get the Dragon Formula Wheels from Powell-Peralta in 52 mm to 64 mm diameter. As for the shape, you also have the choice between three variants. The Dragon wheels in the V1 shape basically correspond to a classic skateboard wheel shape.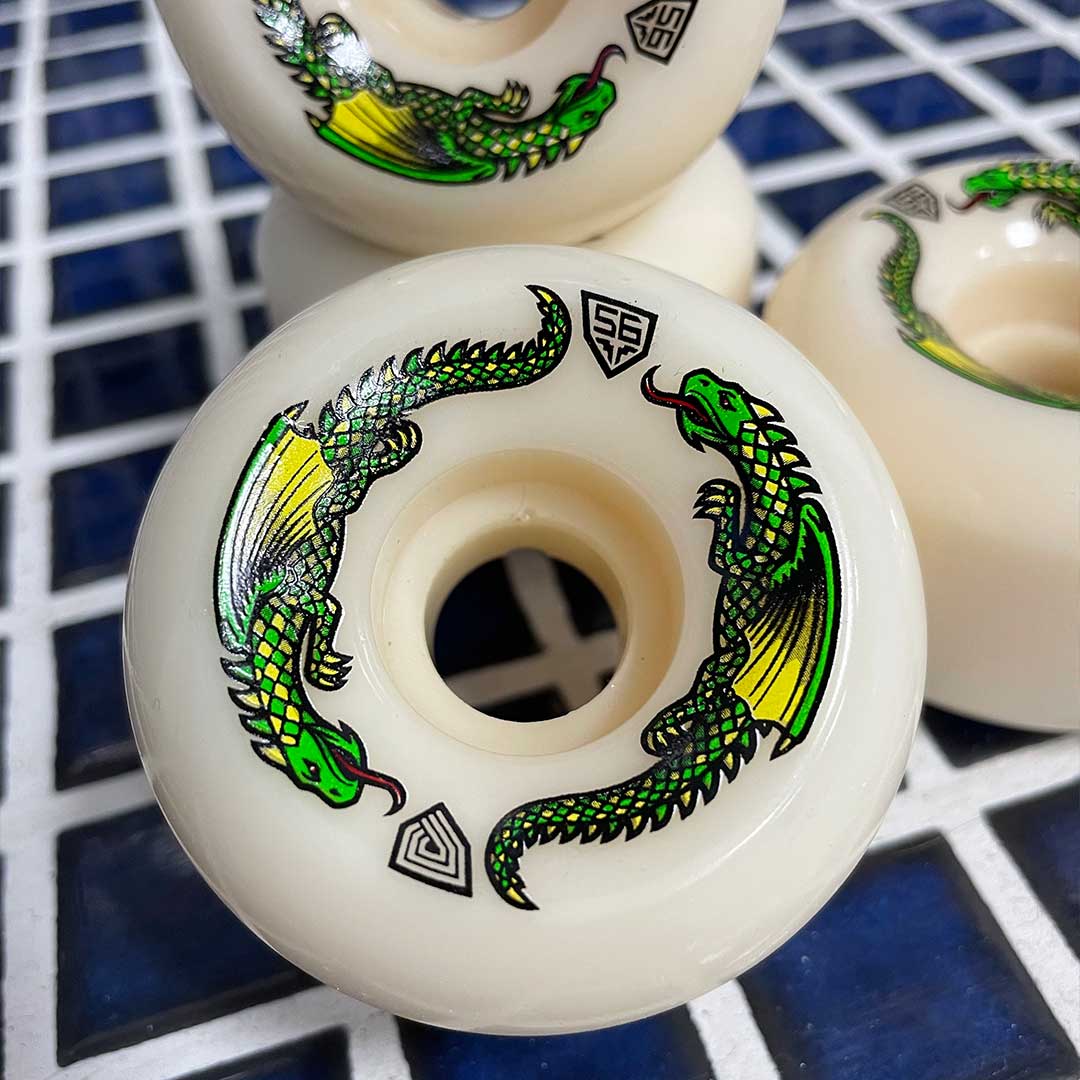 The V4 Wide shape is similar to the V1, but wider. V4 Wide Dragon Wheels have a wider contact patch and thus theoretically a little more grip. The V6 Wide Cut shape brings you the Dragon Wheels in a wide, conical shape.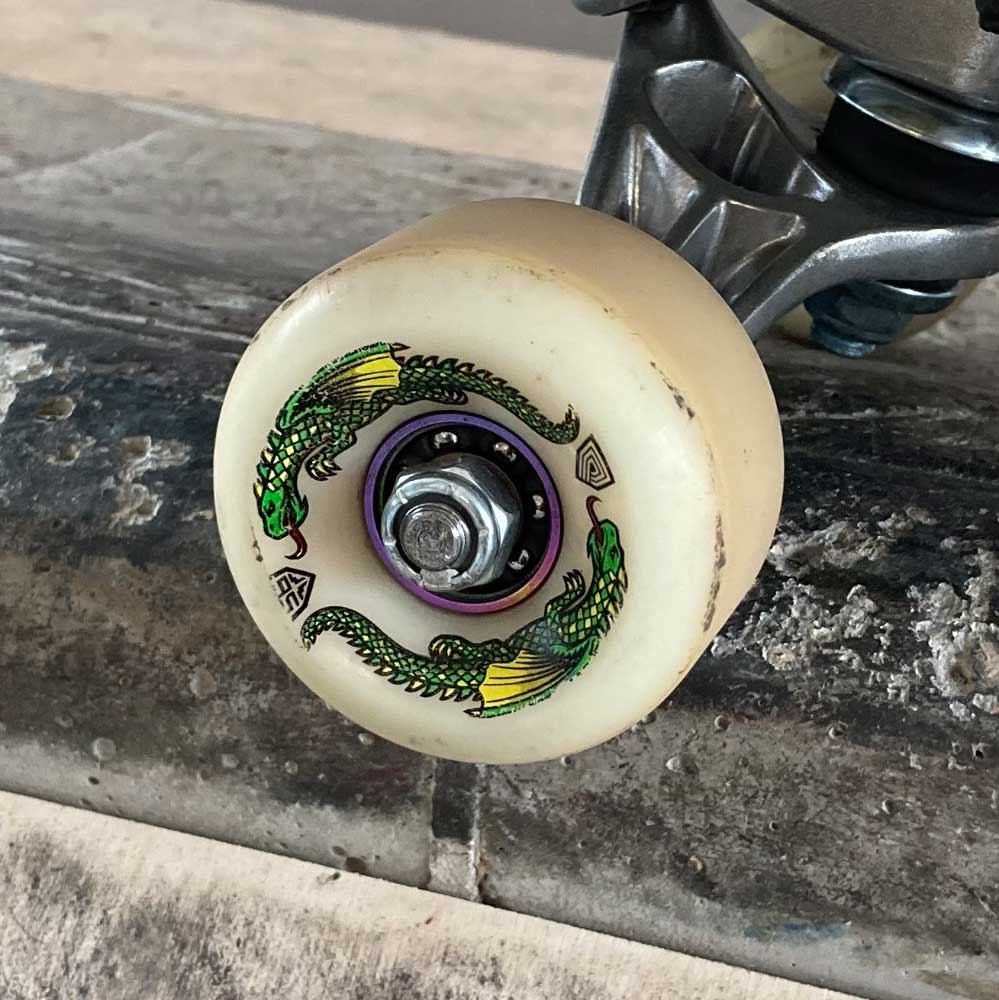 Soft skateboard wheels do not slide – do they?
If you ever pushed for longer distances, depending on the ground and distance, you usually wish for softer wheels. But if you want to do more with your skateboard, soft wheels are often simply less fun: no powerslides and different rolling characteristics. Ultimately you want your hard wheels back, once you arrive at the spot.
The alternatives: take another set of wheels or a second setup with you? Usually too complicated. Wheels that satisfy both needs would be ideal: a pleasant ride on "rough" surfaces but at the same time decent slide properties when you need them. The Dragon Formula from Powell-Peralta is supposed to make that possible.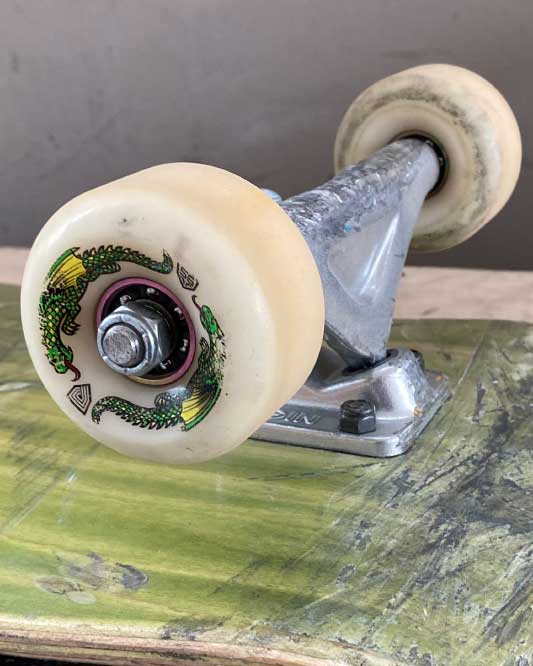 Most skaters only use soft wheels for cruiser and filmer boards. If the ground allows it, skating with harder wheels is often simply more fun. It becomes problematic with very rough, but also very smooth surfaces: for example, in indoor skate parks. If dust and skate wax come into play, hard wheels quickly become uncontrollable.
The verdict: Powell-Peralta Dragon Wheels Skate Test
In my opinion, the greatest strength of Powell-Peralta's Dragon Formula is on this very terrain: slippery, unpredictable ground and heavily waxed obstacles. The Dragon wheels offer sufficient grip on slippery wood or concrete, but at the same time slide similarly to harder wheels.
Even on a coarser asphalt, Dragon wheels show what they are made for. After a short "break in" phase, you'll be familiar with the somewhat unique "driving behavior" of the Dragon wheels. You can look at spots that you have avoided so far from a completely different angle.
Conclusion
The Dragon Formula wheels from Powell-Peralta behave noticeably different than conventional 93A Wheels. They slide on coarser asphalt and grip on very slippery ground. However, I would not see those as a standard wheel for my current setup. For me, the Dragon Wheels are much more a kind of extension or tool for appropriate tasks.
In this sense, Dragon wheels are the right tool for very slippery or very rough surfaces. With 93A, the wheels are nevertheless noticeably softer than ≤ 99A wheels. You'll recognize this in the sound and softer feel, but also in slower speed. I have used the Dragon Wheels most of the time during winter in slippery indoor parks and learned to love them there. For this use, I would recommend them without hesitation.
---
Advantages
Grip on slippery surfaces
Smooth on rough ground
Sliding despite 93A durometer
Disadvantages
Reduced speed due to softness
---