Are you the kind of skater who always rides the same sort of trucks? Maybe it's time for a change: We tested the completely revised Royal skateboard trucks for you. Check out how the Royal Ultra Light trucks perform!
READ IN ANOTHER LANGUAGE
DE | FR | NL
Know your brand: about Royal Trucks
Royal Trucks was founded in 1999 by Guy Mariano and Rudy Johnson, some of the most pivotal street skateboarders. In recent years there were complaints regarding the truck and their design. Like any good skate brand, the crew at Royal Trucks listened. The truck has gone through a complete redesign.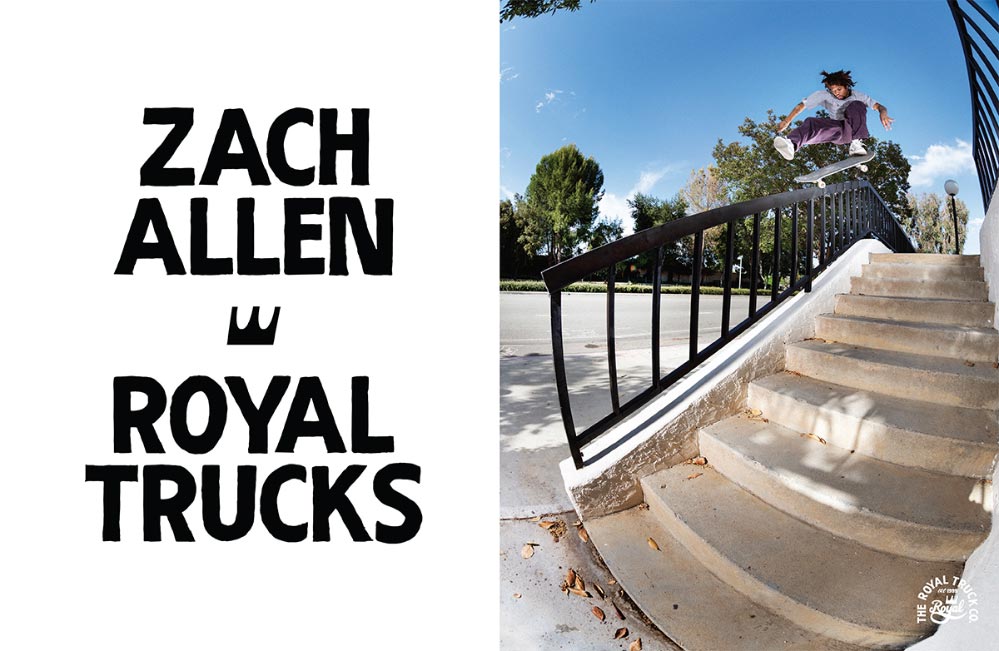 What's new about the redesigned Royal trucks?
The new Royal truck was designed by Mike Carroll (Girl Skateboards, Lakai Footwear). The main feature is the new geometry called "Sacred Geometry" with a very responsive turn. The new Royals are also 25g lighter than the predecessor and have more kingpin clearance to avoid hang ups while doing Smiths & Feebles.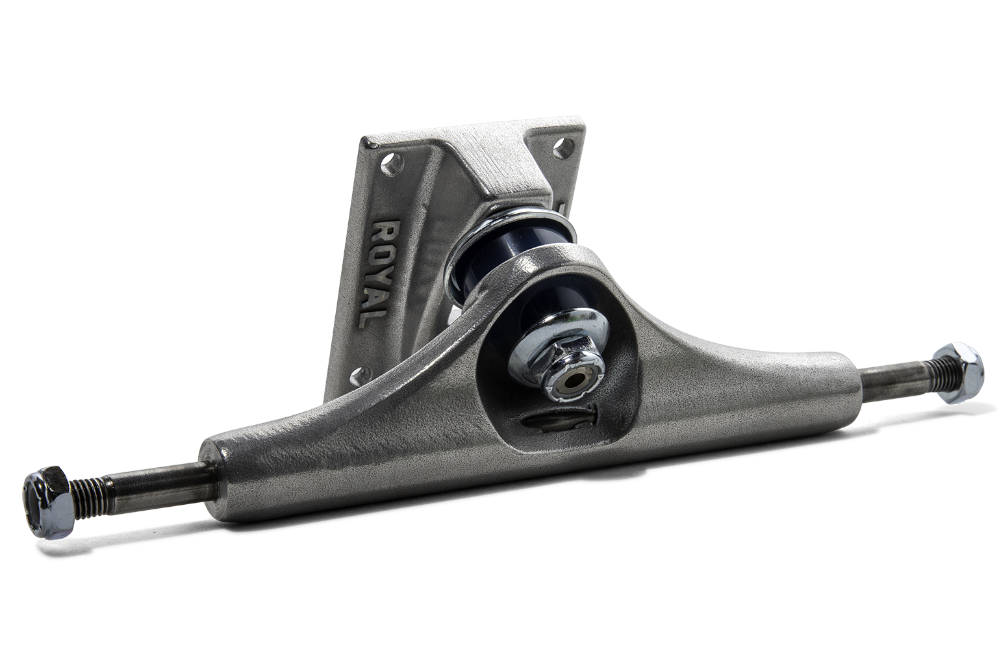 Also new are hand poured bushings and pivot cups as well as a new manufacturing process, which Royal calls "Fusion Cast". This process supposedly makes Royal Trucks even stronger than forged skateboard trucks – currently the industry wide golden standard.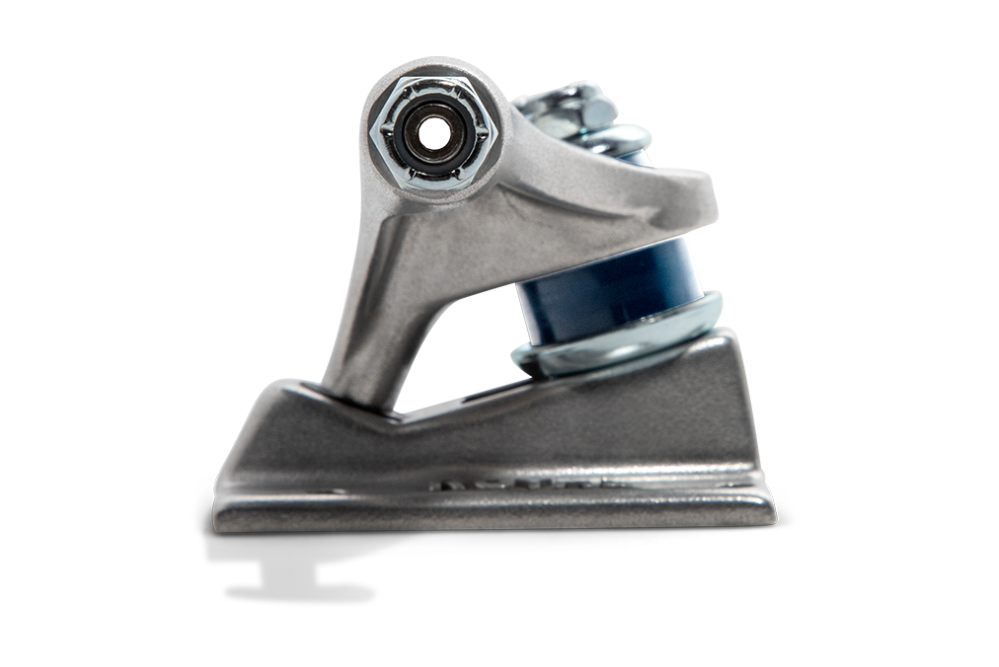 As of now you can get the new Royal trucks as standard version, Ultra Lights and Inverted. Royal Ultra Light trucks come with hollow kingpin and axle which makes them 7% lighter. Royal Inverted trucks have an inverted kingpin for even more kingpin clearance.
The size description of Royal trucks is based on the hanger width. You can get them at skatedeluxe for boards from 7.5″ to 8.75″, give or take 0.125″ (our recommendation).
Royal Trucks Ultra Lights Skate Test
For my test I was lucky to get a set of Royal Trucks Ultra Light 144s – perfect fit for an 8.25" deck. The trucks have a very simple look with minimal branding on the baseplate. All Royal trucks are 52mm tall, which is why we characterize them as Mid trucks. With 318g each, Royal 144 Lights are comparable to Thunder 148 Hollow Lights. Both perfect "plaza trucks" in my eyes.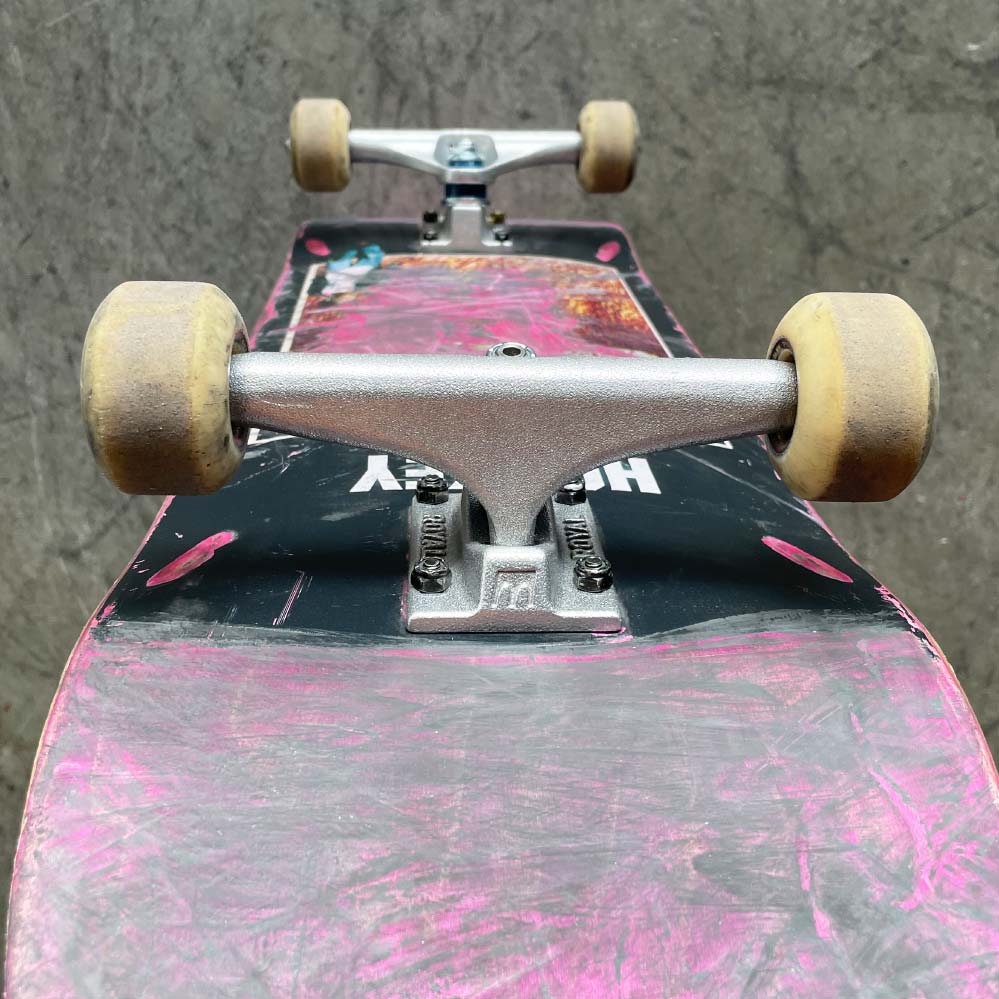 I rode my Royal Ultra Light trucks for about three months on three different setups. I skated predominately in skateparks, so the trucks didn't get as much wear as expected from street spots. Obstacle-wise I concentrated on ledges, rails, manual pads and mini ramp. I also took the new Royal trucks to larger quarters and had three slappy sessions.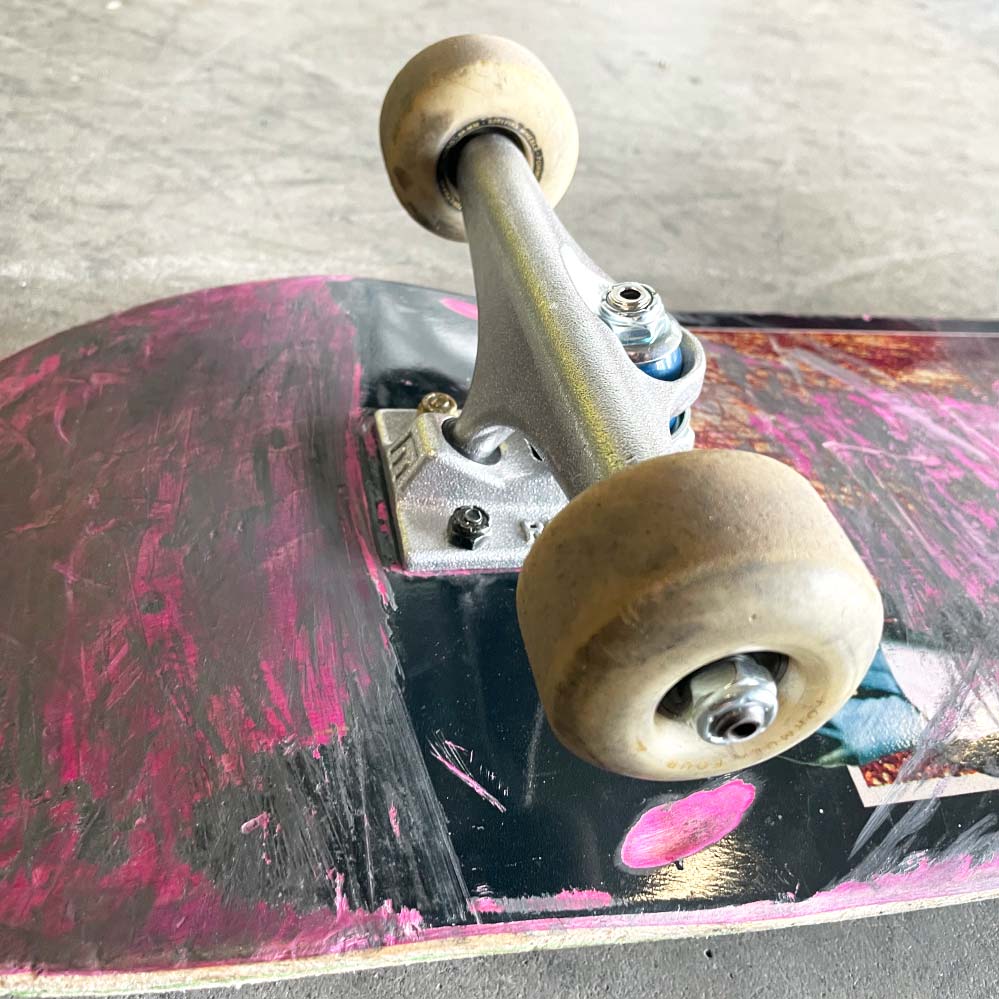 How the revised Royal Trucks turn
I instantly noticed the excellent turning ability during my first session. I would describe the turning as responsive and very stable but not extreme or too surfy. Surprisingly you can do very sharp turns with the new Royal trucks without getting wheelbites easily.
Over the three months testing period the steering behavior stayed consistent. All bushings remained stable and the board didn't feel too loose as I slowly broke in the trucks. If you prefer a tighter truck, I would recommend Bones Bushings as substitute. As of now, Royal doesn't offer harder exchange bushings and their bushing size is quite unique.
How the new Royal trucks grind
It's important to know that the skate truck brands use quite similar material (aside from magnesium alloys). Therefore, the shape and texture of the hanger plays a great role when breaking in new trucks. In my eyes, Royal trucks have a rather pointy or narrow hanger which makes their initial grind comparable to Venture trucks.
Royal trucks on ledges, rails & coping
The grind on metal like rails or coping felt perfect. In the skate park I had a great time riding the new Royal trucks, straight out of the box. To grind chunky street ledges, I had to use a bit more wax with Royals. Once I broke the trucks in and started getting my Crooked grooves, the grind felt great.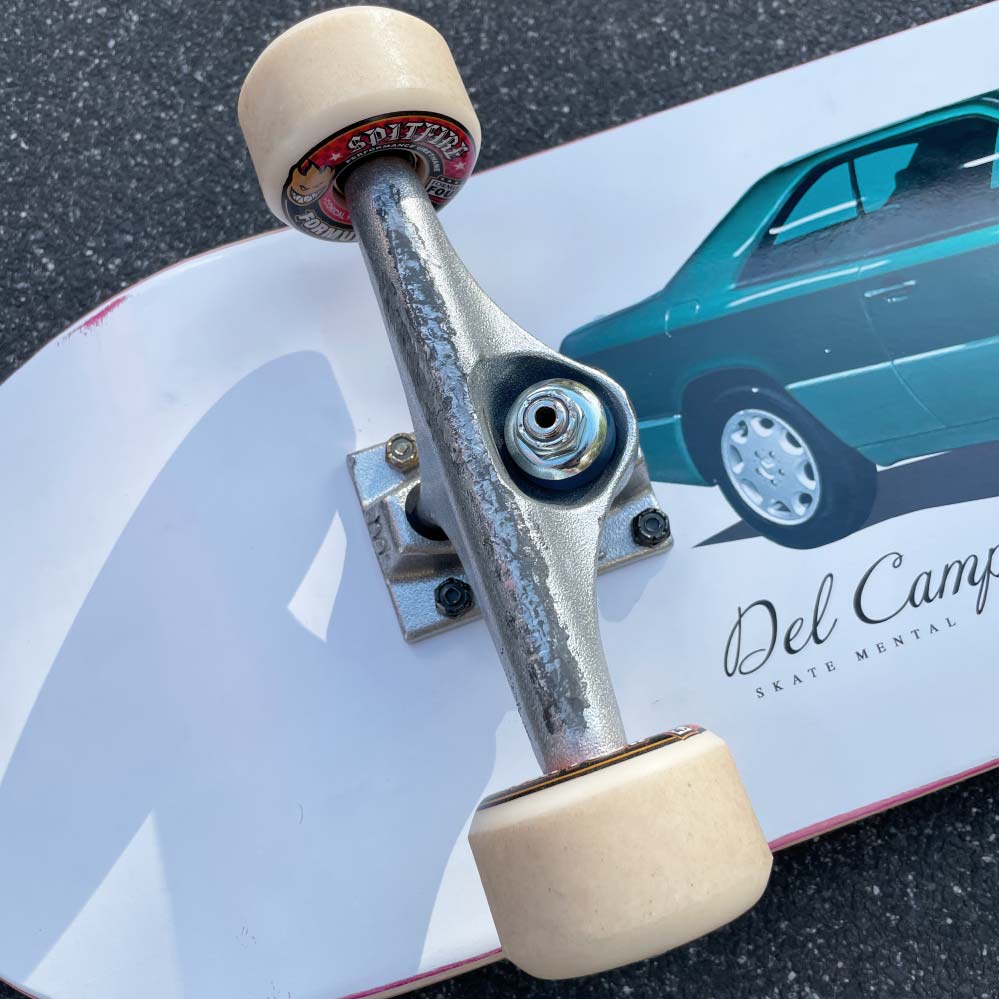 With Nose- & Tailslides I noticed that the baseplate sticks out quite a bit, which I find helpful for these slides. However, I had some problems with the crown logo on the baseplate. I felt that it would sometimes get caught on the ledge. Once the logo was worn down, slides felt better.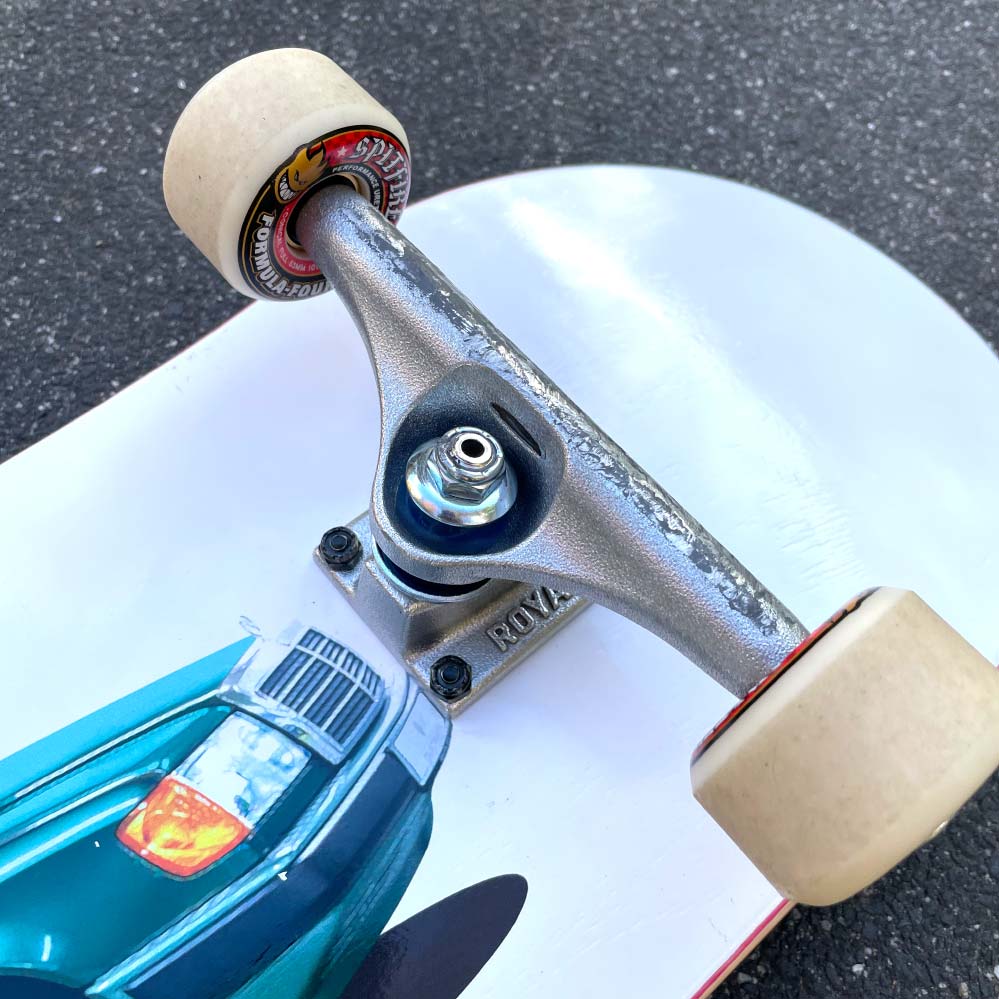 Royal Trucks and Slappy Grinds
I think, since the hanger of Royal trucks needs some time to break in, they also need a bit time to shine with Slappies. Sometimes the hollow kingpin squealed when I was doing FS Slappies. For this, I would probably recommend the Royal Inverted trucks.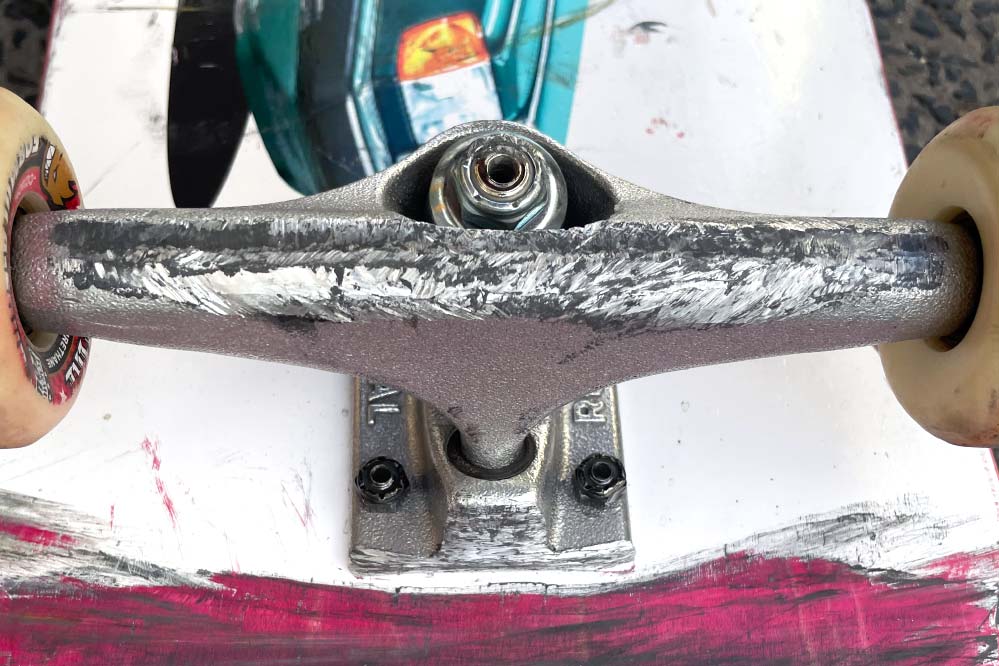 Royal trucks and Transition Skating
I loved the Royal trucks skating mini ramp: close to the coping and responsive turns like you want it. I would maybe compare them to ACE trucks in that scenario but Royals definitely have their own character. Royal trucks weren't designed for skating transition but that doesn't mean you can't skate them there.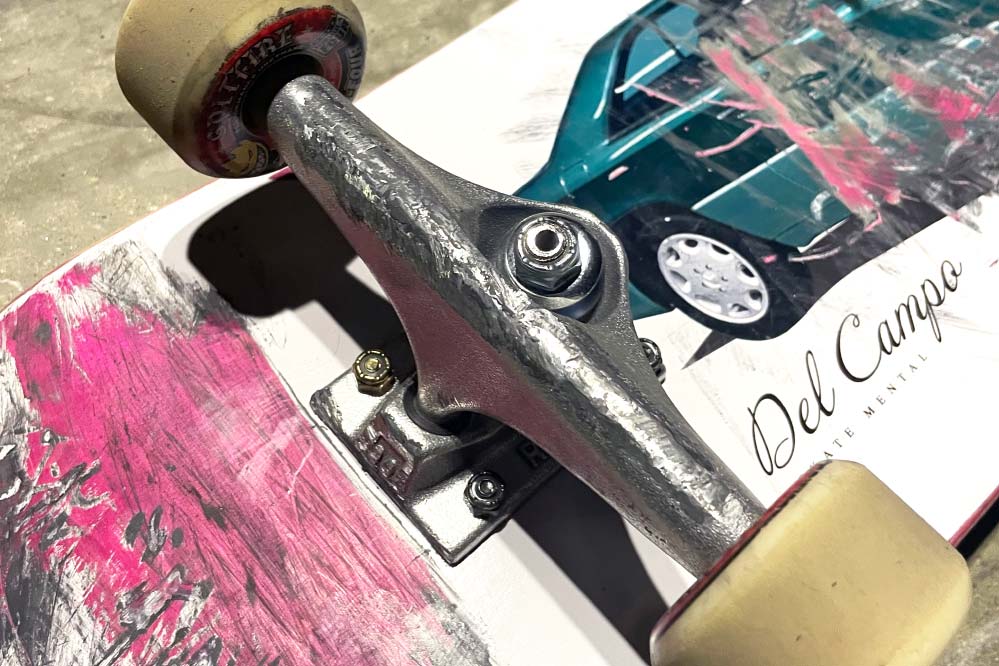 For the Tech Nerds: Pop / Ollies and Balance / Manuals
The new Royal Trucks design creates a shorter wheelbase in comparison to i.e. Thunder Trucks. Therefore, my setup felt a bit shorter or "lighter", popped faster and made technical tricks quite fun for me. I would compare the geometry of Royals similar to Indys. I noticed that Manuals felt quite easy for me with Royal trucks.
Conclusion
Royal trucks are definitely worth checking out and shouldn't be overlooked. The brand understands very well what skateboarders need. Royal trucks are very well thought out Mid height trucks with excellent geometry and light weight by design. The price-quality ratio is also remarkable compared to other mid-sized trucks.
---
Advantages
Truck design & turning geometry
Light in weight compared to other mid trucks
Less wheelbites compared to other mid trucks
Price-quality ratio
Available as standard, hollow, and inverted kingpin
Disadvantages
Baseplate needs to be broken in
No harder Royal substitute bushings available
---
Are Royal trucks something for you?
If you find Independent Mid's too heavy, Royals might be an alternative. They turn similarly, have a similar geometry but weigh less.
If you skate Thunders and have issues with the baseplate or wheelbites, Royals might be a good substitute.
If ACE's are too heavy for you or their turn makes technical skating difficult for you: Royals provide a nice consistent turn and are low in weight.