Your own personal Skateboard Setup can change your life! If you are looking to put together your own individual setup, you are giving your skateboard a unique character. It doesn't have to be hard to put together your perfect setup; with our skatedeluxe Skateboard configurator you can put together your own skateboard in 6 simple steps.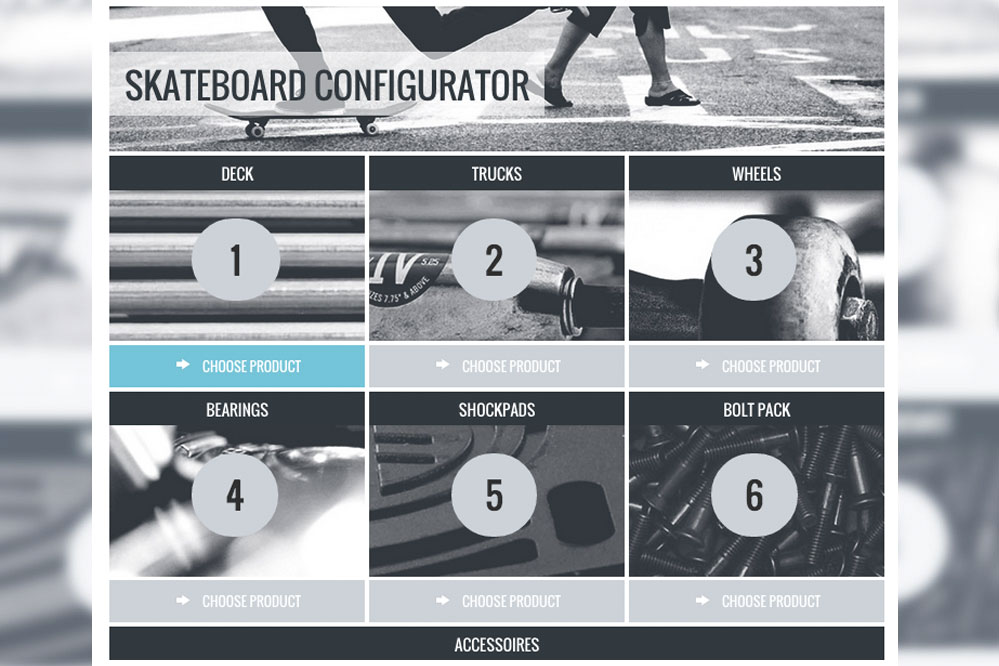 In this case, you must know that only matching products will automatically be displayed in the configurator. For example, when you choose a very wide skateboard deck, you don't want trucks that are too narrow, so therefore only properly balanced products in your selection are displayed in our configurator.
Go to the Skateboard-Categoryin the shop and click on the Skateboard Configurator banner. Afterwards you will be redirected to the configurator and can start creating your own setup.
In the following steps you can put together your own setup:
1 Decks
2 Trucks
3 Wheels
4 Bearings
5 Shockpads
6 Hardware
After you've put together your skateboard setup, you can click the 'Add More Products' to add some other accessories.
At this point you should be recommended some Protective equipment. Here you will find a variety of helmets and pads. Because you know: "Safety first!"
After this you can simply click on 'Add to shopping cart', place your order and wait patiently on your new setup! All your setups are also saved in your account, so you can always check them out again afterwards. Have fun building your own setup!
Create your own setup with the skateboard configurator