French skateboard brands are highly en vogue at the moment! Brands like Wasted, Hélas, Magenta, Chill or Die, Tealer, cOLLAPSe or Cliché have left their fingerprints on the international skate and streetwear scene. Here are six brands that are on the top of their game right now and should definitely be on your radar!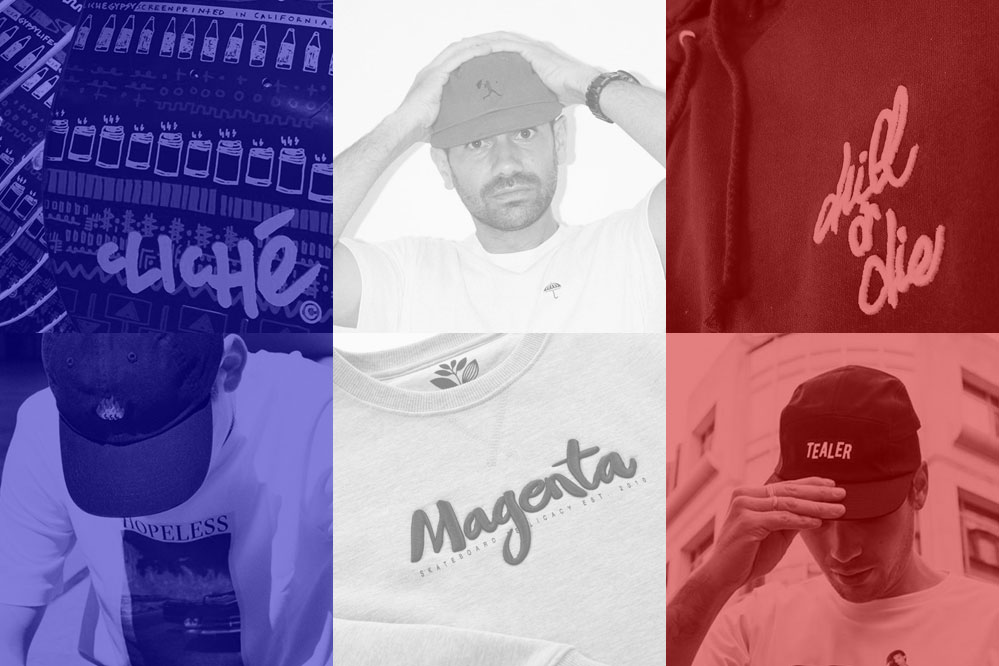 With fashion as an important part of the French heritage, one must not look far to find a reason why there are so many gnarly brands based in Paris. Besides London and Barcelona, the city at the Seine is the centre of the European skateboard scene and thus inevitably the birthplace of numerous independent brands. In a country where there is so much creative potential, the current hype of skateboard brands like Hélas, Wasted and Co. seems to be just the tip of the iceberg.
To keep you up-to-date with all those small and bigger French skate brands that have become popular over the last couple of years, we prepared a top 6 list for you containing our current top brands from France:
Somewhere between anti-lifestyle and 90s retro fashion the Parisian skate brand Wasted embodies the anger and frustration of the so-called Burning Youth. Packed with melancholy and chaos, these boys go with the flow: Get wasted, stay wasted, be wasted!
Where love is, there is also hate. Paris combines both. Stuffed streets, crowded places and people that act like they're in love while posing in front of the Eiffel tower. Welcome to the world of Wasted. The French brand was founded by Johann Liebel and Xiang Fang Ye in 2012 and represents everything but the sweet and joyful life of the capital. Wasted is a home for the rough side of reality. The fuck-off attitude is reflected by the brand's artwork. It's all about subtle boards and straight graphics. There is no space for pomp and chic. Statement prints are common, especially since the name of the brand is already a statement itself. Wasted shows a clear attitude, which is exactly why we like this brand: Streetwear without any compromises!
T-shirt + dealer = Tealer! The Paris-based streetwear brand makes no secret of its love for herbal tea. Since the beginning in 2012, Tealer deals with the finest tees, hoodies and caps – locally grown in the streets of the French capital.
We design, we cut, we deal! Tealer does not beat about the bush. With its T-shirt designs that are inspired by big labels and pop culture, Tealer prints anything they love on 100% cotton. Since the beginning, Tealer is an adventure based on friendship, with a family that shares the same passion for cool clothing and good stuff. Inspired by street culture, Tealer founded their own creative team based on designers, typographers and illustrators. This dealer you should remember!
Drop the umbrella, with Hélas caps you are good to go! The love child of Cliché Pro Lucas Puig, Clement Brunel and Stephen Khu fits our guide for French Skater-owned brands perfectly and brings quite a feel-good factor to this overview!
Inspired by the polo and tennis brands of the 90s and combined with a good portion "French Lacoste Steez", Hélas has managed to become one of the fastest growing skate brands of the last decade. Like almost every good idea, Hélas was born after a boozy night. Back in 2011, when five-panel caps were still rare, they decided to start their own headwear brand to conquer France and the rest of Europe. Said and done! Meanwhile, Hélas caps can be found on the heads of various skaters, easily recognizable by the famous umbrella logo or polo player stitch. Besides headwear, Hélas is also known for their streetwear collections, which perfectly blends golf club style, tracksuit fashion and gold chain chic. Sounds like we get some 90s rich kid vibes here!
The next promising skate brand in our little French Roulette takes things a little easier. Chill or Die prefers to send a message rather than to be pressed into any fashion construct.
Initially brought to life in 2007 to supply friends and locals with clothes, Chill or Die has now found its place in the niche of core skate brands. Why did it take so long you may ask? Well, founder Baptiste Besse takes the name of the brand in literally. But I guess, after almost 10 years he feels strong and rested enough to go for it. With casual T-shirts, hoodies and everything else you may need, Chill or Die offers a good range of cosy skate wear. One who definitely appreciates the brand's attitude is skatedeluxe team rider Matt Débauché. But when it comes to skate sessions they rip everything apart. So, with the new streetwear from Chill or Die, you get the right styles to be relaxed and able to rip it at the same time. The only thing you have to take care for yourself are your skate skills.
Freedom, independence and the feeling of being able to do everything – Magenta Skateboards lives for skateboarding and takes this passion to the outside world using their artwork. The French brand is characterised by its simple yet brilliant deck designs that stand out from the crowd without being loud and pushy.
When the three French skaters Sourya "Soy" Panday, Vivien and Jean Feil founded Magenta in 2010, they shared an apartment on the Parisian Boulevard de Magenta, which just fitted as the name of the brand. Even though the crew moved to Bordeaux a little while ago, the brand hasn't lost its Parisian charm. On the contrary, the graphic masterpieces designed by founder Soy Panday are still an expression of the brand's urban lifestyle. Everything from the production of the skateboard decks to the final design of the streetwear is in the hands of skaters, which makes the conscientious handling of natural resources the top priority. Even the logo of Magenta reflects that, which stands for freedom, biological origin and the fact that regardless of the social or cultural background, skateboarding combines and balances these differences. With Magenta, you are part of the whole!
At cOLLAPSe's, it's all about the boards. The small, french brand launched in 2001 and offers skateboard decks, without making a big fuss about it. Having fun on a skateboard should always be priority number one and that's definitely something you will find with the crew from Tosse.
A small team with big ambitions, enthusiasm for skateboarding and the plan to handle things on your own. That's basically everything you need to start a skate label and that's also probably what has happened with cOLLAPSe Skateboards. When Boul Rostan thought about putting his artworks on a skateboard and told his buddy Greg Poissonnier about it, the label was already almost established. The sympathetic brand describes their rather simple concept with the following words: cOLLAPSe skateboards is for those who smile while skating, those who'll have as much fun in a pool than on a set of stairs, on a sidewalk curb or on the closest supermarket parking lot. Something true skateboarders can certainly relate to.
Speaking about all these young French brands, Cliché can be easily described as an old hare in the European skateboarding scene. Since the founding in 1997, Cliché has established itself as a high-quality brand with individual style and a gnarly international team.
Besides Paris, Lyon is the Mecca of the French skateboarding scene. Some even think it's way better than the capital itself. One who should know is Lyon local Jeremie Daclin. Together with the former Australian Pro skater Al Boglio, he founded Cliché Skateboards back in the late 90s. Unlike the other French brands we were talking about, Cliché mainly focuses on the development of skateboard decks. With designs that are mostly dedicated to their international team riders, Cliché puts its idea of skateboarding on the famous 7-ply maple. And with a super small range of classic logo hoodies and shirts, the overall concept is complete!
And that is a wrap! Those are our Top 7 of French skateboard brands that should definitely be on your radar. Let's see how the skateboard scene in France evolves over the next few years. Chances are good that we have to add a few more brands to our guide in a not too distant future! Of course, there are sick European brands outside of France! Therefore, we've got the top deck brands from Europe for you in the shop!